Denver mother is granted temporary deportation relief after 3 months of sanctuary in a church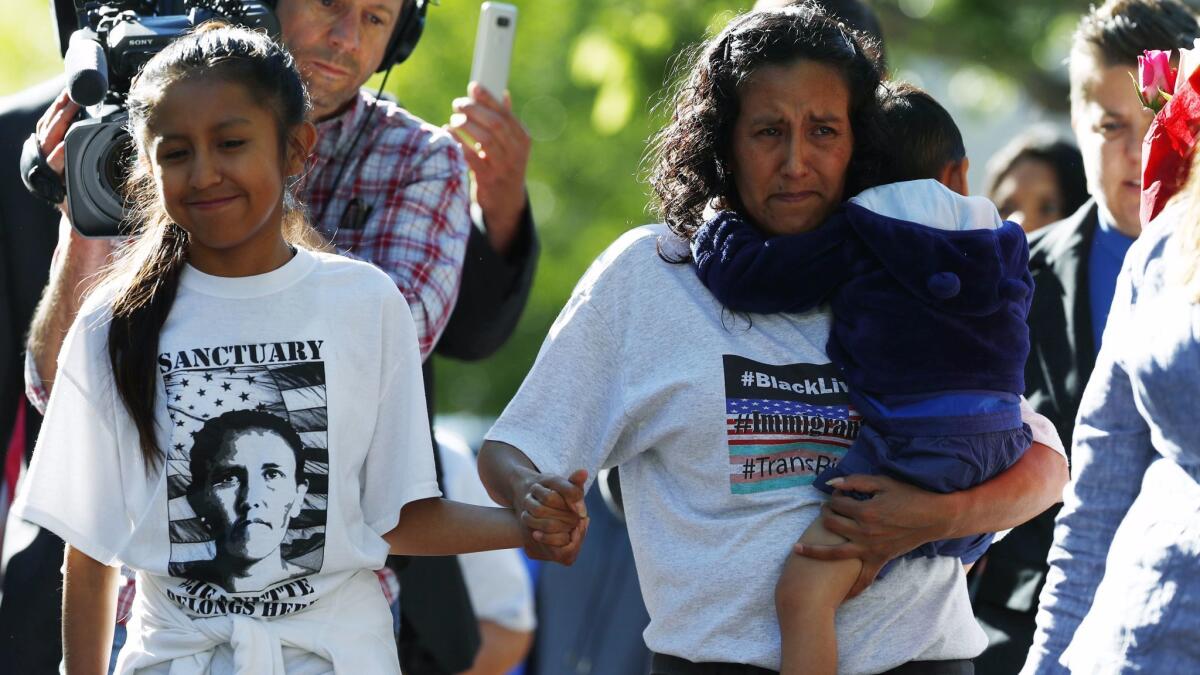 One afternoon this week, Jeanette Vizguerra received an unexpected phone call: the mother of four who had taken refuge inside a Denver church for 86 days was told she had been granted temporary relief from deportation.
She immediately called her children to tell them the news.
"We came running to the church and my mom told me that we had won," her 13-year-old daughter, Luna Vizguerra, said Friday, the day after her mother learned of the temporary reprieve. "She gave us a hug. I couldn't believe it."
Jeanette Vizguerra, an immigrant rights activist, sought refuge at a Denver church in February when her stay of removal expired. She had been scheduled to meet with Immigration and Customs and Enforcement agents but missed her meeting and declared sanctuary to avoid the possibility of being deported back to Mexico. Deportation would have meant being separated from her family and the place she's called home for 20 years.
Her case struck a chord at a time when many people in the country illegally are worried about their future under President Trump, who has called for deporting undocumented immigrants who have been convicted of crimes.
In March, Trump announced he would form a new agency within the Department of Homeland Security called VOICE, for Victims of Immigration Crime Engagement. The program aims to call attention to crimes committed by people who are in the U.S. illegally.
And shortly after his inauguration, Trump signed an executive order that threatened to strip federal funds from "sanctuary cities" — places where officials declare that they will not cooperate with federal immigration enforcement. In Texas this month, Republican Gov. Greg Abbott signed into law a state measure that could impose fines or jail time on law enforcement officials who refuse to honor immigration detention requests.
These events, along with harsh rhetoric voiced against illegal immigration during the presidential campaign, have spurred religious leaders from various faiths to defend immigrants. Across the country, many are offering their houses of worship as place of refuge to people fearing deportation.
As for Vizguerra, she also faced the threat of deportation during the Obama administration after she was convicted of being in possession of forged documents when she was pulled over for a routine traffic stop, according to documents from her legal team.
In September 2012, while her deportation appeal was still pending, Vizguerra returned to Mexico when she learned that her mother was dying. She returned to the U.S. several months later and was detained by U.S. Customs and Border Protection. She pleaded guilty to one count of illegal entry and was sentenced to one year of unsupervised probation.
But like many immigrants in the U.S. illegally under the Obama administration, Vizguerra was able to avoid being deported because she was considered a low priority.
Trump's presidency has changed that.
In February, Vizguerra was denied her sixth stay of removal renewal application, prompting her to seek refuge at the First Unitarian Church in Denver. A few years ago the church granted sanctuary to Arturo Hernandez, who lived on church grounds for nine months.
On Friday morning, Vizguerra left the church for first time after being granted a stay of removal.
Her public profile brought politicians and immigrant advocates to her defense. In April she was named as one of Time magazine's 100 most influential people on the planet.
"This is a special day for me, because I will be able to celebrate Mother's Day with my children and grandchildren," Vizguerra said at a news conference Friday. "Even though I've been continuing the fight from the inside, I have missed my kids — the fight is for them."
Vizguerra faced the threat of deportation for eight years; her last stay of deportation request was denied Dec. 6.
Vizguerra's legal team said that this time her stay of removal was granted by Immigration and Customs Enforcement because of private bills introduced on her behalf by three Colorado Democrats in Congress — Sen. Michael Bennet and Reps. Jared Polis and Ed Perlmutter. They also introduced legislation for Hernandez. He, too, has been granted a stay.
Although the bills have not become law, it's been past practice of the agency to grant stays of removal when such legislation is introduced.
But on May 5, acting ICE Director Thomas Homan sent a letter to federal lawmakers that said the agency had changed its policy. Immigration officials will no longer grant automatic stays of removal for those who have private immigration bills pending.
Instead, ICE will consider and issue a stay of removal for up to six months only if the chairman of the House or Senate judiciary committee, or appropriate subcommittee, makes a written request to ICE.
There were at least 30 immigrants, including Vizguerra and Hernandez, who had private bills pending and were granted stays of removal before ICE's new policy went into effect, according to Julie Gonzales, policy director at the Meyer Law Office and part of Vizguerra's legal team.
In a statement about Vizguerra and Hernandez, Bennet said, "These Coloradans have lived in our state for years, contributed to our economy, and should never have been targets for deportation in the first place."
While the announcement was a welcome relief for Vizguerra and her family, her future in the U.S. remains uncertain. Her stay of removal allows her to live in the U.S. until March 15, 2019.
As Vizguerra left her sanctuary, with family and supporters at her side, her kids were eager to make up time together after months apart.
"The church was 40 minutes away from where I lived and went to school," Luna Vizguerra said. "Now my mom is going to be able to take me to school. Tomorrow we are going to have a family day."
Follow me on Twitter @melissaetehad
ALSO
Texas announces lawsuit against local officials considered hostile toward 'sanctuary cities' ban
LAUSD is making it harder for immigration officials to enter schools
How Houston has become the most diverse place in America
---
UPDATES:
3:05 p.m.: This article was updated to with additional background on sanctuary cities and to report that Immigration and Customs Enforcement has changed its policy concerning private bills introduced in Congress on behalf of immigrants seeking relief from deportation.
This article was originally published on May 12 at 7:05 p.m.
Sign up for Essential California for news, features and recommendations from the L.A. Times and beyond in your inbox six days a week.
You may occasionally receive promotional content from the Los Angeles Times.