U.S. resuming deportation flights to Mexico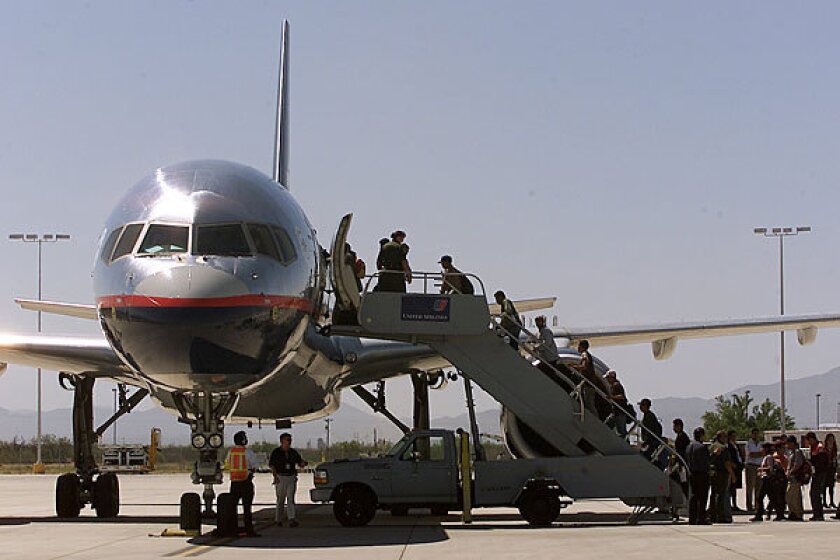 A federal program that flies deported immigrants back to Mexico resumes Thursday, with 133 Mexicans scheduled to board a plane from El Paso to Mexico City.
The Mexican government will transport the deportees to their hometowns.
The repatriation flights, which began in October and ended after two months, are intended to give would-be immigrants a better chance of resettling, rather than becoming victims of violent crime in border towns or trying to illegally cross into the United States again.
A spokeswoman for U.S. Immigration and Customs Enforcement could not provide information about the cost of the program. The 18 flights last fall, which repatriated 2,364 Mexicans, were billed as a pilot program after being delayed and scaled back from a more comprehensive plan.
The U.S. and Mexican governments made the Interior Repatriation Initiative a permanent program on April 18, the ICE said. Two flights, each carrying about 130 Mexicans, will depart from El Paso each week.
Mexican border regions have struggled to absorb the large number of deportees, who are often preyed on by criminals. Some deportees are abducted and held for ransom, and others are recruited into criminal networks.
ALSO:
DNA 'familial match' ties DeSalvo to 1964 Boston Strangler case
Judge's unique sentence: Woman told to write about being a lady
'Great Gypsy' or 'Great Gatsby'? N.Y. school reading list gets an F
Twitter: @cindychangLA
---
The perils of parenting through a pandemic
What's going on with school? What do kids need? Get 8 to 3, a newsletter dedicated to the questions that keep California families up at night.
You may occasionally receive promotional content from the Los Angeles Times.