Kevin de León slams Dianne Feinstein over past immigration statements in new campaign ad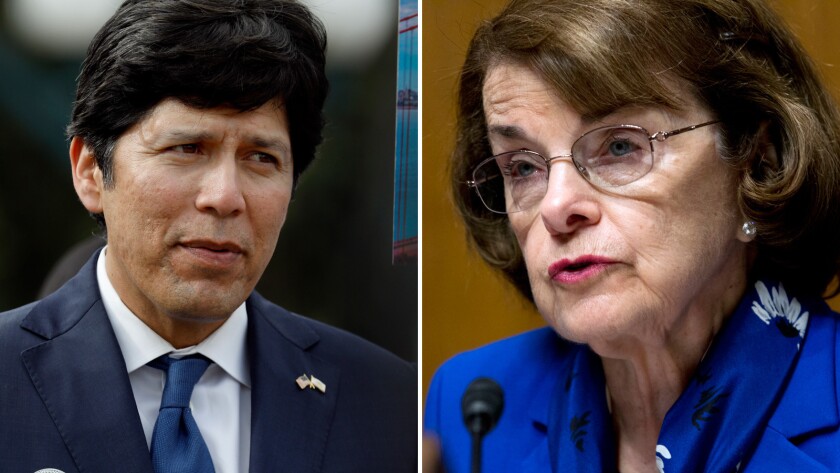 Seven weeks ahead of their November showdown, state Sen. Kevin de León on Tuesday released a campaign video slamming U.S. Sen. Dianne Feinstein over past statements on one of the most heated topics in California politics: immigration.
The nearly three-minute biographical ad begins with a narration by de León, who was raised by a single mother who immigrated to California illegally from Guatemala. It shows a young de León accompanying his mother to homes she cleaned as he grew up. Both characters are played by actors. De León's mother, Carmen Osorio, died in 1994.
"I never imagined the world of today," he says, before the viewer hears news clips referencing President Trump's zero tolerance policy that separated thousands of migrant children from their parents. "How would my life change if they had taken her away from me?"
The ad then shows ICE agents arresting the woman and separating her from her child.
"Where did all this horror begin?" he asks.
The ad then shows a clip of Feinstein speaking in 1994: "The illegal immigrants who come here and commit felonies — that's not what this nation is."
Then a clip the video says is from 1993: "I say return them to their own country wherever that country may be."
The ad draws parallels between those decades-old statements and Trump's more recent rhetoric when he was a presidential candidate.
Feinstein, who has served since 1992, has a high level of name recognition among voters. De León, who was elected to the Legislature in 2006 and now casts himself as a leader of the California resistance to Trump, placed second in the top-two primary and will square off with Feinstein on Nov. 6.
The election pits Feinstein's decades of political experience as a moderate against De León's potential appeal to progressives and Latinos.
See full coverage of California's midterms »
alene.tchekmedyian@latimes.com
Twitter: @AleneTchek
---
The stories shaping California
Get up to speed with our Essential California newsletter, sent six days a week.
You may occasionally receive promotional content from the Los Angeles Times.