Analysis:: Timing is everything -- and Hillary Clinton's timing is awful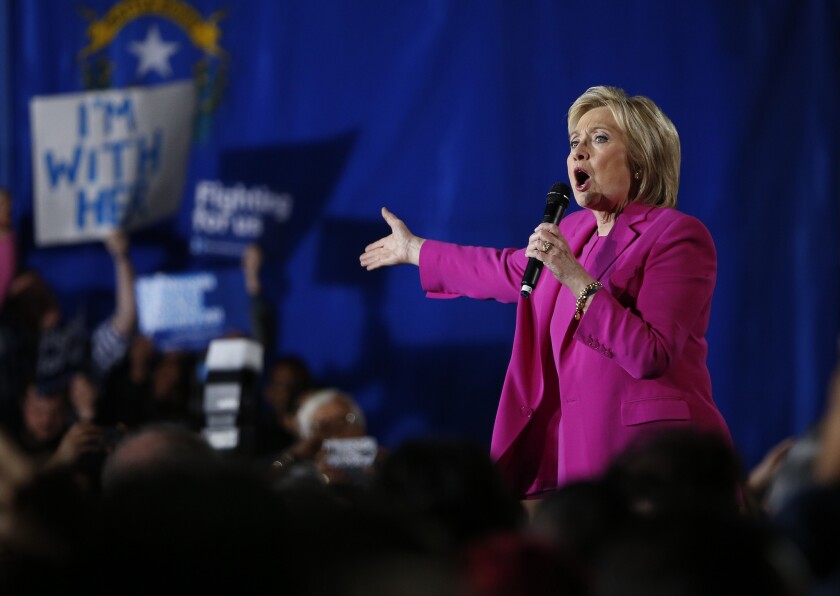 Reporting from Las Vegas —
Timing is a big deal in politics, and Hillary Clinton's timing is rotten.
She's running a campaign for president on the argument that she is the most carefully prepared, judiciously educated candidate for the White House — at a time when many voters want to cast their lot with newcomers.
She's set a table full of nuanced policy prescriptions to solve the problems at hand. Voters, many of them anyway, want someone to smash the plates.
TRAIL GUIDE: All the latest news on the 2016 presidential campaign >>
Clinton heard it Thursday night, most painfully from one of her supporters, during a televised town hall at which she and challenger Bernie Sanders separately took questions.
"We need a rebel," a college student and supporter told the candidate, in explaining Clinton's persistent problems with young voters. "My generation is a little wary of placing another politician in the White House. With your tenure in politics, how are you going to deserve our vote?"
If you are Hillary Clinton, how do you answer that?
The problem facing Clinton at a perilous point in her quest for the Democratic nomination is there's no response that will satisfy the emotional yearnings of voters, particularly the younger ones who have been fueling Sanders' challenge, for something that feels new and revolutionary.
Clinton tried, asserting that she believed "with all my heart" that she would be able to deliver as president. And she followed with a list of promises: to boost the economy, to eradicate biases and barriers, to give women equal pay and college students cheaper tuition.
Those are the exact sorts of promises that don't seem to pass muster this year, as they pale in comparison to Sanders' rebel calls. Clinton can't change that any more than she can change the desire for a fresh face, even a 74-year-old one like Sanders'.
"I think they really come down to saying, 'Well, look, you know … you've been around a while. We've seen your face a long time,'" Clinton said later in the town hall. "Well, I've been around doing stuff. I've been around getting things that I believe will help people. And that's what I'm going to keep doing."
Both the Democratic and Republican races this year have been upended in similar ways, even if Donald Trump and Bernie Sanders would recoil from the comparison.
Trump is running a "trust me" campaign, bereft of almost any detail other than his questionable claim that he'd build a giant wall along the nation's southern border and make Mexico pay for it. Sanders, too, has skimped on details, as well as seriously overestimating the likelihood of his plans getting through a Republican Congress.
Asked specifically on Thursday how he would make child care better and more affordable, the Vermont senator spoke of how important the work was and how the nation had to change its priorities, but he did not say how. Asked — twice — what he would do to ensure that immigration and visa policies protect Americans, he spoke vaguely of "having a much stronger security approach to vetting people who are coming in."
"And there are a variety of ways that you can do that," he said, detailing none of them.
Clinton, meantime, has delivered what voters say they want — specific proposals that are closer to the center and, at least theoretically, have a more realistic chance of success — only to find that it doesn't help her all that much. That's because the race is pivoting not so much on the things that Clinton hoped would matter — a record, endorsements, detailed plans — but on the sense voters get that Sanders feels their frustration.
Join the conversation on Facebook >>
More outlandishly, perhaps, Trump has succeeded in being the voice of the aggrieved in his party, leaving in the dust candidates like former Florida Gov. Jeb Bush, who like Clinton has done things the old way only to find that the old ways no longer work.
In recent days, polls have shown Clinton's once dramatic national lead winnow; Democrats in Nevada, where she was presumed to have an indomitable lead, believe the results of Saturday's Democratic caucuses could be close. Anything less than a solid victory here would call into question Clinton's argument of inevitability just as the race careens into South Carolina.
For now Clinton is pressing ahead, trying to hold onto her target groups: older voters, Latinos, African Americans and women. In the latter three categories, she's trying to stem the flow of younger voters to the Sanders camp.
That came through Thursday night, as she went down her list of proposals. But in her assertions that she would "keep doing" what she'd been doing, there was also a hint of how Clinton approached the Democratic race in 2008, after it was upended by that year's fresh face, then-Illinois Sen. Barack Obama.
Clinton's tenacity, even as that race slipped further from her, became a character test of its own. Voters watching her struggle came to believe she was fighting for them; she became more popular, not less.
She alluded Thursday to what could be accomplished by hanging tough, something of a rebellious act on its own.
"So people are really asking: 'Is she in it for herself -- or is she in it for me?'" Clinton said.
She answered her own question: She said she isn't in it for herself. But the answer that voters give will determine Clinton's fate.
For political news and analysis, follow me on Twitter: @cathleendecker . For more on politics, go to latimes.com/decker.
MORE POLITICS NEWS
Listen: Decker explains 'big test' for Clinton, Sanders on the Essential Politics Podcast
Latinos seek answers from Sanders and Clinton at Democratic forum in Las Vegas
Analysis: Suddenly in Nevada, the Democratic race is close and the stakes are high
So Republicans will prevent a Obama Supreme Court pick? Here's why Democrats scoff
---
For reporting and exclusive analysis from bureau chief John Myers, get our California Politics newsletter.
You may occasionally receive promotional content from the Los Angeles Times.