Disabled woman killed in California wildfire could not get out of remote house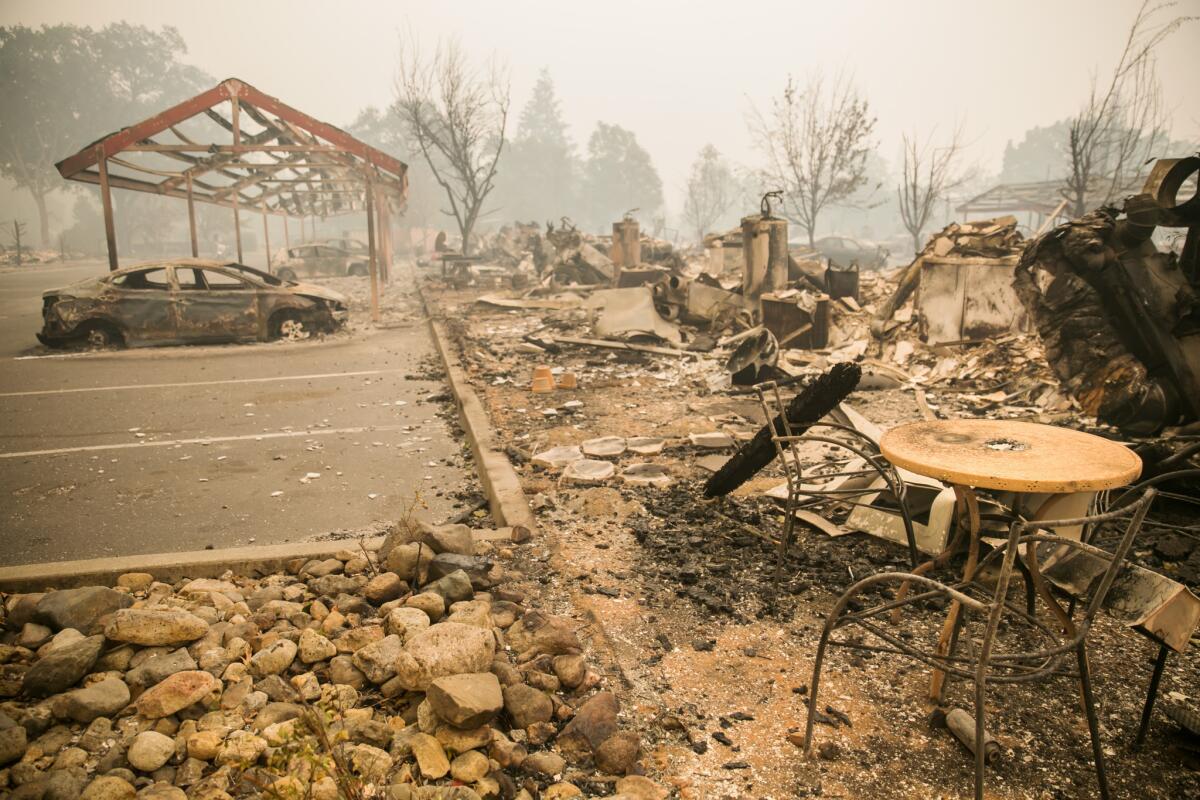 Reporting from MIDDLETOWN, CALIF. —
Barbara McWilliams walked very slowly because of advanced multiple sclerosis. But the pace allowed the former special education teacher to use her "eagle eye" to take in the world's majesty, her caretaker recalled on Monday.
The 72-year-old McWilliams, who had no vehicle and could not have driven one, died in her Lake County home on Cobb Mountain over the weekend, becoming the first reported fatality of the fast-moving Valley fire and raising questions about evacuation efforts.
The Sheriff's Department issued a statement saying deputies responded to the area 22 minutes after receiving a call about her Saturday at 7:12 p.m., but they were unable to reach the home because the subdivision "had already been engulfed by flames."
Jennifer Hittson, 30, who had worked for McWilliams for the last five months — cleaning the home on a remote wooded property, cutting McWilliams' hair, chopping her vegetables — tells a different story.
It is one of growing frustration and despair as she begged officials to get the woman she had come to admire greatly, but was told by both deputies and officials with the state Department of Forestry and Fire Protection that they did not have the time to assist.
"More should have been done," said Hittson, of Kelseyville. "She was disabled. I knew she was in the house. She didn't have family or friends [nearby]. If they had just listened to me better...."
McWilliams had spent years in India. She was a practicing Buddhist who insisted on an immaculate home, one free of chemicals, Hittson said. She had spent her career working with children with dyslexia, but in retirement, her health failing, she adored feeding the birds near her home, where an enormous redwood was among the many trees that made the sky a tiny window.
"She had a zest for life," Hittson said. "She loved the outdoors."
On Saturday, Hittson was at the home and noticed smoke shortly before leaving at 3 p.m. But it seemed so distant she thought it was coming from the Butte fire far to the east.
As she drove home, she reached a roadblock and was told that only residents could go through. No one mentioned evacuations. She had forgotten her phone and could not check the Internet. By the time she had reached her home after taking a longer route, she "realized it was getting serious."
She called McWilliams, who told her she had declined an offer to go with a neighbor to find out more about the fire. McWilliams said she told the neighbor that she would leave with her after she returned with more information. The power had gone out.
Hittson assured her that she would get sheriff's deputies to the house.
McWilliams was upbeat, saying she would probably stay at a shelter at the Napa County Fairgrounds in Calistoga.
When Hittson called the sheriff's office at 6:30 p.m., she was told by a dispatcher that deputies would try to get to the home. She tried another way to check on McWilliams but failed because the phone lines were down. She called the Sheriff's Department back at 10 p.m. and says she was told they were "too busy" with general evacuations.
"I just started crying," she said.
Then she learned she could call CalFire. She was told to check back in 30 minutes. When she did, about 11:30 p.m., she was told they had been unable to reach McWilliams' home. Still, she was assured that the fire did not appear to have reached the street.
She tried again Sunday morning and "they still weren't sure if she had been rescued."
Efforts by Hittson to reach the home herself were thwarted by roadblocks. Hittson took her plea to Facebook, seeking help from anyone who might know of a back road in from Mendocino County.
Kristy Ornellas, 28, a former paramedic, tried to help. In her pickup truck with help from other renegade medically trained residents, Ornellas hauled four people out in hospital beds or wheelchairs, delivering them to the Kelseyville Red Cross shelter for ambulances to pick up. She tried to reach McWilliams, but her long driveway was blocked by debris.
Then McWilliams' daughter, who lives in the Bay Area, reached a neighbor who said the home had burned to the ground.
By Sunday night, confirmation came. McWilliams' remains had been found.
Lake County Sheriff Brian Martin said in a brief interview at a mobile command post Monday that "the fire spread too violently and too quickly for us to be able to get to her on time."
A family spokesman released a statement saying, "We are devastated by the death of our beloved mother, grandmother and friend... She was a retired teacher and true adventurer who enjoyed traveling the world. Within the last year, she had settled in Middletown, CA and had fallen in love with her new home and community."
Hittson has been torn by grief and regret. "I could have made her get in my car," she said.
Their last exchange stays with her.
Just before Hittson left on Saturday, McWilliams told her to "turn around and look at me."
"I just want to tell you how much I enjoy you, how much I appreciate you."
Twitter: @leeromney
Sign up for Essential California for news, features and recommendations from the L.A. Times and beyond in your inbox six days a week.
You may occasionally receive promotional content from the Los Angeles Times.