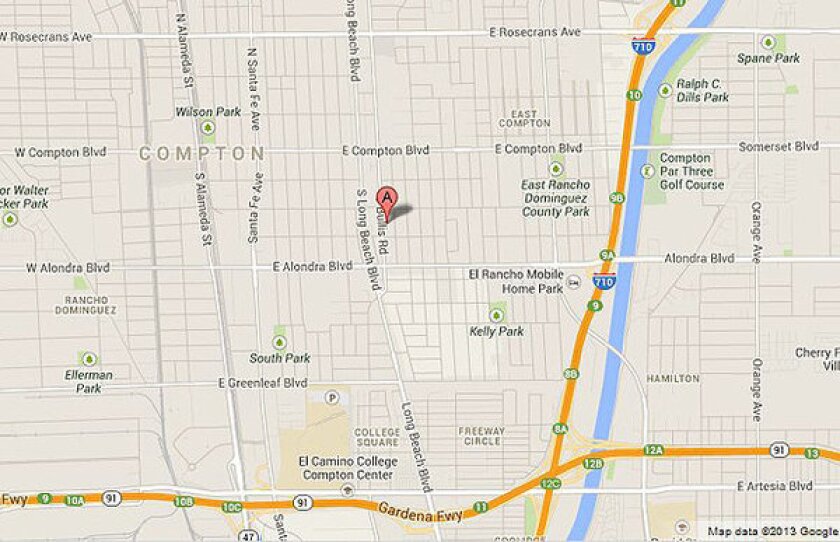 A Los Angeles County sheriff's deputy pulled a woman from a burning garage in Compton early Saturday morning, police said.
Three deputies responded to a report of a fire in the 600 block of South Bullis Road about 1:40 p.m., according to a Sheriff's Department account of the incident.
The officers came upon a garage engulfed in flames and saw a man trying to break through a wall of the structure with a shovel. The man told the deputies there was a woman inside.
Deputy Jesus Hernandez used the shovel to pry loose some of the wall's wooden slats as another deputy, Javier Flores Jr., tore away the loosened slats, according to the department. The third deputy, Jaime Juarez, reached into the garage and pulled the 46-year-old woman out.
The woman, who was not identified, suffered serious burns over much of her body, said sheriff's Lt. Michael Hannemann. Her condition, he said, was not known.
The garage had been converted into a living space for several people, Hannemann said. Fire officials are investigating the cause of the blaze, but Hannemann said it appeared to be an accident caused by the "carelessness" of the people living in the garage.
ALSO:
Firefighter burned in Long Beach house blaze
Church that burned had no fire code violations, records show
Twitter: @joelrubin
---