L.A. firefighters' average overtime pay rose 20% in 2013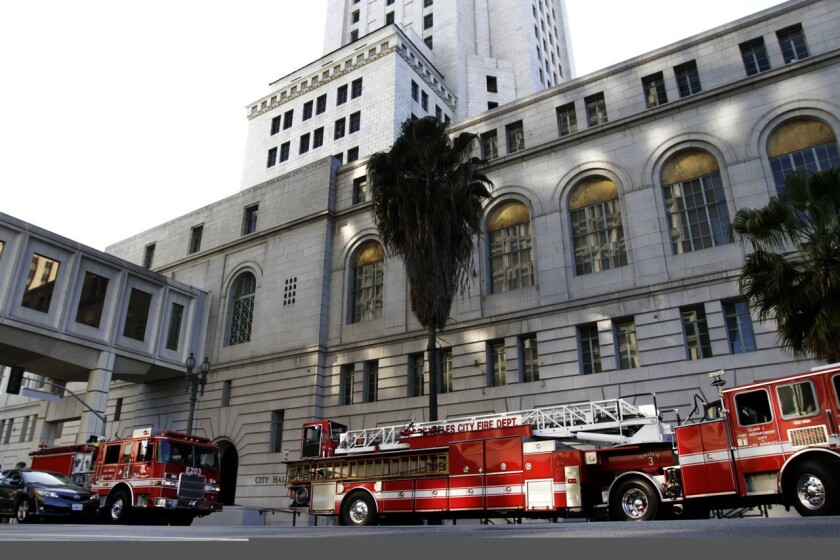 The average Los Angeles firefighter earned nearly $43,000 in overtime in 2013, up nearly 20% from the previous year, according to data released Tuesday by City Controller Ron Galperin.
With overtime and bonuses factored in, the average firefighter was paid more than $142,000 last year, the data show.
While firefighters got the biggest share, overtime was up substantially across city departments, climbing more than $70 million to a total of $378 million in 2013, the data show.
"The city is a 24-hour operation, so overtime is a part of doing business," Galperin said in a news release. He urged city leaders to look at management and hiring practices for ways to save money.
The information appears on Galperin's open data website, which he says he created to improve transparency and give taxpayers "more insight into the city's true payroll costs".
The firefighters' union president did not dispute the controller's pay figures. He said his members are overworked and desperate for reinforcements.
"We're at a tipping point where it doesn't make sense to continue to pay so much overtime without hiring new workers," said Frank Lima, president of United Firefighters of Los Angeles City. "That's not the fault of the firefighter on the street."
The city hasn't hired a new firefighter in five years, Lima said. That's left fewer firefighters to handle the workload and requires the city to pay more overtime, he said. Exhaustion among rescuers is contributing to longer response times and a growing risk to public safety, Lima said. "We're running more calls than ever over here, it ain't no cake walk."
The fire department has lost 726 sworn members since 2008, according to a news release Tuesday. But a new class of 68 recruits began training in January and are expected to graduate in June.
"The ongoing hiring of new firefighters will help alleviate the need for such significant reliance on overtime staffing," the release said.
Department of Water and Power employees had the second-highest average overtime at just over $12,500. That brought total earnings for the department's average employee to $103,000 in 2013, the data show.
The city-owned utility also paid an average of $16,320 for health and dental benefits for employees. That's 27% more than the average cost to cover a city employee, Galperin reported.
ALSO:
L.A. winter storms: Officials prepare for mudslides, debris flows
UCSB police sergeant calls gang rapes of two students 'horrendous'
Lakewood man punched flight attendant after drinks cut off, FBI says
jack.dolan@latimes.com
@jackdolanLAT
---
The stories shaping California
Get up to speed with our Essential California newsletter, sent six days a week.
You may occasionally receive promotional content from the Los Angeles Times.