Woman bitten by shark off Corona del Mar was training for Ironman competition
Medical officials Tuesday identified a woman who was bitten by a shark while swimming off the coast of Corona del Mar State Beach as Maria Korcsmaros, a 52-year-old personal trainer and aerobics instructor from Corona.
Korcsmaros was swimming along the buoys about 150 yards offshore as part of her training for an Ironman competition scheduled for July in Canada when she was attacked at about 4:15 p.m. Sunday, according to officials from Orange County Global Medical Center in Santa Ana, where Korcsmaros is recovering from surgery.
Officials are not certain about the species of shark that bit Korcsmaros.
However, Chris Lowe, head of the Shark Lab at Cal State Long Beach, said Tuesday that based on the size of her wounds it was likely an adult great white measuring more than 10 feet long.
Lifeguards searched for the shark by boat and helicopter Tuesday morning and reopened the beach between the Balboa Pier and the Wedge about noon after no sharks were seen.
Corona del Mar State Beach remained closed to swimmers Tuesday afternoon.
Join the conversation on Facebook >>
The open water along the buoys off Corona del Mar is a popular spot for long-distance swimmers to train for triathlons and other events because it is relatively calm, said Newport Beach Chief Lifeguard Rob Williams.
Lifeguard Andy Matsuyama and Capt. Mike Ure were patrolling on a boat about 30 yards from Korcsmaros when they noticed an unusual splash of white water and saw the woman jolted to the side. They didn't see a shark, Williams said.
Korcsmaros began treading water, yelled and shot her hand in the air to signal for help. In less than a minute, lifeguards pulled the bleeding woman, who was wearing a wetsuit, onto the boat and applied a tourniquet to her arm.
The lifeguards sped to the Orange County Sheriff's Department Harbor Patrol in Newport Harbor, where paramedics were waiting.
"It was very fortunate we had a boat patrolling in the area," Williams said.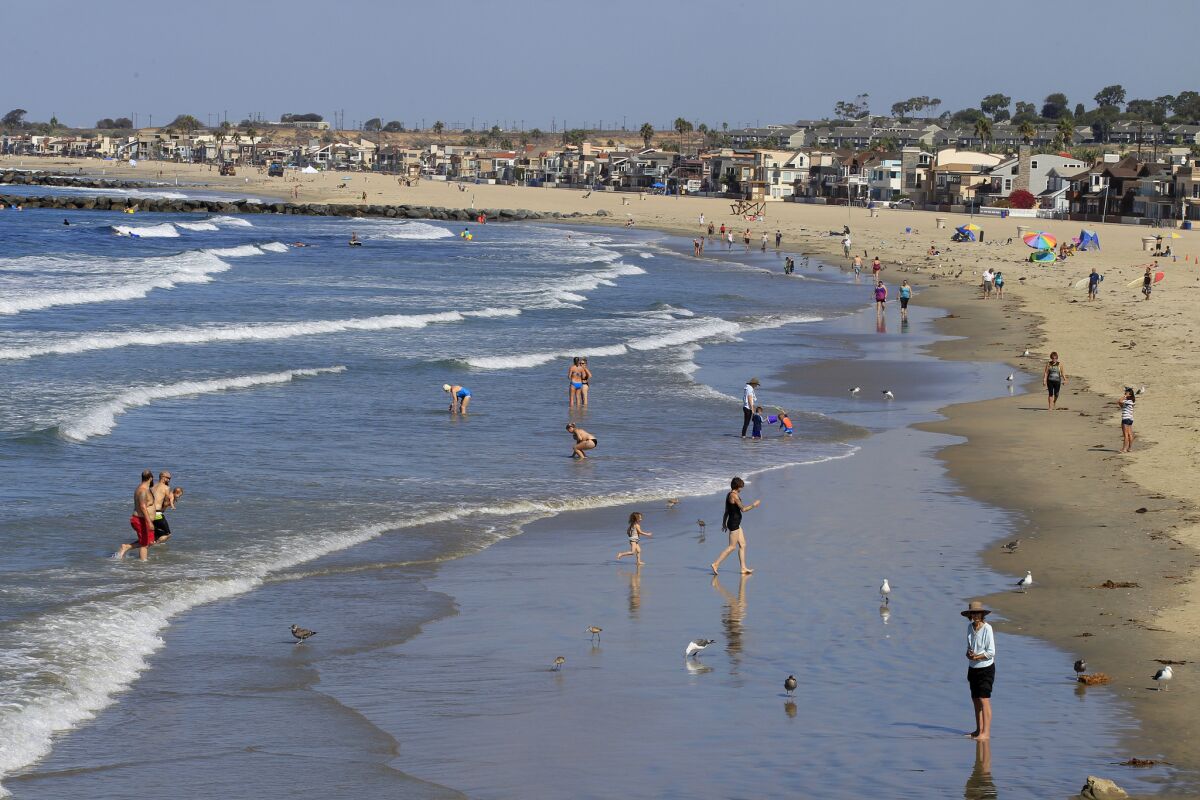 Korcsmaros later told doctors that the attack was "very sudden" and that she felt something hit her, according to Philip Rotter, director of orthopedic trauma surgery at Orange County Global Medical Center.
Thirty minutes after she was pulled from the chilly ocean, Korcsmaros arrived at the hospital, where a team of doctors began trying to stabilize her before taking her into surgery.
Korcsmaros had multiple teeth marks on her right side extending from her shoulder area in a semicircular pattern to her lower pelvis. She also had lacerations on her right arm, an open chest wound and multiple rib fractures and had lost about a liter of blood, doctors said.
"We're a trauma center, we see trauma every day, but I haven't seen this type of trauma," Rotter said of the wounds.
Rotter, one of several doctors in the operating room during the more than three-hour surgery, said Korcsmaros was "remarkably calm" when she arrived.
Doctors said they looked for teeth left behind by the shark but didn't find any.
Korcsmaros is recovering at the hospital and taking antibiotics to help stave off any infection.
Rotter said it's too early to determine whether she'll have use of her arm.
Korcsmaros, a mother of three, is a seasoned athlete who has competed in various triathlons as well as an Ironman competition in 2008. Her husband, Alex, was reportedly on the beach when the attack occurred, according to Williams.
Doctors credited her level of physical fitness for her ability to survive the attack.
"She had significant open wounds on her upper body and on her pelvis," Rotter said. "Those are wounds that would have bled a lot, and she was able to tread water and hold her own until help arrived. That's pretty remarkable."
On Tuesday morning, Felicia Walz of Colorado was ankle deep in the water at Corona del Mar with her husband and three children when a lifeguard ran down the beach to stop her from entering further.
Walz and her family had stopped in Newport Beach during their vacation so they could experience the beach for the first time. They weren't planning to go far into the water, given the cool, overcast conditions, she said.
News about the shark attack affirmed her decision to only dip her toes in the water.
"It's a little freaky to think there could be a shark so close out there," she said. "We camp a lot at home, so we deal with bears and other predators and we're used to that, but not sharks."
Lowe, of the Cal State Long Beach Shark Lab, has been studying juvenile great white sharks in the area for about 10 years. Typically, juvenile sharks are born around the Channel Islands and the pups swim toward the beaches. The mothers are never sighted, he said.
"They're more common during the fall months off Central California," he said. "We just don't see great white sharks along our beaches."
A person being bitten also is uncommon.
There have been two reports of unprovoked shark attacks in Orange County since 1926, according to data from the Florida Museum of Natural History.
Twitter: @HannahFryTCN
ALSO
Brandman grad, 64, completes journey from behind bars to sociology degree
Newport Heights utility undergrounding moves toward neighborhood vote
2nd anchorage for visitors approved for summer trial in Newport Harbor
---