Chinese film mogul Run Run Shaw dies at 106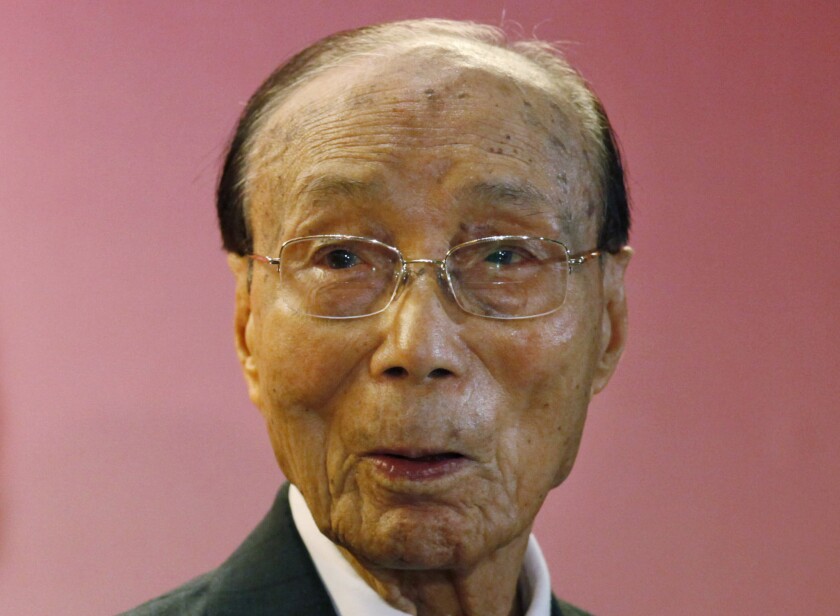 Hong Kong film magnate Run Run Shaw, who built the Shaw Bros. studio into the largest in Asia in the 1960s and '70s, popularized the kung fu genre around the world and later became a major philanthropist, died Tuesday at 106.
Shaw's studio – which he ran with his brother, Runme – churned out more than 1,000 films over more than five decades, from romances and musicals to action pictures. He even co-produced American films, including Ridley Scott's "Blade Runner." The legacy of Shaw Bros. films can be seen in the works of contemporary filmmakers from Quentin Tarantino to John Woo and Ang Lee.
"The influence of their martial arts movies is almost impossible to understate," said David Desser, an emeritus professor of film at the University of Illinois who now teaches at Chapman University. "There are almost no fight scenes in Hollywood movies today that don't rely on Asian martial arts. And that's directly attributable to these martial arts movies that the Shaw Bros. brought over in the 1970s."
PHOTOS: Notable deaths of 2013
Born in 1907 to a Shanghai textile merchant, Shaw was the sixth of eight children. He joined his elder brothers Runje and Runme in the film business in the 1920s. Runje Shaw had a silent film studio, and his brothers bought cinemas in places such as Singapore and Malaysia to show movies that were being made in Shanghai – then the center of the Chinese-filmmaking world. By the mid-1930s, they owned more than 100 theaters.
World War II and the Communist revolution, however, left the Shanghai industry in tatters. The Shaws, frustrated with the quality of films available to show in their theaters, decided to make a production base in Hong Kong. Run Run Shaw moved to the British colony in the 1950s and singlehandedly shifted the creative center of gravity of the film world to the territory, said Stefan Hammond, author of several books on Hong Kong film, including "Sex and Zen & A Bullet in the Head" and "Hollywood East."
"They chose Hong Kong because it was the only place they had the freedom to make the films they wanted to make," Hammond said.
Emulating the style of Hollywood studios in the 1930s, the Shaws set out to build an elaborate and massive studio in a then-remote part of Hong Kong. At its opening in 1961, it was said to be the largest private film studio in the world, with more than 1,000 employees, more than a dozen stages and state-of-the-art equipment.
Actors and directors were put under contract and cranked out dozens of pictures each year. The studio spent significant sums on their movies, working in color and wide screen.
REEL CHINA: Coverage of the Chinese movie industry
"He set up Hollywood East when he built that big studio," said USC professor Stanley Rosen, an expert in Chinese cinema.
"Run Run was like a Louie B. Mayer type – he had a very paternal attitude toward his stars," Desser said "They modeled themselves after the Hollywood studios of the 1930s, with even greater control."
(The Shaw Brothers logo, with the initials SB over a shield, looked much like that of Warner Bros.; viewers of Tarantino's film "Kill Bill Vol. 1" may recall seeing the SB logo in the opening credit sequence, accompanied by the words "Shaw Scope" and a cheesy trumpet fanfare.)
By the early 1960s, the Shaw Bros were the kings of regional filmmaking, producing the most popular movies in Asia. With many top actresses under contract, they released a string of romances, dramas and musicals, such as the 1963 hit "The Love Eterne," from star director Li Han Hsiang.
But their turn toward martial arts pictures starting in the mid-1960s would bring them their greatest claim to fame. King Hu's "Come Drink With Me" (1966) helped usher in the era, and Chang Cheh's 1967 hit "The One Armed Swordsman" broke box-office records for the studio, luring audiences with violence and bloodletting.
By the late 1960s, they were producing nearly 40 films a year; production reached a peak in 1974, when the Shaw Bros. made 50 films, according to Zhan Youpeng, a Chinese author who writes on film history.
(The Shaws, however, did not work with Bruce Lee. Turning down what he considered a low-paying offer from the Shaws, Lee in the early 1970s took up with the Golden Harvest studio, founded by former Shaw executives Raymond Chow and Leonard Ho.)
The Shaws expanded their global reach by setting up theaters in places with significant populations of Chinese emigres, including San Francisco, New York and Los Angeles, Desser said. Their martial arts movies attracted multiple generations of Chinese American families – as well as film buffs and cineastes, popularizing the kung fu genre stateside.
At the same time, Run Run Shaw began moving into the then-infant business of television in Hong Kong, launching TVB in 1967 and largely exiting the film business by the 1980s. TVB now operates five channels in Hong Kong and is one of the biggest private producers of Chinese programming in the world.
But even Shaw's move to TV, Desser noted, had an influence on film, as TVB gave opportunities to a new generation of directors, many of whom would become key players in the Hong Kong New Wave cinema of the late 1970s and early '80s.
Celestial Pictures acquired rights to the extensive Shaw Bros. film library in 2003 and has released scores of titles on DVD.
Starting in the early 1970s, Shaw launched his own foundation, and over the next 40 years gave hundreds of millions of dollars to fund schools and universities in mainland China, Hong Kong and around the world –including an institute of Chinese studies at Oxford University.
In 2002, he also established the Shaw Prize, which awards $1 million each year to researchers who have made breakthroughs in three areas: astronomy, life science and medicine and math. He continued to work; in his late 90s he was still going into his office in his Rolls-Royce and screening films, and he gave up his title as chairman of TVB in 2011.
Shaw had two daughters and two sons. His first wife, Wong Mei-chun, died in the 1980s. In 1997, he married Mona Fong, TVB's deputy chairwoman.
julie.makinen@latimes.com
---
Must-read stories from the L.A. Times
Get the day's top news with our Today's Headlines newsletter, sent every weekday morning.
You may occasionally receive promotional content from the Los Angeles Times.