Amy Winehouse dies at 27; iconoclastic British singer-songwriter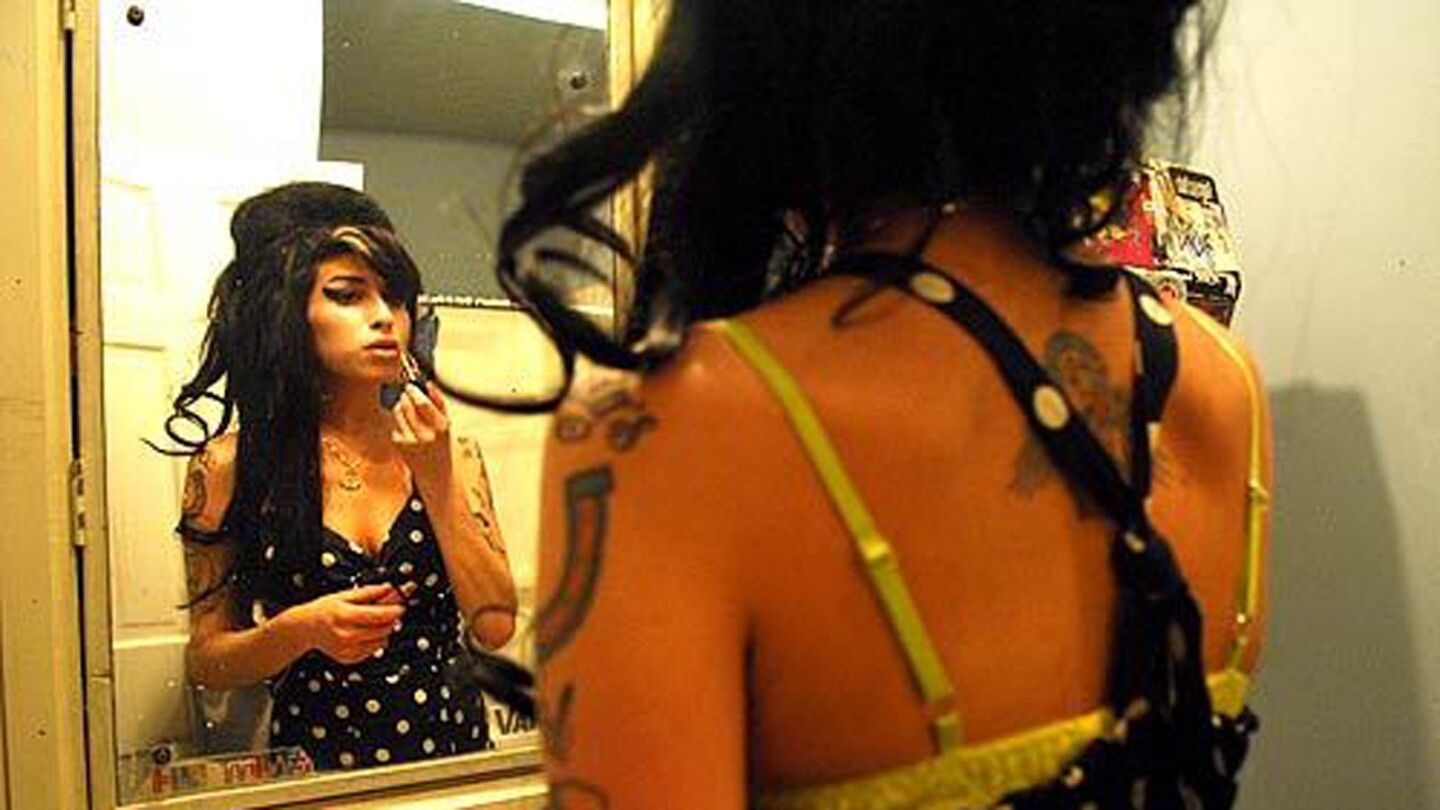 Troubled U.K. pop star Amy Winehouse was found dead Saturday in her London home, according to multiple British wire reports. Britain's Sky News reported that paramedics were called to her home at just after 4 p.m., but the 27-year-old was pronounced dead at the scene.
(Jennifer S. Altman / For The Times)
Winehouse before her show at the Bowery Ballroom in Manhattan. "Back in Black" was her first U.S. release. By that time she had already become a blogosphere favorite for the soulful bad-girl anthem "Rehab" and a surprise collaboration with Ghostface Killah.
(Jennifer S. Altman / For The Times)
Singer Amy Winehouse performs at the Bowery Ballroom in Manhattan in 2007.
(Jennifer S. Altman / For the Times)
British singer-songwriter Amy Winehouse was a phenomenon: a Jewish girl from a London suburb with a retro beehive, a devil-may-care attitude and a voice that channeled Aretha Franklin and Ruth Brown. Music industry figures on both sides of the Atlantic hung their hopes on her, and her breakout album, "Back to Black," did not disappoint, selling millions of copies.
Less than a decade after her emergence as an original talent, she was more likely to be mentioned in the company of pop music's tragedies — artists like Kurt Cobain, Janis Joplin, Jim Morrison and Jimi Hendrix, whose self-destructive habits led to their deaths at the age of 27.
OBITUARIES: Search newsworthy deaths since 2009
Winehouse, a five-time Grammy winner whose distinctive fusion of jazz and soul influenced other young artists, was found dead in her London home Saturday. Like Cobain and the others, she was 27.
The cause of death was not immediately known, but she had sought treatment, as recently as last month, for health problems that have been reported to include drug and alcohol abuse and early-stage emphysema.
"We are all heartbroken and saddened beyond words," her publicist, Tracey Miller, said Saturday in confirming Winehouse's death.
Outside her home in the Camden district of London, scores of fans gathered, some bearing flowers and other scrawling emotional messages on the sidewalk. Tributes flowed on Twitter and other media from celebrities who included actress Demi Moore and the Rolling Stones' Ronnie Wood, who said he planned to dedicate Saturday's reunion performance of his band The Faces to Winehouse.
Her death was not a surprise to many followers of her career. In recent years her musical achievements were overshadowed by reports of run-ins with the police, missed or aborted shows and struggles with addictions. She appeared gaunt and ill-kempt in photos. In early June she had been in a London clinic known for treating psychiatric, drug and alcohol problems. A few weeks ago, after a disastrous performance in Belgrade, she canceled a 12-city European tour.
Called a soul revivalist by critics, Winehouse became an international star with "Back to Black," released in the U.K. in the fall of 2006 and in the United States in March 2007. With more than 2 million albums sold in the U.S., it eventually hit No. 2 on the Billboard album chart and went double platinum.
Driven by the success of "Back to Black," recording companies scoured Britain for young female soul singers, and over the next five years Winehouse's influence became apparent in the work of Duffy, Estelle, Leona Lewis, Lily Allen and others. Singer Adele, who has the best selling album of 2011, is the most prominent British soul singer to acknowledge Winehouse's influence.
Neil Portnow, president and chief executive of the Recording Academy, which awards the Grammys, said Winehouse's "rich, soulful and unique voice reflected her honest songwriting and earned her a devoted fan following, critical acclaim and the genuine respect and admiration of her musical peers."
Winehouse was born in a London suburb on Sept. 14, 1983. Her father, a cab driver, and her mother, a pharmacist, broke up when Winehouse was 9. She remained especially close to her father, who loved jazz. She grew up listening to Julie London, Dean Martin, Frank Sinatra and Thelonius Monk.
Her interest in music led her to enroll at London's famous Sylvia Young Theatre School, but she was expelled after two years for piercing her nose. She moved to an all-girls school where she learned to play piano. Though she was immersed in jazz she gradually developed other tastes. She was fond of the artists TLC and Salt-N-Pepa. She also was infatuated with old '60s girl bands, particularly the Shangri-Las.
In 2002, when a friend promoted her talent to his manager, she landed at the Brilliant 19 management agency. The next year, she signed a contract at Island Records. She was 20.
In 2003 Island released her first album, "Frank," inspired by her love of Sinatra. But she displayed an independence that went beyond Sinatra, combining jazz, R&B and hip-hop. Writing in The Times of London, Dan Cairns described her voice as "one of the most extraordinary to be heard in pop music for years. A cracked, racked husk that will one moment coo at the object of her affection, the next emit a caustic rasp at the target of her scorn."
She hit a slump, broke up with her boyfriend and admitted that she had writer's block. In 2006, her beloved grandmother died, reportedly the only family member who could tame her wilder impulses. It was a fateful loss for Winehouse, her father later suggested.
Her problems with drink and drugs escalated to the point that her managers urged her to enter treatment. Her answer was the song "Rehab," named song and record of the year at the 2008 Grammy Awards and featured on "Back to Black." Its insistent refrain: "They tried to make me go to rehab, I said 'no, no, no.' "
Stardom apparently held little allure for Winehouse. To her managers' dismay, she disparaged the machinery of celebrity, once sniping, "I don't care about all that pop stuff, and I couldn't go to the Smash Hits poll winners' party without bringing a gun." She showed up drunk in public so often that British tabloids nicknamed her "Amy Wino."
She canceled appearances and some of her gaffes became viral videos, such as when she was taped singing racist lyrics to a children's song. She later apologized.
The signs of impending disaster seemed all too obvious to those around her. Earlier this month, after she recorded a song with Tony Bennett for a new album of duets, he expressed concern about her to a London newspaper. "Of all the contemporary artists I know," Bennett told The Guardian, "she has the most natural jazz voice, but I'm worried about her and I'm praying for her. She'd help everyone by sobering up and cleaning up her spirituality."
In June, she went on stage in Belgrade for the first stop on her European tour. Apparently drunk, she mumbled, meandered and fell on stage and struggled to remember the words to her songs. The crowd pelted her with paper cups and booed.
A brief marriage ended in divorce in 2009. Her survivors include her parents and a brother.
PHOTOS: Amy Winehouse 1983 | 2011
Times staff writers Randall Roberts, Randy Lewis and Todd Martens contributed to this report.
---
Must-read stories from the L.A. Times
Get all the day's most vital news with our Today's Headlines newsletter, sent every weekday morning.
You may occasionally receive promotional content from the Los Angeles Times.