Ann Rule dies at 83; true-crime writer penned account of Ted Bundy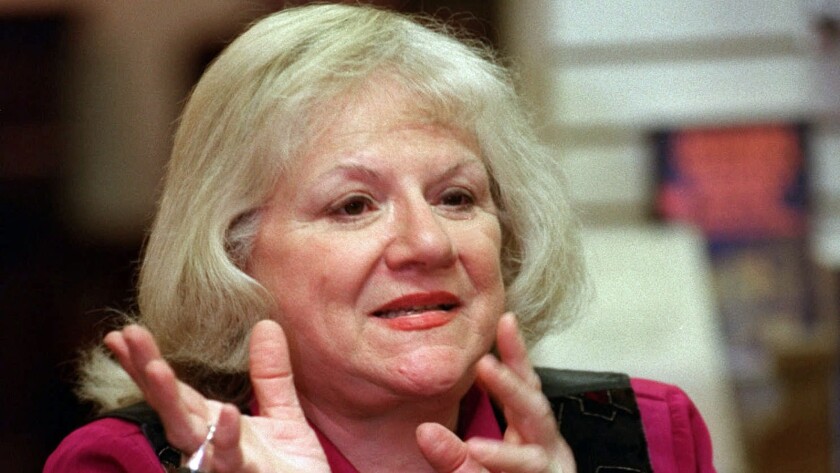 Ann Rule, the bestselling true-crime writer who once befriended serial killer Ted Bundy, has died. She was 83.
Rule, who gained national prominence for her book on Bundy, "The Stranger Beside Me," died Sunday at Highline Medical Center in Burien, Wash., according to Scott Thompson, a spokesman for CHI Franciscan Health. Rule suffered from congestive heart failure and other health problems, said her daughter, Leslie Rule.
A former police officer, Rule was virtually unknown in the publishing world in 1974, when she began researching a series of murders in the Seattle area. She later learned they had been committed by one of her close friends, Bundy. Rule published "The Stranger Beside Me" in 1980.
The book made her career, ultimately selling more than 2 million copies. Rule eventually penned dozens of true-crime works.
For one of them, she traveled to Southern California in the late 1980s to chronicle the murder of Linda Bailey Brown in Anaheim. The woman was allegedly shot to death by her stepdaughter, but the slaying was later revealed to be part of a larger plot by Brown's husband, David, who was trying to marry his stepsister.
The scandal produced a trial dripping with lascivious details that drew national attention, and Rule chronicled the story in "If You Really Loved Me: A True Story of Desire and Murder."
Her last book, "Practice to Deceive," was published in 2013.
Rule was initially bothered by the idea of "making a living off of other people's tragedies," she once told The Times.
"I thought: 'Oh my God, I'm making a living from somebody else's tragedy. Can I do this?'" Rule told The Times in 1998.
The question haunted her so much that she turned to a psychiatrist, who told her that many people — including police officers, morticians and lawyers — face the same ethical dilemma. The doctor emphasized to her that what mattered was her feelings toward the victims.
"I really care about the people I'm writing about," said Rule, whose accounts focused as much on the anguish of the victims and their families as on the depravity of the killers. "I finally came to the knowledge I'm doing what I probably was meant to do in life."
Rule was born Oct. 22, 1931 in Lowell, Mich., to Chester R. Stackhouse, a football and basketball coach, and Sophie Hansen Stackhouse, a schoolteacher, according to a biography on her website.
She graduated with a degree in creative writing from the University of Washington, her biography says, and she took courses in crime scene investigation and police administration at Highline Community College.
She married Bill Rule, a teacher and technical writer, according to a biography by Contemporary Authors Online. The couple divorced in 1972. She had four children, according to court documents filed earlier this year.
Earlier this year, prosecutors in King County, Wash., charged two of Rule's sons with forgery and theft, alleging that they financially exploited Rule, who was "in poor health," according to court documents.
Rule had required round-the-clock care since 2013, the documents said.
Prosecutors said the sons, Andy and Mike Rule, had forged checks from her accounts totaling more than $100,000.
Times staff writer James Queally contributed to this report.
MORE:
Harold Williams dies at 90; architect designed Compton City Hall
Ex-president A.P.J. Abdul Kalam dies at 83, pushed for a nuclear India
James L. White dies at 67; wrote screenplay for Ray Charles biopic 'Ray'
---
Must-read stories from the L.A. Times
Get the day's top news with our Today's Headlines newsletter, sent every weekday morning.
You may occasionally receive promotional content from the Los Angeles Times.