Bobby Espinosa dies at 60; keyboardist for 1970s Latin soul band El Chicano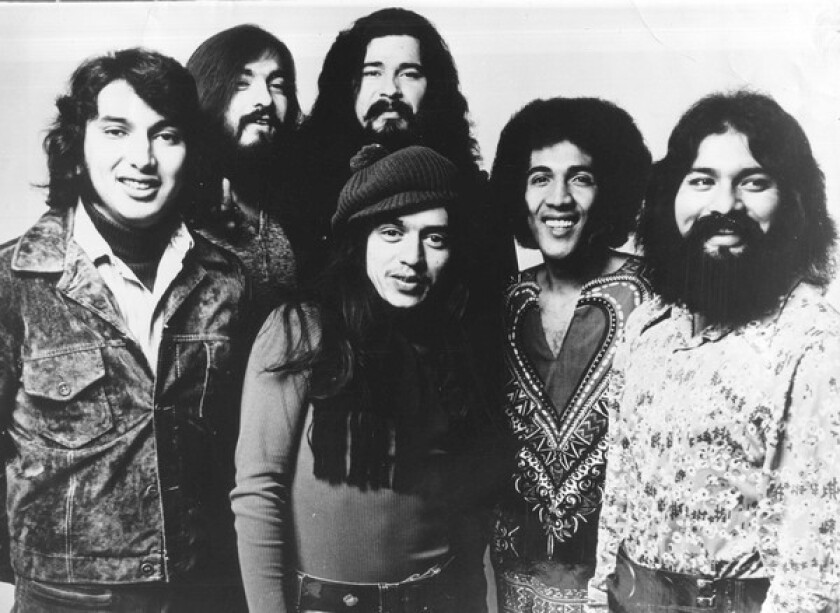 Bobby Espinosa, a keyboard player who helped create the confluence of jazz, R&B and rock sounds for El Chicano, the East L.A. band that had top-40 hits in the 1970s with "Viva Tirado" and "Tell Her She's Lovely," has died. He was 60.
Espinosa died Saturday night at White Memorial Hospital in Boyle Heights after a long illness, said the band's manager, Freddie Sanchez.
Along with other local Latino bands War and Tierra, El Chicano played a funky, jazzy mix of R&B and pop music tinged with salsa. An offshoot of an East L.A. cover band called the VIPs, El Chicano quickly gained a following in 1970 with "Viva Tirado, Part I," a riff on a jazz recording by Gerald Wilson.
Ry Cooder, a Los Angeles guitarist and producer who has been instrumental in bringing his eclectic tastes and appreciation for world music to mainstream audiences, was a fan.
"El Chicano hit a groove that defined 'Latin soul' on the West Coast," Cooder told The Times on Monday. "Their Wes Montgomery-flavored bolero styling of 'Sabor A Mi' was a unique creation. 'Viva Tirado' was your soundtrack cruising song through the night streets of East L.A. The organ riff, once heard, is never forgotten."
And while the band's name suggested the players were plugged into the rising social and political activism of Latinos in Los Angeles, the members backed away from any leadership role in the movement.
"We were just a bunch of musicians playing bars and trying to make a living," Espinosa said in a 1998 Times interview.
"Viva Tirado," an instrumental, peaked at No. 28 on the Billboard pop singles chart. El Chicano had a minor hit with a cover of Van Morrison's "Brown Eyed Girl" in 1972. Then in 1973 the group made the top 40 again with "Tell Her She's Lovely." The band recorded seven albums, maintained a loyal following and enjoyed newfound attention in the 1990s after rapper Kid Frost sampled "Viva Tirado" for his "La Raza."
Espinosa was born April 29, 1949, in Los Angeles and raised by music-loving parents.
"There was always music around the house, so I was exposed to it very young," he said in the 1998 interview. "Salsa was part of growing up, part of the environment."
As a teenager he played organ in a surf band called Mickey and the Invaders before helping to form the VIPs, which morphed into El Chicano.
Survivors include his daughter Reyna Espinosa, son Bobby Jr., brother Henry, sister Sheila Burns and six grandchildren.
A memorial service is planned for 1 p.m. March 20 at St. Alphonsus Catholic Church, 532 S. Atlantic Blvd., East Los Angeles.
Times staff writer Randy Lewis contributed to this report.
---
Must-read stories from the L.A. Times
Get all the day's most vital news with our Today's Headlines newsletter, sent every weekday morning.
You may occasionally receive promotional content from the Los Angeles Times.