Bobby Thomson dies at 86; ballplayer who hit 'shot heard round the world'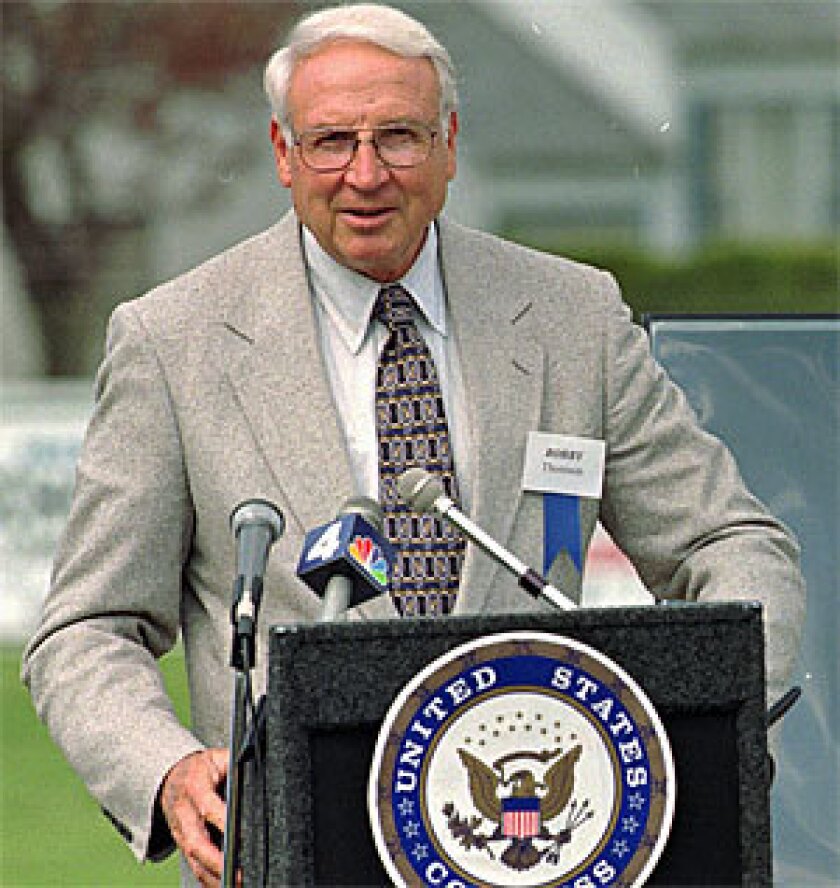 Bobby Thomson, who hit the legendary home run dubbed "the shot heard round the world" for the New York Giants and inspired perhaps the most famous broadcasting moment in baseball history, has died. He was 86.
Thomson, who had been in poor health for several years, died Monday night at his home in Savannah, Ga., according to various media reports.
The Brooklyn Dodgers were two outs from the 1951 National League championship when Thomson hit his dramatic home run, sending the Giants to the World Series and sending broadcaster Russ Hodges into hysteria as he repeatedly screamed into his microphone: "The Giants win the pennant! The Giants win the pennant!"
"Bobby Thomson will always hold a special place in our game for hitting one of the signature home runs in baseball history," baseball Commissioner Bud Selig said in a statement.
---
FOR THE RECORD:
A news obituary of New York Giants baseball player Bobby Thomson in Wednesday's LATExtra section reported that one of New York's three baseball teams (Giants, Yankees or Dodgers) played in every World Series from 1947 to 1957. In fact, the Cleveland Indians defeated the Boston Braves in the 1948 World Series.

---
The Dodgers and Giants moved to California after the 1957 season, but Thomson's feat was never forgotten in New York.
"A guy came up to me on the street just last week and said, 'I still hate you!' " Thomson told The Times in 1981. "But he laughed when he said it. I still get a kick out of it.... All those years and people still remember it so well."
Thomson's moment froze a city in time, back when New York was the undisputed capital city of baseball. At least one of the city's three teams — the Giants, Dodgers or New York Yankees — played in every World Series from 1947 to 1957.
In 1951, as the Yankees had clinched the American League pennant, the Giants and Dodgers staged a stunning sprint to the finish in the National League. The Giants trailed by 13 1/2 games Aug. 11, but they won 37 of their final 44 games to force a three-game playoff with their crosstown rivals.
On Oct. 3, 1951, in the decisive third game, the Dodgers led, 4-1, heading into the bottom of the ninth inning.
Dodgers pitcher Don Newcombe held the Giants to four hits over eight innings. When he gave up three hits to the first four batters in the ninth, Manager Charlie Dressen replaced him with Ralph Branca.
Newcombe recalled Tuesday that Branca patted him on the back and said, "Don't worry about it, big fella. I'll take care of everything."
With a city on its collective feet — including a teenage Woody Allen reportedly listening to a radio at a downtown newsstand and Frank Sinatra following the game in a midtown hotel bar — Thomson hit Branca's second pitch for the home run that capped the "Miracle on Coogan's Bluff," a reference to the setting of the Giants' home field, the Polo Grounds. The Giants won, 5-4.
"I didn't run around the bases, I rode around 'em on a cloud," Thomson said after the game. "I felt as if I was actually living one of those middle-of-the-night dramas. You know, everything was hazy. I heard yells. I saw papers flying. I noticed people jumping through the air, but through it all, I just kept riding high on that cloud."
By then, Newcombe had retreated to the Dodgers' clubhouse beyond center field, which was filled with reporters and photographers anticipating a Dodgers victory, and started taking a shower.
"All of a sudden there was a stampede across from our clubhouse over the walkway to the Giants' clubhouse," Newcombe, now a special assistant to Dodgers owner Frank McCourt, said Tuesday. "I said to the clubhouse man, 'What happened?' And he said, 'Just what you think happened.' "
Robert Brown Thomson was born Oct. 25, 1923, in Glasgow, Scotland. His father had left for the United States five days earlier, a carpenter in search of a better life for his family. In 1926, the elder Thomson — by then a Dodgers fan — sent for the family. Thomson, his five siblings and mother landed at Ellis Island and settled in Staten Island.
Thomson lived in the New York area for many years after his baseball career ended, working as a salesman for a paper company. He forged a friendship with Branca, who gave up the fateful home run, and they often made joint appearances for charity.
"Bobby was the hero," said Dodgers broadcaster Vin Scully, who was also at the Polo Grounds that day. "But the fellow who came out of that incident 10 feet tall was Ralph Branca. Ralph to me really carried the cross exceptionally well. After a while it had to be excruciating."
The relationship became strained years later after newspaper accounts revealed that the Giants had stolen signs during the 1951 season, although Thomson insisted he had no idea what pitch Branca was about to throw before the home run. Branca said he had known all along that the Giants stole signs but had chosen not to make a fuss.
"I didn't want to diminish a legendary moment in baseball," Branca told the New York Times in 2001. "And even if Bobby knew what was coming, he had to hit it. At home-run-hitting contests, they know what's coming and they still pop it up. Knowing the pitch doesn't always help."
Thomson was a three-time All-Star and hit a career-high 32 home runs in 1951. The Giants traded him to the Milwaukee Braves in 1954, and he also played for the Chicago Cubs, Boston Red Sox and Baltimore Orioles before his career ended in 1960.
In 1991, he told the San Francisco Chronicle he did not mind that his career was remembered for one moment, one spotlight that he shared with Branca.
"'These things have a way of taking care of themselves," Thomson said. "Let's face it, without that moment, we'd both be long forgotten."
His survivors include two daughters, Megan and Nancy.
bill.shaikin@latimes.com
Times staff writer Jim Peltz contributed to this report.
---
Must-read stories from the L.A. Times
Get all the day's most vital news with our Today's Headlines newsletter, sent every weekday morning.
You may occasionally receive promotional content from the Los Angeles Times.