Brian Carman dies at 69; guitarist co-wrote surf classic 'Pipeline'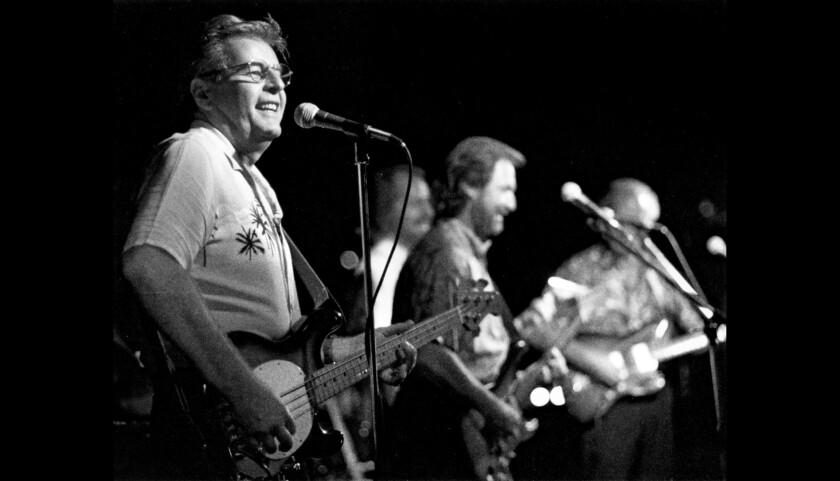 Maybe he should have been studying — or even surfing.
But Brian Carman had a guitar — a $40 Montgomery Ward's Airline that he bought with his mom's credit card. And he had a little group called the Chantays — five guys from Santa Ana High School who thought they could maybe play for dances at the community center.
One afternoon in 1961, he and his pal Bob Spickard got together and traded licks after school. By the end of the day, they had composed what would become one of Southern California's most recognizable musical exports — an instrumental anthem to riding the waves and living the life, a hard-driving song that begins with a dive-bombing set of notes cherished by virtually every kid who has picked up a guitar in the last six decades.
Carman, who with Spickard co-wrote "Pipeline" when he was 17 and continued to play with the Chantays even as the popularity of surf music hit some deep troughs before cresting again, died Sunday at his Santa Ana home. He was 69.
Carman, who had been ill for some time, had Crohn's disease and an ulcerated colon, Spickard said.
Carman and the Chantays had no other hits as big as "Pipeline" — but "Pipeline," while never topping the charts, became bigger than merely a big song.
"It's like the melody of Beethoven's 'Ode to Joy,' " said Tim Cooley, a music professor at UC Santa Barbara and author of a 2014 book, "Surfing About Music". "It's there, it's in your head, it's unforgettable."
With its hard-driving rhythm and Carman's cascading introduction, "Pipeline" became embedded in the national consciousness. It has been used in a host of movies and TV shows. In an episode of "The Sopranos," it was the background music for a cannoli-eating contest.
In 1963, it brought the nervous young Chantays to "The Lawrence Welk Show," where they strummed and drummed to their pre-recorded "Pipeline" as the old pros in Welk's regular band sat stolidly behind them. The musical bastion of Middle America had never before featured a rock 'n' roll group. For years afterward, Welk thanked them at Christmas with cheese logs and gift baskets.
"Our parents absolutely loved it although we might have thought it was somewhat corny," Spickard said. "But Welk was an absolute gentleman."
Born Aug. 10, 1945, Carman grew up in Santa Ana. His father worked at the Department of Motor Vehicles and his mother was a legal secretary. His older brother Steve, who played saxophone in a local band called the Rhythm Rangers, inspired Carman and his friends to get into music.
"They were making some money and attracting the girls," Spickard said. "We thought, 'Hey — that's a pretty good idea.' "
While the Chantays became known for surfing instrumentals, Carman was not an avid surfer. In fact, "Pipeline" was initially called "Liberty's Whip," after actor Lee Marvin's whip-flicking bad guy in the film "The Man Who Shot Liberty Valance."
The band changed it after Spickard and fellow Chantay Warren Waters went to a Bruce Brown film and saw surfers riding the famous Pipeline wave off Oahu's north shore.
It was good timing. California surfing was taking center stage. The Chantays joined with the likes of guitarist Dick Dale, the Ventures, the Surfaris and the Beach Boys in providing the theme music.
The Chantays' other well-known tunes also have surf themes, with titles like "Killer Dana," "Bailout at Frog Rock" and "South Swell."
With the coming of the Beatles and the other bands in the British Invasion, surf music receded. As Vietnam protests and the counterculture mushroomed, it began to seem quaint. On his debut album in 1967, Jimi Hendrix promised his listeners that "you'll never hear surf music again."
For a while, the Chantays played under other names to capture the changing spirit of the times. They were the Ill Winds and the Leaping Ferns, but came back as the Chantays — a name chosen over Montays and Zantays only because it sounded cool. Their name was memorialized in their hometown, with a street beside Santa Ana High School renamed Chantays Avenue.
As they got older, the Chantays started families and picked up day jobs with more responsibility. With occasionally shifting personnel they kept playing, veering into lounge-style music and then returning to their roots in the surf.
In 1994, Jim Washburn, a reviewer for The Times, saw the grown Chantays perform "Pipeline" "with gobs of adolescent enthusiasm in it, the thrill of kids getting loud, cool sounds to come out of their shiny new amps."
Surf music today is "completely happening," said Cooley, the UC Santa Barbara ethnomusicologist. Surf bands evolved into garage bands and punk bands, he said, but the form over the years has revived.
"It's not charting," he said, "but the charts don't tell the full story."
Carman played with the Chantays until about two years ago, when health problems sidelined him. He worked as a plant manager for a guitar maker and had other jobs in the music industry.
His survivors include his wife Suni, son Brett, and brother Steve. His first wife, Katie, died of breast cancer.
Twitter: @schawkins
---
Must-read stories from the L.A. Times
Get all the day's most vital news with our Today's Headlines newsletter, sent every weekday morning.
You may occasionally receive promotional content from the Los Angeles Times.