Bud Shank dies at 82; alto saxophonist was immersed in West Coast jazz scene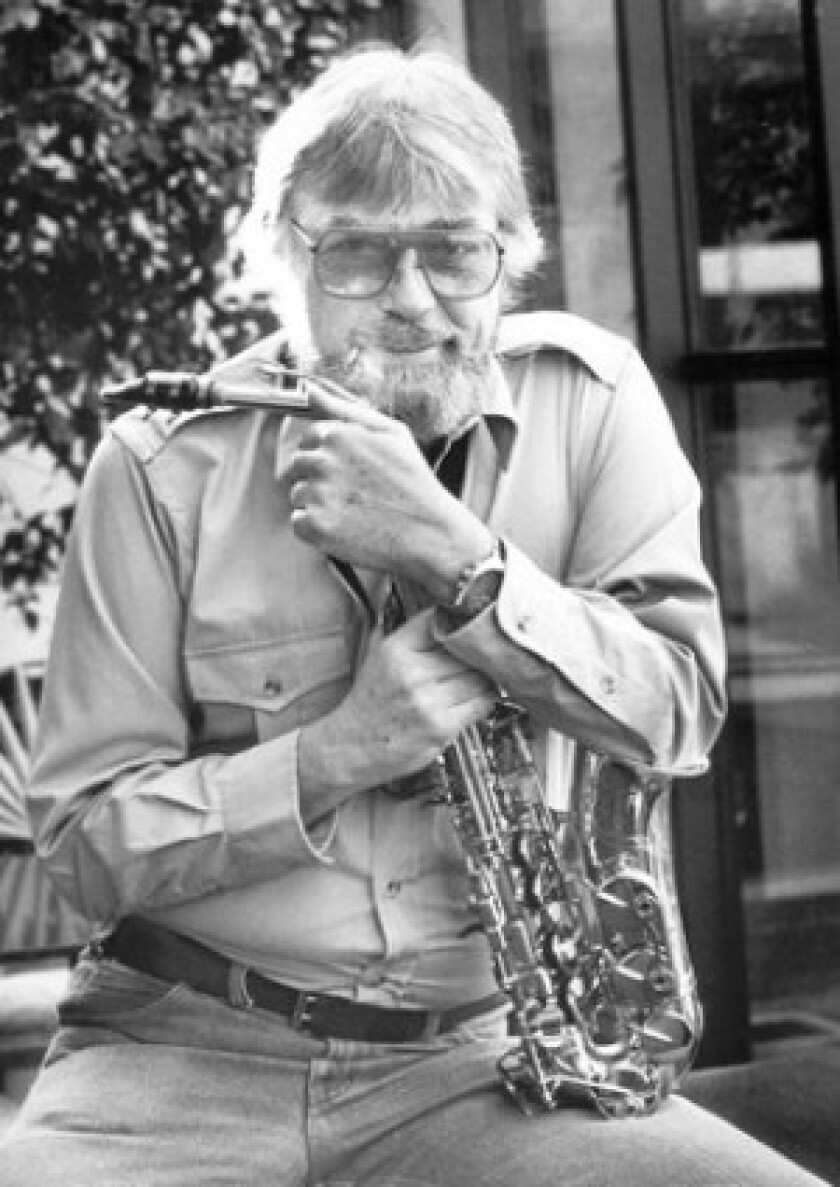 Bud Shank, the alto saxophonist who was a key figure in the West Coast jazz scene of the 1950s, has died. He was 82.
Shank died Thursday night at his home in Tucson of pulmonary failure, friends said.
A versatile musician with an adventurous nature, Shank also played flute and -- during a productive period of studio work -- had pivotal solos on the popular 1960s pop tunes "California Dreamin' " by the Mamas and the Papas and "Windy" by the Association. He had an early interest in music without borders, playing and recording with Brazilian guitarist Laurindo Almeida several years before the Bossa Nova craze. In 1962, he recorded an album with Indian sitarist Ravi Shankar.
For many, however, he is best known for his work in Los Angeles with Stan Kenton starting in the late 1940s, followed by his association with Howard Rumsey's Lighthouse All-Stars at the fabled Lighthouse Cafe jazz club in Hermosa Beach.
Born Clifford Everett Shank Jr. in Dayton, Ohio, on May 27, 1926, Shank was raised on a farm. He started playing clarinet at 10 and tenor saxophone at 12. He was a music major at the University of North Carolina but quit school to go on the road with a band that broke up after just a few weeks.
He decided to try his luck in Los Angeles instead of returning to the classroom. While rooming with a couple of other young musicians, he added flute to his repertoire, picking up lessons from a roommate who was learning from a professional instructor.
Shank was in bands led by Charlie Barnet and Alvino Rey before joining Kenton's new Innovations in Modern Music Orchestra in the early 1950s. Kenton's group featured a who's who of West Coast jazz talent, including Art Pepper, Shelly Manne, Bob Cooper, Shorty Rogers and Almeida.
Despite the talent, however, the end result was far less than it could have been. Author Ted Gioia wrote in "West Coast Jazz: Modern Jazz in California, 1945-1960" that the band "often sagged under the weight of Kenton's Wagnerian ambitions."
Shank also expressed mixed feelings about the group.
"That band was too clumsy to swing -- because of the instrumentation and voicings. On the other hand the sounds that came out of it were really big noises, really impressive. That's what that band was all about, making these really big noises. As far as swinging, it never did swing," Shank told jazz writer Gene Lees.
Shank joined the Lighthouse All-Stars in August 1953 and stayed with them until early January 1956.
According to jazz writer Doug Ramsey, who wrote an essay that became the booklet for the Mosaic label boxed set "The Pacific Jazz Bud Shank Studio Sessions," Shank's major contribution to the All-Stars was as a "first-rank alto player."
"But he also played flute to Bob Cooper's oboe," Ramsey said. "He and Cooper did an album playing flute and oboe, and from that point on the flute became a substantial part of his arsenal."
Shank led his own quartet from 1956 until 1963 and recorded a number of albums for the World Pacific and Pacific Jazz labels from the mid-1950s to the late '60s. He spent much of the '60s working as a studio musician for a diverse array of recordings and film scores, including the original version of "The Thomas Crown Affair," "The Sandpiper" and "The Summer of '42." He also scored the Bruce Brown surfing movies "Slippery When Wet" and "Barefoot Adventure."
In the 1970s, he, bassist Ray Brown, Almeida and a revolving cast of drummers played in the L.A. Four, which fused "cool-toned bop, Brazilian-oriented music and ballads," jazz writer Scott Yanow wrote in the "All Music Guide to Jazz." Some critics didn't know what to think of the sound and dismissed it as bland. The group recorded eight albums for Concord Records before disbanding in the early 1980s.
For much of his career, Shank believed that the musical accomplishments of the West Coast jazz era -- his own and his colleagues' -- were underappreciated. His playing over the last 30 years took on a harder-edged, more powerful sound more reminiscent of Phil Woods than Lee Konitz. He also dropped the flute and concentrated primarily on the alto sax.
His last gig in the Los Angeles area was at the Jazz Bakery in January.
Survivors include his wife, Linda. Information on services was not immediately available.
---
Must-read stories from the L.A. Times
Get all the day's most vital news with our Today's Headlines newsletter, sent every weekday morning.
You may occasionally receive promotional content from the Los Angeles Times.