Celeste Holm dies at 95; Broadway star in 'Oklahoma!' and Oscar-winner
In a career that spanned more than half a century, Celeste Holm played such varied roles as Ado Annie, "The girl who just can't say no" in "Oklahoma!," a worldly theatrical agent in the 1991 comedy "I Hate Hamlet," guest star turns on TV shows including "Fantasy Island" and "The Love Boat," and Bette Davis' best friend in the film "All About Eve."
(Kevork Djansezian / Associated Press)
Celeste Holm relaxes at the Mocambo nightclub with director John Stahl and her Academy Award statuette for the 1947 film "Gentleman's Agreement" after the March 22, 1948, ceremony.
(Los Angeles Times)
Celeste Holm and Cesar Romeo starred in "Carnival in Costa Rica," a 20th Century Fox musical about a young Costa Rican (Romeo) engaged to American singer (Holm) who returns home to find out his parents expect him to marry his childhood sweetheart.
(20th Century Fox)
Ronald Coleman and Celeste Holm co-starred in "Champagne for Caesar."
(Handout)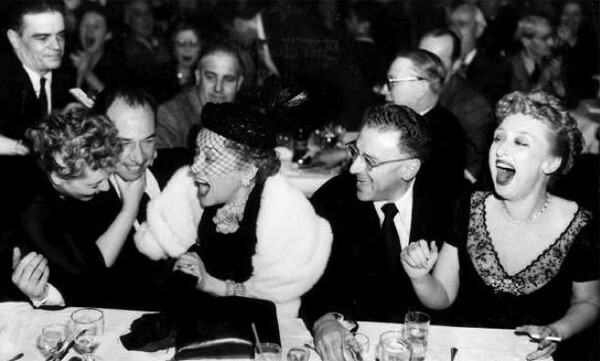 Celeste Holm received an Oscar nomination for supporting actress for her role as Karen Richards in the 1950 film "All About Eve." Here, from left after the 1951 Academy Awards, are Judy Holliday, Jose Ferrer, Gloria Swanson, George Cukor and Holm.
(File Photo / AMPAS)
Celeste Holm, right, starred as as Liz, along with Grace Kelly as Tracy Samantha Lord, Bing Crosby, left, as C.K. Dexter-Haven and Frank Sinatra as Mike Connor in the 1956 film "High Society."
(Warner Bros. Pictures)
The cast of the "Promised Land" television series included Celeste Holm as a grandmother who accompanied her family on their travels around the United States in an Airstream trailer. The cast included (clockwise from right) Celeste Holm, Eddie Karr, Sarah Schaub, Austin O'Brien, Wendy Phillips and Gerald McRaney.
(CBS)
Celeste Holm, the versatile actress who achieved fame on Broadway in the original production of Rodgers and Hammerstein's hit musical "Oklahoma!" in 1943 and five years later won an Oscar for best supporting actress in the landmark movie-drama "Gentleman's Agreement," died Sunday. She was 95.
Holm, whose more than 70-year career in show business included performing in nightclubs, died in her apartment on Central Park West in New York City, said her husband, Frank Basile.
She had recently spent two weeks in a hospital, where she was discovered to be dehydrated and ended up suffering a heart attack. She asked to be taken home Friday, Basile said.
Photos: Celeste Holm | 1917-2012
---
FOR THE RECORD:
Celeste Holm: A news obituary of actress Celeste Holm in the July 16 LATExtra section incorrectly spelled music historian Miles Kreuger's surname as Krueger. —
---
Before Holm's hospitalization, the couple briefly had been living outside their home because of smoke damage from a fire in actor Robert De Niro's apartment in the same building.
"My wife was an extraordinary woman," Basile said. "She lived her life with such grace and dignity."
Holm had great success on Broadway and already had 10 productions behind her when she was cast in the star-making role of man-crazy Ado Annie in "Oklahoma!," in which she sang "I Cain't Say No."
"Any good actress can play a man-crazy hoyden, but Celeste Holm played Ado Annie with a sly wink-in-the-eye that made her character irresistible," Miles Krueger, president of the Los Angeles-based Institute of the American Musical, who was a boy when he saw Holm in the role, told The Times in 2007. "She was so cute."
Holm's Broadway work, including the lead in the hit 1944 musical comedy "Bloomer Girl," led to a long-term contract with 20th Century Fox, where her first two films were the musicals "Three Little Girls in Blue" and "Carnival in Costa Rica."
Then came her third film, "Gentleman's Agreement," the groundbreaking 1947 drama directed by Elia Kazan and starring Gregory Peck as a journalist who adopts a Jewish identity to chronicle his firsthand experiences dealing with anti-Semitism.
Kazan fought to have Holm cast in the role of the witty and sophisticated magazine fashion editor Anne Dettrey. Studio head Darryl F. Zanuck, Holm told The Times in 1998, viewed her only as a musical-comedy performer.
"So they made me do the big emotional scene first as a test," she said. "I didn't know it was a test."
Critics took notice of Holm's portrayal of Dettrey.
"Really in the Academy class for supporting honors is Celeste Holm, who brings joy and gaiety, as well as good common sense, to the screen in her thoroughly ingratiating rendition of her role of everybody's friend," Los Angeles Times film critic Edwin Schallert wrote in his review of the film, which also earned Oscars for best picture and best director.
Holm received two more supporting-actress Oscar nominations while under contract to Fox — for playing a nun in the 1949 drama "Come to the Stable" and for playing the best friend of Bette Davis' aging Broadway star Margo Channing in the classic 1950 backstage drama"All About Eve."
"My agent didn't want me to do 'Eve.' Can you imagine?" Holm told the Associated Press in 1997. "He was afraid 'Miss Normal' would get caught between two cats, Bette Davis and [co-star] Anne Baxter."
Holm, in fact, didn't get along with the legendary Davis.
As Holm often recalled, when she walked on to the set the first day of shooting and said, "Good morning," Davis responded by saying, "Oh … good manners."
"I never spoke to her again — ever," Holm said.
Holm, who also had a small role as a mental patient who befriends star Olivia de Havilland's character in the 1948 Oscar-winning drama "The Snake Pit," was often at odds with the studio over the kinds of roles she should play.
She bought out the rest of her Fox contract and returned to New York, where she starred in the 1950-52 Broadway comedy "Affairs of State" and replaced Gertrude Lawrence in the original Broadway production of "The King and I."
But she returned to Hollywood in the mid-1950s to play supporting roles in two MGM musical comedies: "The Tender Trap," starring Frank Sinatra and Debbie Reynolds, and "High Society," starring Bing Crosby, Grace Kelly and Sinatra.
She later played Aunt Polly in the 1973 movie-musical version of "Tom Sawyer" and appeared in films such as "Three Men and a Baby."
A 1992 inductee in the American Theatre Hall of Fame, Holm appeared often on Broadway, including taking over the starring role in the original production of "Mame" in 1967.
On television, she starred in the short-lived, 1954 situation comedy "Honestly Celeste" and played a supporting role in the 1970-71 situation comedy "Nancy."
She also made frequent guest appearances and played the Fairy Godmother in the 1965 musical television production of "Cinderella,"starring Lesley Ann Warren in the title role.
Holm received three Emmy nominations, including a 1979 nomination for her supporting role in the mini-series "Backstairs at the White House."
She spent a season on the prime-time soap opera "Falcon Crest" in the mid-1980s and a year on the afternoon soap opera "Loving" in the early '90s. And she played Hattie Greene, the wise and compassionate grandmother on "Promised Land," the 1996-99 family dramatic adventure series.
An only child, Holm was born in New York City on April 29, 1917. Her Norwegian-born father, Theodor Holm, worked with the American branch of Lloyd's of London and her mother, Jean (Parke) Holm, was an American portrait artist and author.
The theater was an early attraction.
"I think if you do what you love, it comes through in everything," she told the Asbury Park Press in 2007. "I knew at 6 that I wanted to act."
Holm, who trained in singing, dancing and acting as a child, studied drama at the University of Chicago.
In 1936, after playing ingenue leads in a summer stock company in Pennsylvania, she joined the touring production of Leslie Howard's "Hamlet," in which she played a lady of the court and was the understudy for the actress playing Ophelia.
She made her Broadway debut in 1938 in a small role in the short-lived comedy "Gloriana," and she received positive critical attention a year later playing the small part of Mary L. in William Saroyan'sPulitzer Prize-winning comedy "The Time of Your Life."
Holm, who was knighted by King Olav of Norway and appointed to the National Arts Council by President Ronald Reagan, was active in various social causes, including being a spokeswoman for UNICEF. She also served as chairman of Arts Horizons, which brings the arts to schoolchildren.
Holm married Basile, her fifth husband, in 2004. She had two sons, Theodore Holm Nelson and Daniel Dunning, from previous marriages. They survive her, as do three grandchildren and two great-grandchildren.
Photos: Notable deaths of 2012
---
Must-read stories from the L.A. Times
Get all the day's most vital news with our Today's Headlines newsletter, sent every weekday morning.
You may occasionally receive promotional content from the Los Angeles Times.