Cilla Black dies at 72; British pop singer, TV personality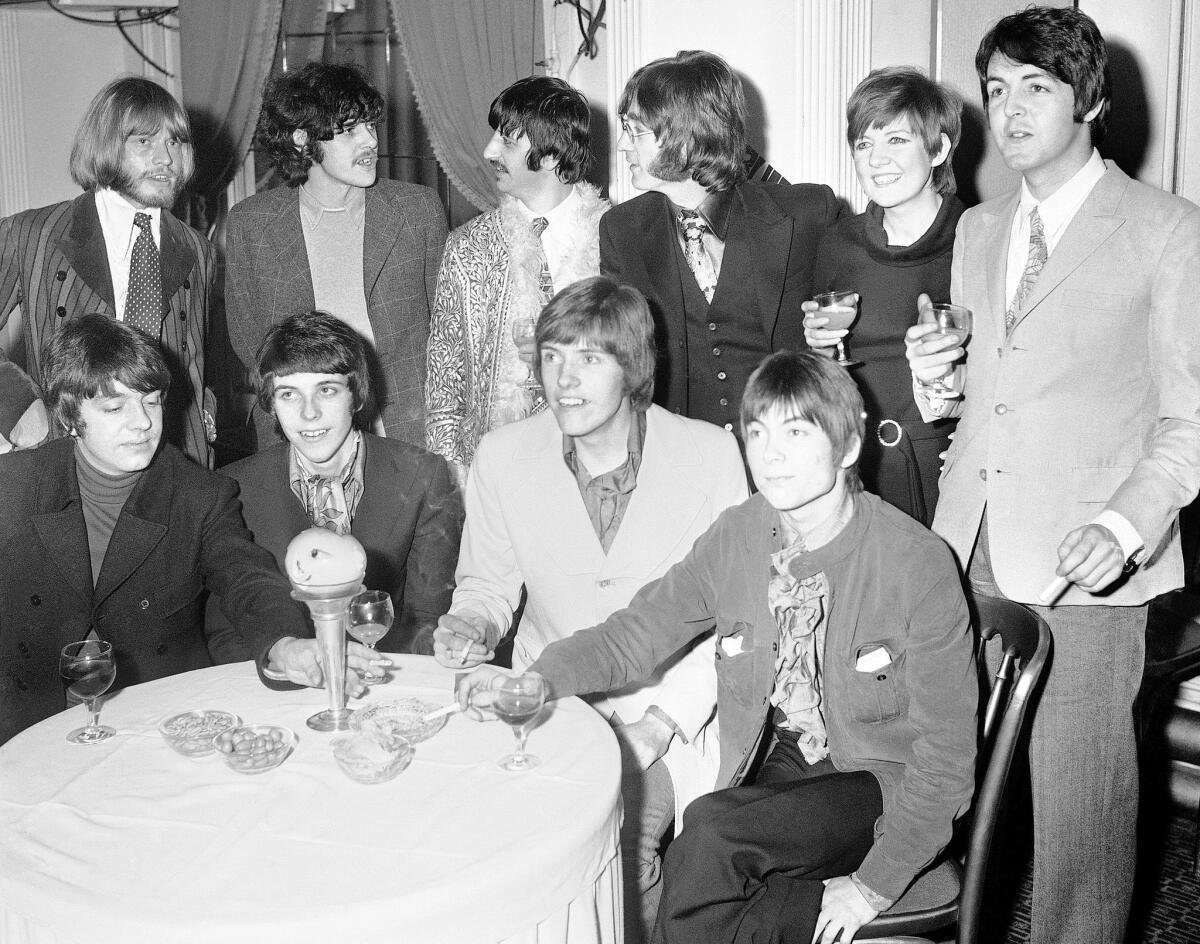 Cilla Black, a Liverpool dockworker's daughter who worked in the cloakroom at one of the Beatles' early venues before becoming one of her country's top pop singers and an enormously popular personality on British TV, has died. She was 72.
Her death Saturday at her home in Estepona, on the southern coast of Spain, was confirmed by her spokesman, Nick Fiveash. No further details were released, pending a coroner's report.
Black was "recognized by first name alone long before Madonna," according to the Guardian, a British newspaper. "Though attractive and perky, she never pretended, as a singer, to be anything other than the good Liverpudlian Catholic girl she was, giving the impression, unusually for the '60s music scene, that she was more likely to opt for a cocoa with her mum after a gig than a beer with a Beatle."
Signed by Beatles manager Brian Epstein, she had a string of hits starting in 1964 with "Anyone Who Had a Heart," written by Burt Bacharach and Hal David, and "You're My World." Both went to No. 1 in Britain, and the latter also charted in the U.S.
She also had success with the Bacharach-David theme for the 1966 film "Alfie." Her 2003 autobiography takes its title — "What's It All About?" — from the movie's signature song.
Starting in the 1980s, Black became a TV star.
On "Surprise, Surprise" (1984 to 2001), she reunited long-lost relatives and old chums who had fallen out of touch. She also had odd adventures, including cleaning an alligator's teeth and being winched into a helicopter from a desolate chunk of rock in the ocean. On "Blind Date" (1985 to 2003), she cheerily tried to match Mr. and Ms. Right, though she once had to scold a young man who seemed to be coming on to her: "Oh, please," she told him. "I've got food in my freezer older than you."
With her reliable high spirits and tireless work ethic, Black was a TV natural. Her catchphrase — delivered in a strong Liverpool accent that replaced the letter "T" with "R" — was "a lorra, lorra laughs."
At one point, Black was said to be the highest-paid woman on British TV.
"She has become abnormally wealthy by being abnormally normal," the Glasgow Herald said in 2006. "She's your mum, your favorite auntie and your best girlie friend all rolled into one."
Born in Liverpool on May 27, 1943, Black started her life as White: Priscilla Maria Veronica White. Mersey Beat, a Liverpool music publication, got her name wrong when she was a teenager singing part time in clubs. Epstein persuaded her to keep it because he thought it was sexier.
"Me mam, bless her was named Priscilla, but she was known as 'big Cilla' after I was born, and I was dubbed 'little Cilla,'" she wrote. "She was always singing, especially on Monday mornings; which was washday in our home. Me dad, whose name was John, was forever playing his mouth organ when he wasn't tending his budgerigars."
Black worked part time hanging coats at Liverpool's Cavern Club, an early Beatles venue. A typist during the day, she was occasionally visited on the job by her barely working, gum-chewing musician pal Richie Starkey, a.k.a. Ringo.
"'Fancy coming to the pictures this afternoon?,'" he'd grunt, according to her memoir.
"I can't,'" she'd hiss. "`I'm working.'"
Sudden success catapulted Black, as well as the Beatles, out of Liverpool.
Bobby Willis, a songwriter and fellow Liverpudlian, became Black's personal manager, and, in 1969, her husband. He died of cancer in 1999.
Black is survived by their three sons.
On Sunday, Beatle Paul McCartney said news of her death came as a shock.
"She had a fine distinctive voice and was always a bit of a laugh," he said in a statement. "It was a privilege to know and love her."
The Associated Press contributed to this report.
Sign up for Essential California for the L.A. Times biggest news, features and recommendations in your inbox six days a week.
You may occasionally receive promotional content from the Los Angeles Times.