Cirilo Flores dies at 66; San Diego bishop battled cancer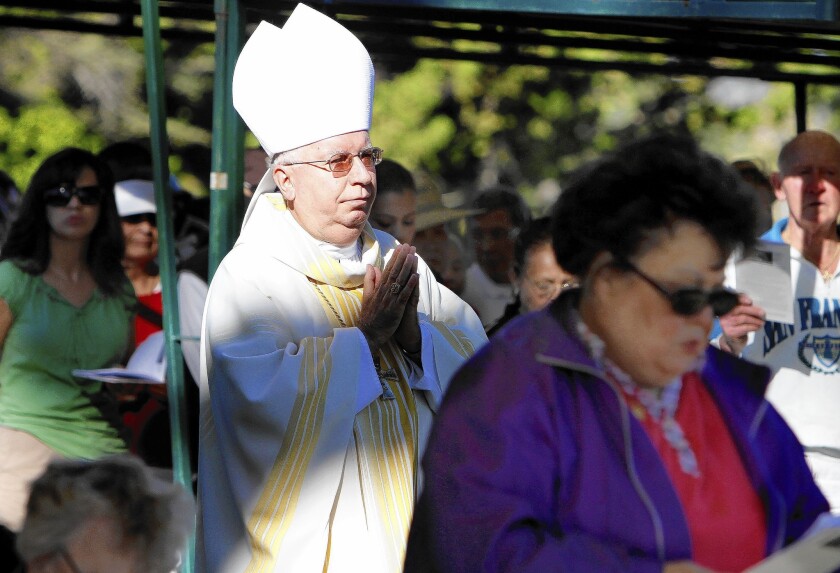 Cirilo Flores entered the priesthood at 43, but by his mid-60s was named to one of the most visible Catholic church posts in the United States.
Flores, who for 10 years was a civil litigator for a law firm based in Beverly Hills, was named bishop of the Roman Catholic Diocese of San Diego last year. With more than 1 million parishioners in San Diego and Imperial counties, he was the first Latino ever to hold that position.
Flores died of cancer in a San Diego hospice Saturday, a little less than a year after he took office. He was 66.
His death was confirmed by the diocese, which last week said he was not a candidate for chemotherapy because he had been so weakened by aggressive prostate cancer. The disease was discovered after Flores had a stroke last April.
Flores was seen as "a cheerful, happily low-profile figure" with an open, plain-spoken style, according to Rocco Palmo, a blogger on church affairs. He spent years as a pastor in Santa Ana and Orange before assuming posts in San Diego, a diocese that had been mired in bankruptcy after settlements in sex-abuse lawsuits.
Born in Corona on June 20, 1948, Flores was the son of a Mexican immigrant and his Arizona-born wife. His grandparents all were from Mexico and his first language was Spanish.
He attended public schools until the Knights of Columbus offered to pay his tuition at a Catholic high school. In 1970, he graduated from Loyola Marymount University in Los Angeles and spent nearly a year at a Jesuit seminary before heading for Stanford Law School.
As an attorney, he remained active in church organizations. Attending the funeral of a priest friend, he felt a strong tug back toward the priesthood. In 1986, he entered St. John's Seminary in Camarillo and five years later was ordained a priest for the Diocese of Orange.
He was named an auxiliary bishop in Orange County in 2009, and became the fifth bishop of San Diego last Sept. 18.
Flores is survived by three brothers and two sisters.
steve.chawkins@latimes.com
Twitter: @schawkins
---
Must-read stories from the L.A. Times
Get the day's top news with our Today's Headlines newsletter, sent every weekday morning.
You may occasionally receive promotional content from the Los Angeles Times.