Dave Brubeck dies at 91; jazz legend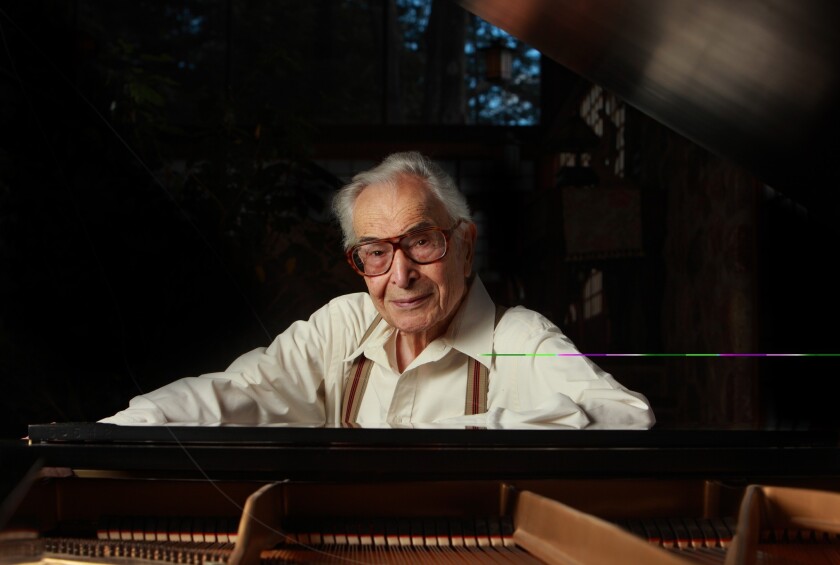 Jazz great Dave Brubeck in Wilton, Conn., in 2010.
(Carolyn Cole / Los Angeles Times)
Dave Brubeck in 1995.
( Handout)
Dave Brubeck in 1956.
(Associated Press)
Dave Brubeck, seated right, joins his fellow 2009 Kennedy Center honorees -- Grace Bumbry, Robert De Niro, Bruce Springsteen and Mel Brooks -- for a group photo.
(Kevin Wolf / Associated Press)
Dave Brubeck celebrates his 85th birthday in 2005 by performing with the London Symphony Orchestra at London's Barbican Hall.
(Alastair Grant / Associated Press)
Dave Brubeck sits at the piano surrounded by sons Chris, left, Danny and Darius, during an intermission of a concert in New York in 1985.
(Richard Drew / Associated Press)
Dave Brubeck, left, joined fellow jazz legends Herbie Hancock and Lionel Hampton at a luncheon honoring Hancock at New York's Tavern on the Green in June 1987.
(Osamu Honda / Associated Press)
Dave Brubeck plays piano as Tony Bennett sings "That Old Black Magic" at Carefusion Newport Jazz 55 in Newport, R.I., in 2009. Brubeck and Bennett had last performed the song together decades earlier, for President Kennedy at the White House.
(Joe Giblin / Associated Press)
Dave Brubeck entertains an after-work crowd at the 1990 JVC Jazz Festival in New York.
(Mario Suriani / Associated Press)
Dave Brubeck in 1974.
(Associated Press)
Dave Brubeck plays backstage for sons Danny and Darius between acts during his Newport Jazz Festival appearance at Carnegie Hall in New York in 1975.
(Richard Drew / Associated Press)
Dave Brubeck at the Newport Jazz Festival in Newport, R.I., in 1981.
(Paul Mello / Associated Press)
Dave Brubeck tours Moscow before performing at a concert in 1987.
(Boris Yurehenko / Associated Press)
After performing their own concert, Dave Brubeck, center, and Paul Desmond, far left, listen intently to Indian musicians playing the sitar in Mumbai in April 1958.
(Associated Press)
Dave Brubeck, right, jokes with an unidentified fellow Army soldier at Camp Hahn, Calif., in the 1940s. Brubeck served in France in World War II.
(Dave Brubeck )
In the strait-laced Eisenhower 1950s, Dave Brubeck seemed, on one hand, deeply conventional. He didn't drink, smoke or take drugs. He favored expressions like "baloney!" and "you bet" over ruder alternatives. He had a prodigious work ethic that had been ground into him by his cowboy father on the family's California cattle ranch.
But rebellion was in Brubeck's soul. Schooled in piano by his musically gifted mother, he became a jazz man — outwardly square but quintessentially cool — whose genius at marrying spontaneity and unorthodox rhythms with classical forms became an enduring legacy.
Brubeck, the pianist and composer who pushed the boundaries of jazz for six decades and became one of the genre's most popular artists, died Wednesday, a day before his 92nd birthday.
---
FOR THE RECORD:
Dave Brubeck: In the Dec. 6 Section A, the obituary of jazz artist Dave Brubeck quoted a 1961 New Yorker profile that described an example of the musical interplay between Brubeck and Paul Desmond during a performance of "Blue Rondo a la Turk" in which Desmond inserted a quote from "Try a Little Tenderness." It was Brubeck, not Desmond, who responded with a loud burst from "You're Driving Me Crazy! - What Did I Do?" Also, the obituary said the album "Time Out" had reached No. 2 on the pop music album charts by the end of the 1950s. The album reached No. 2 in 1961.

---
PHOTOS: Dave Brubeck | 1920 - 2012
The jazz maestro, who had a history of heart trouble, became unresponsive on his way to a medical appointment, said his longtime manager and producer Russell Gloyd. Brubeck's son, who was in the car with him, rushed him to a hospital in Norwalk, Conn., where he was pronounced dead.
Jazz guitarist Kenny Burrell called Brubeck "a true musical giant. He helped to keep jazz at a truly high level and he was very consistent in both his performance and composition."
He was best known for his work with his classic Dave Brubeck Quartet, which included longtime musical partner Paul Desmond on alto saxophone, Eugene Wright on bass and Joe Morello on drums. Brubeck's innovative ideas generated an enthusiastic response from a new audience of young listeners — as well as the players most directly connected with his music.
"When Dave is playing his best, it's a profoundly moving thing to experience, emotionally and intellectually," Desmond said in 1952 in the jazz publication Down Beat. "It's completely free, live improvisation ... the vigor and force of simple jazz, the harmonic complexities of Bartok and Milhaud, the form [and much of the dignity] of Bach and, at times, the lyrical romanticism of Rachmaninoff."
In the late 1950s, the group began exploring unusual rhythmic meters. By the end of the decade, the album "Time Out" had reached No. 2 on the pop music album charts, and a single off the album — with "Take Five" on one side and "Blue Rondo a la Turk" on the other — became the first jazz recording to sell more than a million copies.
Written by Desmond, "Take Five" became a universally recognized jazz classic despite the offbeat 5/4 meter.
The group's popularity began to climb in the mid-1950s when a series of live college recordings — "Jazz Goes to College," "Jazz Goes to Junior College" and "Jazz Goes to Oberlin" — was released. Brubeck appeared on the cover of Time magazine in 1954, only the second such honor for a jazz artist. (Louis Armstrong was first.)
The New Yorker described the quartet as "the world's best-paid, most widely traveled, most highly publicized, and most popular small group now playing improvised syncopated music."
But Brubeck's fascination with groundbreaking elements not generally included in the jazz styles of the '50s also made his music a target of widespread disparagement from jazz critics, who often referred to a "heavy-handed, bombastic approach" to piano improvising. The words directly contradicted another critical view, which identified the music of Brubeck and Desmond as another example of the "effete, laid-back, West Coast cool jazz" style."
Most of the criticism failed to recognize the complex range of elements — from stride piano to a Bach canon — that could course through a single piece. Brubeck often cited the positive response his music received from legendary jazz figures including Duke Ellington, Miles Davis and Charles Mingus, among others.
David Warren Brubeck was born Dec. 6, 1920, in Concord, northeast of Oakland. His father, Howard "Pete" Brubeck, was a cattle rancher, his mother, Elizabeth Ivey Brubeck, a pianist and music teacher. When he was 11, the family moved to a 45,000-acre ranch near Ione, in the Sierra foothills.
His older brothers Howard and Henry became classical musicians, but Dave preferred ranching and improvising pop songs on the piano. As a teenager, he played at dances on weekends.
Brubeck started out studying veterinary medicine at what is now the University of the Pacific in Stockton but switched to music at the suggestion of his science advisor. He managed to earn a bachelor's degree without learning to properly read music.
He was drafted into the Army after graduation in 1942, marrying his college sweetheart, Iola Marie Whitlock, just before he was sent to France in 1944.
His wife, who frequently wrote lyrics for his projects, survives him along with his daughter Catherine, his sons Darius, Chris, Dan and Matthew, 10 grandchildren and four great-grandchildren. Another son, Michael, died several years ago.
Discharged from the military in 1946, Brubeck went to Mills College in Oakland, studying with French composer Darius Milhaud and forming the Brubeck Octet, a musically adventurous group with an imaginative and avant-garde repertoire. Brubeck's trio, which he led from 1949 to 1951, provided a different, more intimate forum for his far-reaching ideas. The group, which included bassist Ron Crotty and drummer/vibist Cal Tjader, played standards and Brubeck's originals.
In 1951, Brubeck added Desmond to his trio. It was the beginning of a journey into national visibility that established Brubeck and Desmond as significant jazz figures. The quartet, which remained together until 1967 and was briefly reunited in 1976, a year before Desmond died, became the most important vehicle for Brubeck's playing and innovative musical ideas.
Brubeck's sometimes empathetic, sometimes confrontational musical partnership with Desmond was the driving force behind those ideas. Brubeck was the engine, his visceral chording providing lift-off power for Desmond's soaring melodic interpretations of Brubeck originals and tunes from the Great American Songbook.
The intimacy of their musical interaction took place as quasi-verbal subtexts within musical dialogues — with the intellectually sardonic Desmond choosing a fragment of melody to identify the title of a popular song or a classical piece, and Brubeck countering it immediately with a continuation of the melody or a contrasting phrase, identifying the title of a different piece.
In a 1961 New Yorker profile, Robert Rice described a typical example that took place during a quartet performance of "Blue Rondo a la Turk" in which Desmond inserted a quote from "Try a Little Tenderness." "Desmond," wrote Rice, responded "with a loud burst from 'You're Driving Me Crazy! – What Did I Do?' "
Despite their sometimes confrontational relationship, Desmond gave Brubeck full credit for coming up with "Take Five."
"At that point, we had three or four albums a year to get done," he told CBC Radio in 1976. "And [Dave] said, 'Why don't we do ... all different time signatures? ... We got 2/4, 3/4 or 4/4, 5/4, 6/4, 7/4, 8/4, whatever. Why don't you take 5/4.' So I wrote 'Take Five.' At the time, I really thought it was kind of a throwaway. But it was Dave's idea, so give him ultimate credit."
In 1967, Brubeck disbanded the quartet to concentrate on composition, primarily sacred works and classical pieces, usually with jazz references. But he was soon pairing frequently with baritone saxophonist Gerry Mulligan as the "The Dave Brubeck Trio with Gerry Mulligan."
After Desmond's death, Brubeck continued to maintain the quartet format with other players, including clarinetist Bill Smith and saxophonist Bobby Militello. Among the many ensembles he led was Two Generations of Brubeck, which included his musician sons Dan, Darius and Chris.
The Dave Brubeck Quartet appeared and recorded with Leonard Bernstein and the New York Philharmonic in 1959, entertained world leaders at the 1988 Gorbachev-Reagan summit in Moscow, and frequently performed at the White House. Brubeck's 80th birthday was celebrated in 2000, featuring four of his sons as soloists in an all-Brubeck program with the London Symphony Orchestra.
His large-scale works included a jazz musical, "The Real Ambassadors," recorded in 1961 with Louis Armstrong and Carmen McRae; a jazz opera, "Cannery Row"; ballets; an oratorio; cantatas; and a Mass.
Some of the disparagement of his music suggested that racial favoritism was a factor in Brubeck's successes, even though Brubeck was from the beginning a highly visible civil rights activist. One time he refused to appear with the quartet on the "Bell Telephone Hour" television show after he was asked to replace Wright, an African American, with a white bassist.
Among his many awards, Brubeck was inducted into the American Classical Music Hall of Fame, declared a Jazz Master by the National Endowment for the Arts and awarded the National Medal of the Arts. In 2009, he received a lifetime achievement award as part of the Kennedy Center Honors.
Despite Brubeck's continued popularity, creative versatility and enormous commercial draw, it took many jazz critics decades to reconsider their early responses to his music.
In his 1995 book, "Cats of Any Color," former Down Beat editor Gene Lees wrote, "The public was right; the critics were wrong."
Times staff writers Elaine Woo and Rebecca Trounson contributed to this report.
---
Must-read stories from the L.A. Times
Get all the day's most vital news with our Today's Headlines newsletter, sent every weekday morning.
You may occasionally receive promotional content from the Los Angeles Times.