David P. Cooley dies at 49; test pilot worked for Air Force, Lockheed Martin before fatal crash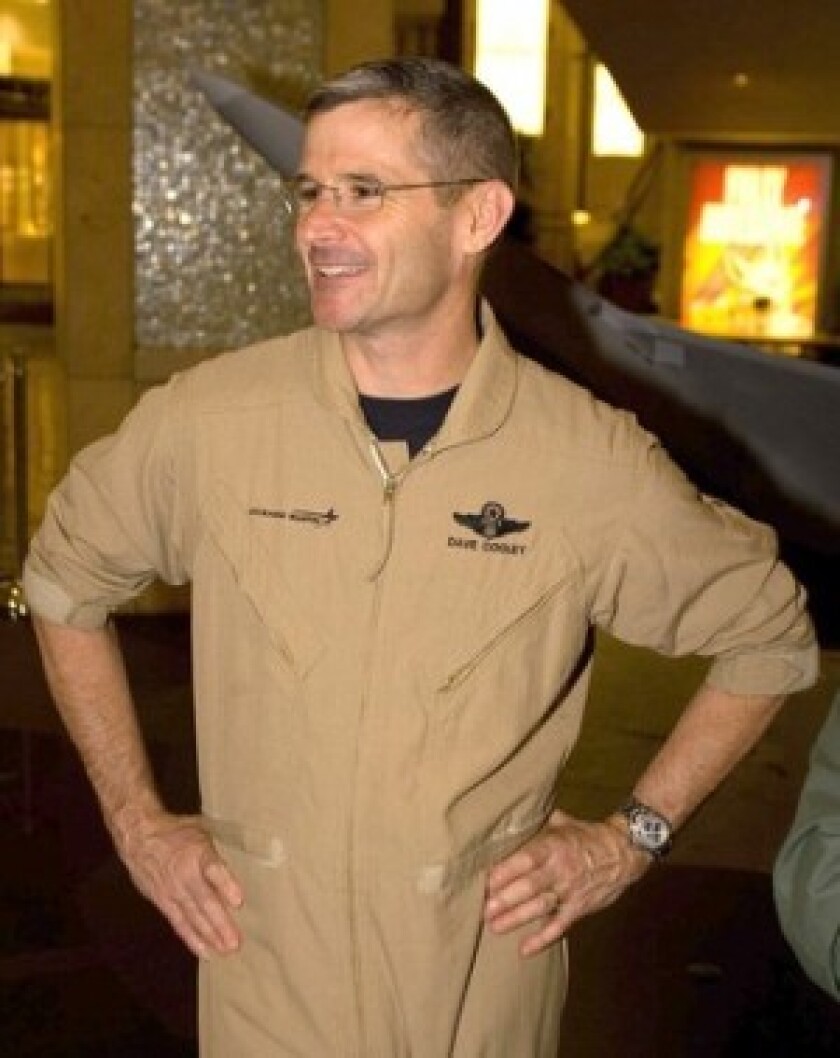 David P. Cooley, the retired Air Force pilot who was killed Wednesday in the crash of an F-22 near Edwards Air Force Base at age 49, had a significant career as a versatile test pilot and a large effect on the test flight community in the high desert as a trainer and mentor of future test pilots, colleagues told The Times on Sunday.
A test pilot since 1989, Cooley flew a long list of aircraft that included the F-111, F-15 and F-117 as well as the F-22.
"He was calm, cool, collected. His love of flying was infectious. He was a consummate professional, and a true leader and an inspiration to everyone," said Steve Rainey, a fellow F-22 test pilot who, like Cooley, is a retired Air Force lieutenant colonel.
From 2000 to 2003, Cooley was the vice commandant for the Air Force Test Pilot School at Edwards. He was responsible for the day-to-day operations of all aspects of the school and also mentored students as a full-time flight instructor.
"Students were very open with him and he with them. Everybody who dealt with 'Cools' loved the guy," Rainey said.
The son of an enlisted Air Force man, Cooley was born Feb. 15, 1960, at RAF Mildenhall, England. He finished high school in Belleville, Ill., and graduated from the Air Force Academy in Colorado Springs, Colo., in 1982. It was there that he met his future wife, Sheyla, a native of Costa Rica who was also a student at the academy.
Cooley began his flying career as an operational F-111 pilot. He first became involved with test flying in 1989 as an operational test and evaluation pilot, conducting operational testing of new weapons and systems for the F-111.
In the early 1990s, Cooley represented the United States as the Air Force exchange officer at the Empire Test Pilots' School in Britain. He graduated in 1992 and was then assigned to the 445th Flight Test Squadron at Edwards, where he conducted F-15 tests on avionics and missile evaluation for the F-15.
He was also the chief pilot for the U.S. Coast Guard RU-38 utility aircraft flight test program.
Other career highlights include operations officer for the 410th Flight Test Squadron, where he was responsible for developmental flight testing of the F-117.
After retiring from the Air Force in 2003, Cooley was hired by Lockheed Martin as the F-117 chief test pilot. In that capacity, he conducted weapons separation and integration testing, avionics development and numerous classified test programs.
In September 2007, Cooley was named an F-22 test pilot assigned to the F-22 Combined Test Force at Edwards.
In addition to his wife, he is survived by their three sons, Paul, Mark and Aaron; his father and stepmother, William and Peggy Cooley; one brother, Bill Cooley; and two sisters, Susan Pfalzer and Cathy Baker.
Funeral services will be held today at 11 a.m. at Palmdale United Methodist Church, 39055 10th Street West in Palmdale. Interment will be private.
A memorial service will be held at Edwards Air Force Base, Building 1600, on Wednesday at 10 a.m.
---
Must-read stories from the L.A. Times
Get all the day's most vital news with our Today's Headlines newsletter, sent every weekday morning.
You may occasionally receive promotional content from the Los Angeles Times.