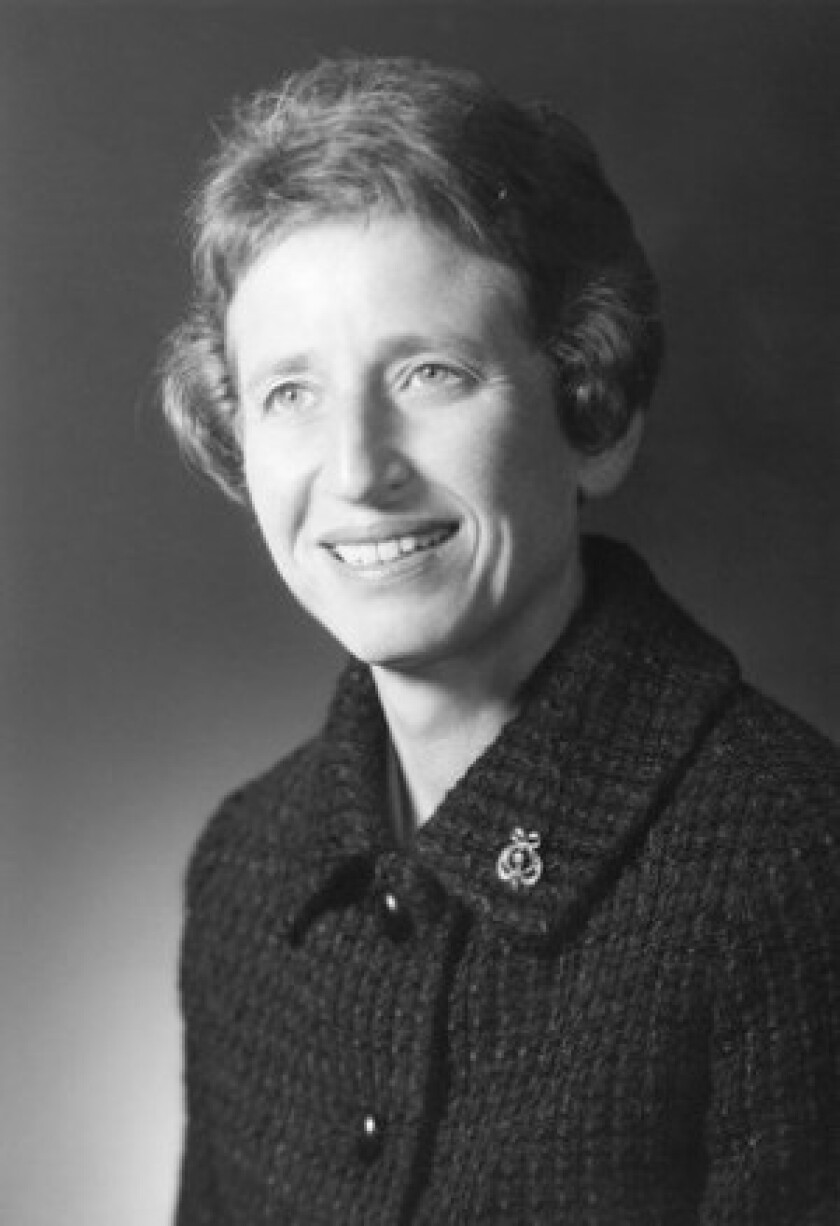 Doris Brin Walker, a radical lawyer who fought anti-communist hysteria in the 1950s and helped clear activist Angela Davis of murder and kidnapping charges in the 1970s, died of a stroke Aug. 13 at a San Francisco hospital, her daughter, Emily Roberson, said. She was 90.
A lifelong Communist and the only woman in her Boalt Hall law school class in 1942, Walker was a tenacious advocate who took on many difficult cases without pay. Among these was the 1959 trial of John W. Powell, a writer accused of sedition for publishing an article alleging that the United States used germ warfare during the Korean War.
Her most high-profile case was the sensational 1972 trial of Davis, an avowed Communist and recently fired UCLA professor who faced the death penalty because a gun registered in her name was linked to the 1970 slayings of a Marin County judge and three abductors. The mix of race, politics and murder drew international attention to the case. Walker, one of two women on the four-member defense team, prepared witnesses and helped the other attorneys plan novel strategies, which included using consultants to pick a jury and experts to debunk eyewitness testimony.
"She was way ahead of her time," Harvard University law professor Charles J. Ogletree Jr. said of Walker, who in 1970 became the first woman to head the National Lawyers Guild. "She was a living example of the wonderful, critical and timely contribution of women to the legal profession."
Known by her nickname, Dobby, Walker "was known for fighting for people's rights," said Leo Branton Jr., Davis' lead attorney. "She was a very strong advocate of people's rights, no matter who they were, working-class people as well as minority people. She got that from her Communist background."
Walker was born in Dallas on April 29, 1919. She enrolled at the University of Texas at 16, transferring after a year to UCLA, where she became a Marxist and joined the Communist Party. She graduated with a degree in English in 1939 before earning her law degree from UC Berkeley's Boalt Hall in 1942.
She went to work in a law firm as a labor lawyer but was fired; she believed it was because she was a woman. Finding law practice "not radical enough," she became a labor organizer at California canneries.
In 1946 she was hired as a clerk-typist at Cutter Laboratories, a Bay Area pharmaceutical company, but was fired three years later. An arbitration panel found she had been wrongly dismissed because of her union activity and Communist Party membership, but the California Supreme Court overturned the panel's reinstatement order, citing the "clear and present danger" that a Communist posed to co-workers and employers.
Walker appealed the decision to the U.S. Supreme Court in 1956, but it refused to hear the case. Justice William O. Douglas, in a dissent that was also signed by Chief Justice Earl Warren and Justice Hugo Black, wrote that "the blunt truth" was that Walker was fired not for any misconduct but for "her legitimate labor union activities or because of her political ideology or belief."
During the 1950s she helped represent 14 clients who had been convicted under the Smith Act of advocating the violent overthrow of the government. In 1957, Walker, with Branton, Ben Margolis and other attorneys, won a Supreme Court reversal of the convictions in Yates vs. United States.
"We effectively did away with the Smith Act," Branton said. "The government never used it again."
Walker took on the Powell case in 1956, when Powell was indicted by a federal grand jury on 12 counts of sedition stemming from a story he wrote for the China Weekly Review alleging the U.S. military's use of biological weapons during the Korean War.
The case ended within days of the start of the 1959 trial when San Francisco newspapers misconstrued the judge's remarks and erroneously reported that he believed Powell was guilty of treason, a far more serious crime. Walker won a mistrial on the grounds that the media coverage had been inflammatory and could taint jury proceedings.
The Powell case "entered U.S. criminal law as one of the earliest precedents for declaring a mistrial because of prejudicial publicity," Neil L. O'Brien wrote in a 2003 book on Powell's long legal battle.
From 1961 to 1977, Walker was a partner in a law practice with Robert Treuhaft, a prominent leftist who was married to Walker's close friend, writer Jessica Mitford. The firm, Treuhaft, Walker and Burnstein, hired Hillary Rodham, the future first lady and secretary of State, as an intern in 1971.
During the 1970s Walker promoted civil and human rights as vice president of the International Assn. of Democratic Lawyers. In 1996 she served as one of eight observers at hearings on the effects of apartheid held by the South African Truth and Reconciliation Commission.
In 2005 she was reunited with Davis and other members of the defense team on a panel at Harvard moderated by Ogletree. Ogletree called the Davis defense lawyers "the true Dream Team of the legal profession."
Walker was married for 25 years to Mason Roberson, a founder of the Spokesman, one of the first black newspapers in the Bay Area. He died in 1977.
In addition to her daughter, she is survived by a sister, Jean Zembrosky, of Minneapolis; and a granddaughter, Iris Tamara Roberson Feldman, of San Francisco.
Memorial donations may be sent to the National Lawyers Guild, 132 Nassau St., Room 922, New York, NY 10038.
---