Dr. Arnold Klein dies at 70; dermatologist to Michael Jackson and other stars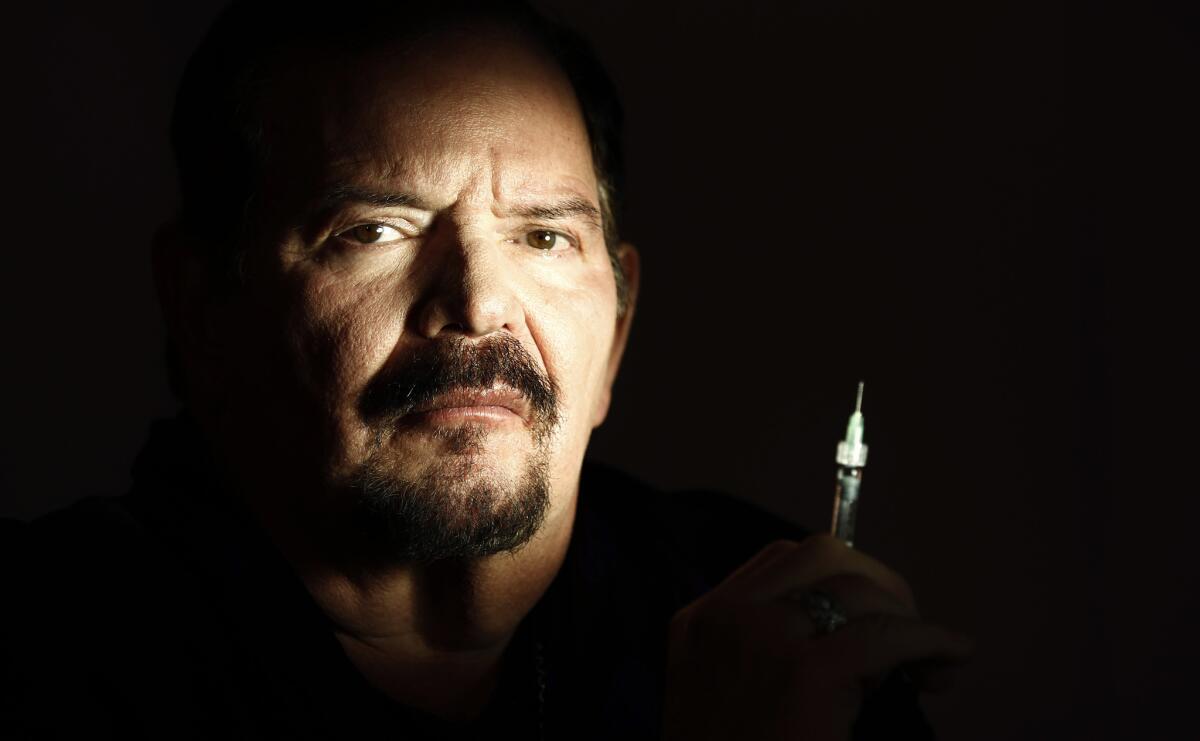 Dr. Arnold Klein, the longtime Beverly Hills dermatologist whose patients-turned-pals included Michael Jackson and Elizabeth Taylor, has died. He was 70.
Often called the "King of Lips" and later the "father of Botox" for his ability to erase wrinkles and sags with injections, Klein died Thursday at Eisenhower Medical Center in Rancho Mirage. His death was confirmed by the Riverside County coroner's office. No cause of death was given.
After opening his Roxbury Drive office in the mid-1970s, Klein built an A-list clientele of Hollywood icons, starlets, industry bigwigs and Beverly Hills matrons seeking to obliterate crow's feet, firm up droopy jaw lines and plump up smiles. His expertise in lip augmentation was solidified when a region of the upper lip — the Glogau-Klein point — was named for him and fellow dermatologist Richard Glogau.
"Put me next to a patient, give me a needle, and I'm really happy," Klein told the Associated Press in 2011.
He was born Arnold William Klein on Feb. 27, 1945, in Mount Clemens, Mich., and graduated from the University of Pennsylvania School of Medicine in 1971.
After he opened a private practice in Beverly Hills, his career got a boost after Merv Griffin invited him to appear on his television talk show.
Klein's practice attracted the likes of Goldie Hawn, Carrie Fisher and Dolly Parton. When Parton took the stage at the Hollywood Bowl in 2011, according to a Vanity Fair profile, she proclaimed, "It takes a lot of money to look this cheap, and I owe it all to Dr. Arnie Klein."
In another Vanity Fair article, in 2003, Elizabeth Taylor said: "He's the most brilliant doctor in the world. He's supposed to be a dermatologist, but he is so much more."
Cosmetic dermatology brought Klein great wealth, and he wasn't shy about flaunting it. A reception area in his Beverly Hills clinic was decorated with $1-million Warhols, and he owned multiple mansions and a bevy of luxury vehicles.
In 2003, The Times, describing his appearance at a Hollywood luncheon, said he "wore a black suit, a tie studded with red rhinestones (a $500 gift from a client) and a walking cane he told those within earshot was a recent gift from Michael Jackson."
He was also known for his philanthropy. With Taylor and others, he became an early advocate and fundraiser for AIDS research. He said he was one of the first physicians to diagnose a case of Kaposi's sarcoma (a cancer associated with HIV/AIDS that causes skin lesions) in Southern California.
But in his later years, Klein frequently made the news because of his association with Jackson, a frequent visitor to his clinic.
After the singer's 2009 death from an overdose of the anesthetic propofol, investigators probed Klein's treatment of the star, and paparazzi were on hand outside the dermatologist's building when a coroner's official came to collect Jackson's medical records.
At the trial of Jackson's personal physician, Dr. Conrad Murray, defense attorneys suggested Klein bore some of the blame for Jackson's death, abetting his addiction to the painkiller Demerol by providing him with enormous doses that served no valid medical purpose. The trial judge barred the defense from calling Klein to the witness stand, and jurors convicted Murray.
But the allegations stung the dermatologist, who told the Associated Press: "I see stuff on the Internet, and it hurts, because I don't like to be called a bad doctor."
After the verdict, he publicly acknowledged that he was under investigation by the Medical Board of California.
Klein took to national television and gossip websites to opine about Jackson's sex life and medical care.
Asked to debunk rumors that he had fathered some of Jackson's children, he told TV journalist Diane Sawyer, "Not to the best of my knowledge."
Klein also publicly said that Jackson had an affair with Klein's male office manager.
Taylor, on Twitter, castigated her longtime friend Klein: "I thought doctors, like priests, took an oath of confidentiality. May God have mercy on his soul."
All the negative publicity was a personal and professional blow. By 2011, Klein, who had a home in Palm Springs at the time of his death, declared bankruptcy and later auctioned off artwork and mementos from celebrity friends.
Klein also had been the target of a highly publicized 2003 lawsuit by socialite Irena Medavoy, who alleged that his Botox treatments had caused "life-altering headaches." A Los Angeles jury disagreed with Medavoy, voting 9-3 against her.
Information on survivors was not immediately available.
hailey.branson@latimes.com
Twitter: @haileybranson
Times staff writer Elaine Woo contributed to this article.
Sign up for Essential California for the L.A. Times biggest news, features and recommendations in your inbox six days a week.
You may occasionally receive promotional content from the Los Angeles Times.