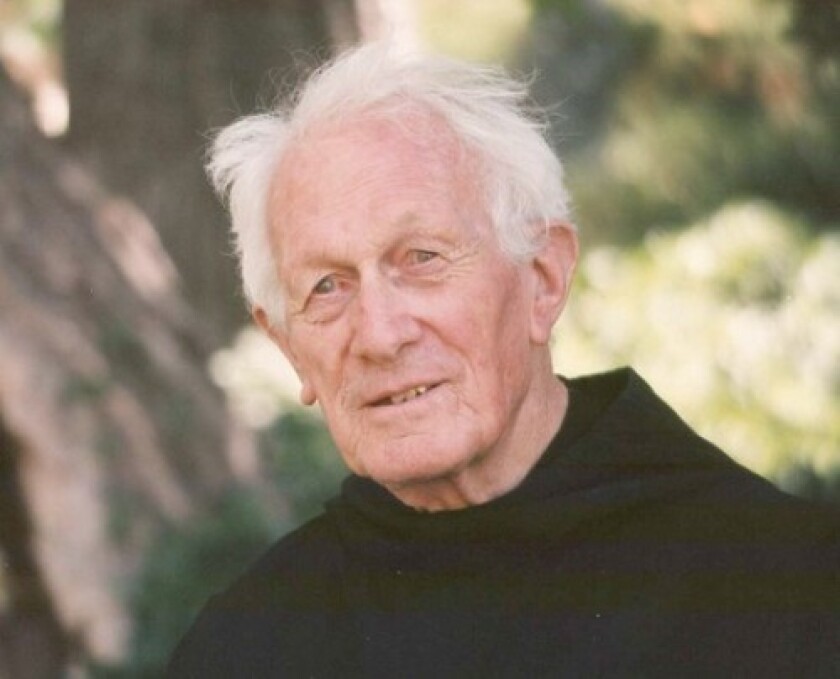 Father Eleutherius Winance, a longtime Claremont Graduate University philosophy professor and the last of the founding monks of St. Andrew's Abbey in Valyermo, has died. He was 100.
Winance died Saturday at Antelope Valley Hospital in Lancaster after a heart attack, said Father Damien Toilolo, the prior administrator of St. Andrew's. Winance had maintained a full schedule of prayer, study and preaching, including celebrating Mass at a juvenile hall and a convalescent home, in the week preceding his death.
St. Andrew's Abbey is famous for hosting an arts and crafts festival that attracts 20,000 visitors each fall to its 500-acre spread in the foothills of the Antelope Valley. What may be less well known is the role that Mao Tse-tung's communist revolution played in the creation of this Benedictine community more than 50 years ago.
Winance, named for St. Eleutherius, the patron of freedom, was born July 10, 1909, and entered the monastery of St. Andre in his native Belgium when he was 17. In 1936, the year after he was ordained a priest, he was sent to China, where two of his fellow priests had established a monastery in Sichuan province. He helped start an elementary school and a seminary for the Diocese of Nanchong in 1937, and twice a year walked from village to village helping the Chinese parish priests bless marriages and give first Communion.
He and his fellow monks were cut off from the rest of the world during the second Sino-Japanese War, which lasted from 1937 to 1945. When hostilities ended, the monastery relocated to the provincial capital of Chengdu, where the monks opened the Institute of Chinese and Western Cultural Studies with a library that eventually had 10,000 volumes.
Chengdu, the last stronghold of the Nationalist Party, was overrun by Mao's army on Christmas Day 1949. The Communists closed the institute, confiscated the books and forced Winance and the other monks to attend indoctrination sessions on Marxism.
"In time the brainwashing became progressively worse," Winance told The Times in 1963. "They repeated and repeated their doctrine. They attempted to prove their point by scientific argument. But we refused to budge."
In 1952, after the police interrogated him and accused him of being a member of a seditious organization, the Legion of Mary, he was ordered expelled from China along with six other priests and five nuns. They left behind two Chinese Catholic monks, one of whom would spend 27 years in prison.
Under armed guard, Winance's party traveled 3,000 miles by junk, bus, train and foot to Guangzhou and, finally, to Hong Kong. Upon his arrival in the British colony, he wrote to his mother: "I come from hell."
His abbot sent Winance to teach philosophy at Sant' Anselmo, the Benedictine college in Rome, for four years. Winance also wrote an account of his experiences in communist China, "The Communist Persuasion, A Personal Experience of Brainwashing," that was published in 1958.
In 1961, after teaching at St. John's University in Minnesota, he joined eight of his brethren from China in Valyermo, where St. Andrew's Priory had been established on a former turkey ranch in 1956. The priory was upgraded to abbey in 1992.
A few years after arriving in Valyermo, Winance began to cultivate a garden using found or donated plants, including roses, herbs, cactuses, poplars and giant sequoias. He laid out the carpet of grass by hand, beginning with one square of sod from the abbey's pastures. A cool oasis in the High Desert, his acre-sized plot became popular with visitors. In time, it was also one of Winance's favorite places to talk philosophy with his Claremont students.
Winance, who earned a doctorate in philosophy in 1934 from the Catholic University of Louvain in Belgium, taught at Claremont Graduate University for 38 years, until his retirement in 2001. An expert on medieval and continental philosophy and phenomenology, he was "always very down to earth and poignant. He was a very funny person," said professor Patricia Easton.
At the abbey he rose before dawn for prayer and spent hours reading scripture in Greek or Latin and texts on philosophy and mathematics in French.
Every Saturday for the last 15 years, he celebrated Mass at a juvenile detention center in Lancaster. On Thursdays he gave the service for, as he called them, the "old folks" at a nearby convalescent home.
On Aug. 13, he appeared near collapse after celebrating Mass at the nursing home and was taken to the hospital, where he died two days later.
"I think it would be fair to say that he would have wanted to be known as a good, faithful and obedient monk," Toilolo said.
Winance, who is survived by many nieces and nephews, will be buried at the abbey. The funeral will be at noon today at the abbey, at 31001 Valyermo Road.
---