Frank Edward Ray dies at 91; hero in Chowchilla school bus hijacking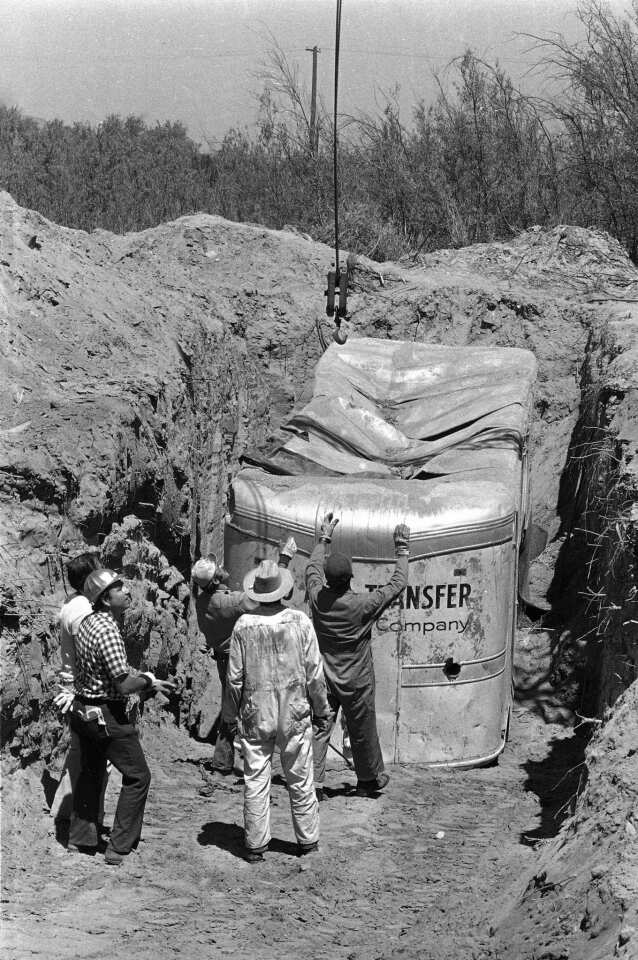 In this file photo, officials remove a truck buried at a quarry in Livermore, Calif., in which 26 Chowchilla schoolchildren and their bus driver, Ed Ray, were held captive.
(James Palmer / Associated Press)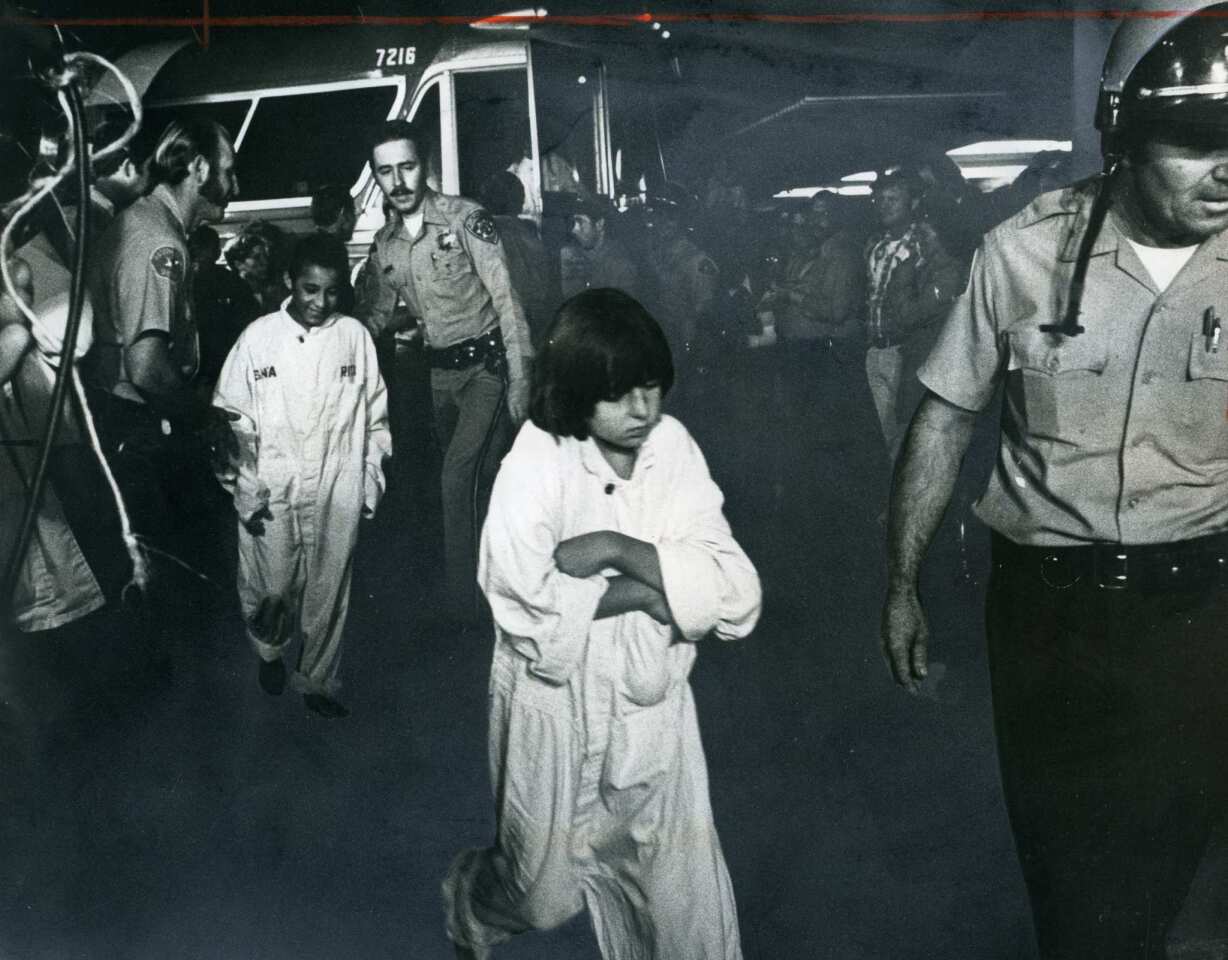 Officers escort the children upon their return to Chowchilla, Calif., after their ordeal.
(Rick Meyer / Los Angeles Times)
Frank Edward Ray, the school bus driver hailed as a hero for helping to lead 26 children to safety after a bizarre kidnapping in the San Joaquin Valley town of Chowchilla 36 years ago, has died. He was 91.
Ray died Thursday in Chowchilla of complications of cirrhosis of the liver, said his granddaughter, Susan Ray.
On the next-to-last day of summer school in July 1976, Ray was driving a busload of children home when he slowed down on tree-lined Avenue 21 for a white van blocking the road.
Three masked men with guns jumped out and hijacked the bus, throwing Ray, the children and Chowchilla into history as victims of one of California's strangest crimes.
The kidnappers hid the bus in an overgrown creek bed, herded Ray and his wards into two vans and drove for hours — with no water or bathroom breaks — to a quarry in Livermore, 100 miles away. Then they entombed their victims in a moving van sunk into the ground, securing it with a steel plate weighed down by 100-pound tractor batteries. They shoveled dirt over the roof and left.
It was hard to breathe inside the makeshift prison, even though the kidnappers had provided some ventilation. They also left water but no toilet, and several dirty mattresses.
Many of the children, who ranged in age from 5 to 14, screamed in the darkness. Ray did his best to calm them despite his own fears that the roof was going to collapse.
Two of the oldest boys wanted to start digging their way out. One of the boys later told The Times that Ray at first discouraged them because he thought the kidnappers were standing guard outside. But the boys persisted, aided by Ray, who helped pile the mattresses like a ladder to reach the roof. They climbed on top of the mattresses and poked at the steel plate with wooden slats until they dislodged it.
Ray doused the boys with water to cool them down while they dug and kept order among the other children. "I remember him making me feel safe," Jodi Medrano, who was 10 at the time of the kidnapping, told the Associated Press this week.
Sixteen hours after they'd been buried, Ray and the children climbed out of the hole and escaped. Ray underwent hypnosis, which enabled him to recall all of the license-plate numbers on one of the vans used in the abduction and all but one digit on the other van.
After several weeks, Richard Schoenfeld turned himself in. Schoenfeld's brother James and the third conspirator, Frederick N. Woods, were apprehended days later. All in their 20s and from wealthy Bay Area families, the trio had planned to demand $5 million in ransom to help cover their losses from a botched real estate project. All three were convicted in the kidnapping and sentenced to life in prison, where they remain despite numerous efforts to win parole.
Chowchilla celebrated the safe return of Ray and the children with a parade and barbecue attended by 4,000 well-wishers. President Ford sent a letter praising Ray's efforts. Ray, who went by the first name of Ed, was showered with awards and gifts, including a guard dog, and a park was named after him.
Born in Le Grand, Calif., on Feb. 26, 1921, Ray graduated from Chowchilla High School in 1940. He worked for the Dairyland Union School District as a bus driver for nearly 40 years.
Two months after the kidnapping, he was back on the job driving Dairyland's Bus. No 1, the same one the hijackers had commandeered. A few years after retiring in 1988, he bought the bus for $500 to save it from the junkyard and kept it on his farm. He eventually donated it to a local museum.
In 1993 he saw himself portrayed by Karl Malden in a TV movie, "They've Taken Our Children: The Chowchilla Kidnapping."
Ray is survived by his wife of nearly 70 years, Odessa; two sons, Glen and Danny; a sister, Esther Danielli; three grandchildren and three great-grandchildren.
Not a big talker, he rarely brought up the horrific crime, his family said. "He did not think of himself as a hero," his granddaughter said Friday. "It was just something that happened. He was the most humble man you ever met in your life. He would do anything for anybody."
When asked, he admitted that he was frightened from the time the kidnapping started "until the time I got out." He didn't pretend to have gained any profound insights from the ordeal. "If it happened again," he told The Times some years later, "I'd do the same things again, except I wouldn't stop for a van in the road."
---
Must-read stories from the L.A. Times
Get the day's top news with our Today's Headlines newsletter, sent every weekday morning.
You may occasionally receive promotional content from the Los Angeles Times.