Frank Mazzola dies at 79; staged fight in 'Rebel Without a Cause'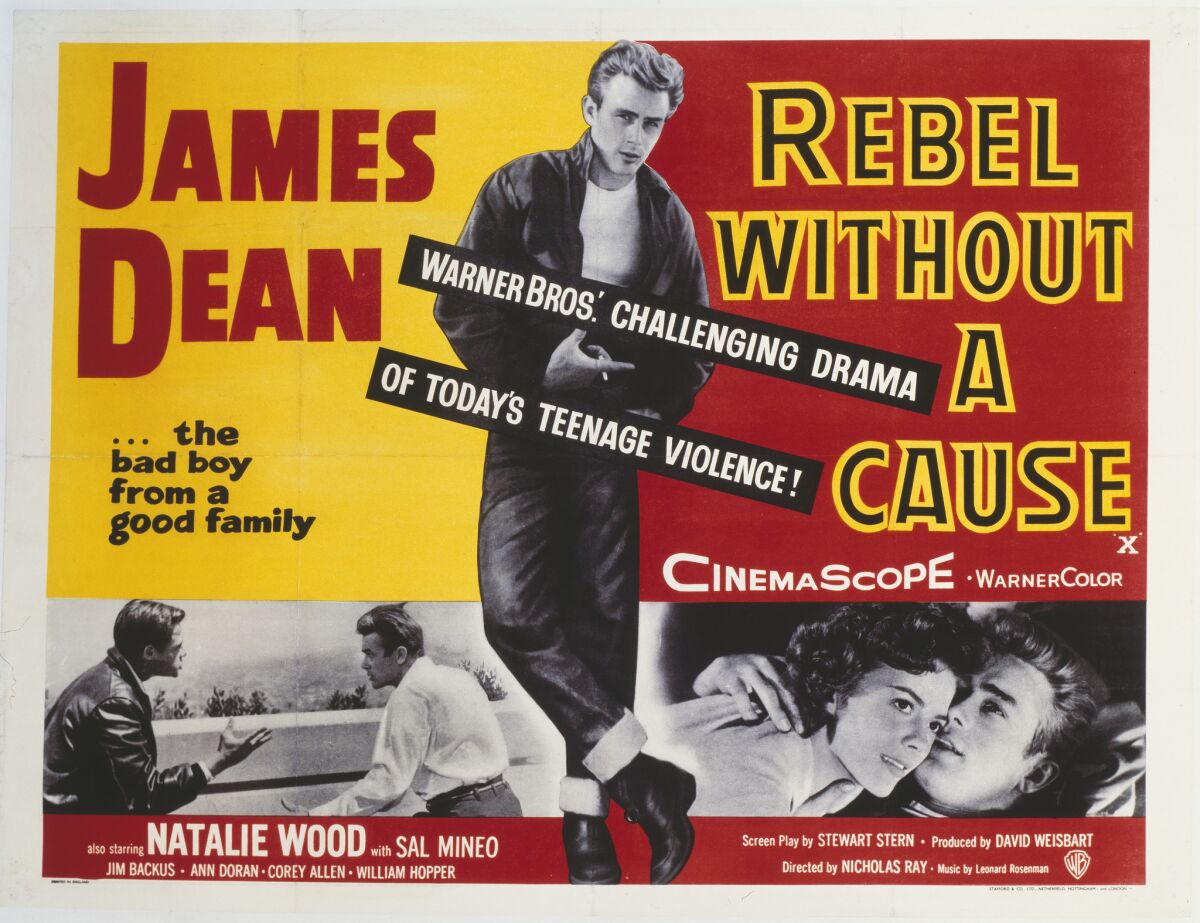 Actor James Dean has symbolized teen rebellion for 60 years, but it was a tough kid from Hollywood who showed him the fine points.
The hot-tempered leader of a street gang called the Athenians, Frank Mazzola staged the famous knife fight in "Rebel Without a Cause," Dean's landmark 1955 film about violent, disaffected, middle-class youth. He advised Dean and director Nicholas Ray on gang talk and gang dress. He also steered the filmmakers away from an embarrassing choice of vehicles in the climactic "chickie run" showdown.
"They had cars in the script that were like a model the Dead End Kids would drive," he told Lawrence Frascella and Al Weisel for "Live Fast, Die Young," their 2005 book about "Rebel Without a Cause." "They weren't custom cars like we had."
Mazzola, who went on to become an accomplished film editor, died Jan. 13, according to Jaime Larkin, a spokeswoman for the Motion Picture and Television Fund in Woodland Hills. He was 79.
The cause of Mazzola's death was not disclosed. However, he had Alzheimer's disease and disappeared from his West Hollywood home for four days in June.
Mazzola was born in Hollywood on March 7, 1935, to a family that had worked in and around movies for generations. His father, Leonard Al Mazzola, was a stuntman and actor who got his start in silent films. As a child, Frank Mazzola was an extra in "The Hunchback of Notre Dame" (1939) and other films.
By the time he was 19, he had graduated from Hollywood High School and briefly attended the University of Oregon. But much of his life was dominated by the Athenians — so named, he told The Times in 2000, because "the guys were athletes and some were scholars." Their ranks included a kid named Syd Field, who later became a well-known scriptwriting guru.
"It wasn't like Scorsese's 'Mean Streets' of New York," Mazzola said. "It was Hollywood."
Still, Mazzola, by his account, was involved in violence, from shoving matches on Hollywood Boulevard to stabbings in San Bernardino. He told an interviewer that he once smashed an opponent hard enough to send him flying through a shattered second-story window.
When he tried to muscle his way onto the set of "Rebel Without a Cause," the casting director saw trouble and threw him out. But Mazzola came back, managed to sneak up to Ray's office, and impressed the director with his authenticity. He was given a $200 consulting fee, an office, and a script.
He hit the streets with scriptwriter Stewart Stern, who compiled a list of 52 phrases that seemed to be current at all the teen hangouts: Too much, twisted, hang loose, crazy, flake out, cool, grass, fuzz, and more.
Mazzola had seen Dean on the set of "East of Eden" but didn't know him. "My first impression was that Jimmy was like a wild animal out of a cage," Mazzola, who had a small part in the film, said years later. "He was telling people to back away and to not look at him."
For "Rebel Without a Cause," Mazzola took Dean to meet the Athenians. They sparred in a boxing ring. They hung out. Mazzola told him a little about fighting, reminding him to wrap his jacket around his forearm during the knife fight scene — a maneuver Mazzola said he had developed through necessity.
Ultimately, Mazzola played the part of a gang member named Crunch. In some ways, he said, Dean played him, adopting his characteristic pose of leaning against a wall in his red jacket and T-shirt, his foot up and his arms crossed.
Dean, who terrified Mazzola with his crazy driving on the tortuous road through Laurel Canyon, died in a car crash on Sept. 30, 1955, in Central California.
Mazzola went on to work behind the scenes at several studios, editing his first films in the late 1960s.
He became well-known for his work with British director Donald Cammell, first on "Performance" (1970).
"I almost got into a fight when one of the producers walked in like he was a tough guy, saying, 'No flashbacks, no flash-forwards, no cuts less than 10 frames,'" Mazzola later recalled. "I told him the only person I cut for is the director — period. He said, 'I'm the money guy,' blah blah — all that nonsense."
Mazzola was similarly independent during his restoration of Cammell's "Wild Side" (2000).
The director had committed suicide in 1996. When Mazzola viewed his friend's final film, he said he "let out one of those primal screams. I kept running out of the room, coming back and watching it through my fingers. It was a complete embarrassment."
Mazzola's reworking of it undid changes wrought by the studio.
"Under Mazzola's microsurgery, it emerges as classic cinema," said the Guardian, a British newspaper.
Mazzola's survivors include four daughters and three grandchildren.
Services will be at Blessed Sacrament Catholic Church in Hollywood on Jan. 31 at 11:30 a.m.
steve.chawkins@latimes.com
Twitter: @schawkins
Must-read stories from the L.A. Times
Get the day's top news with our Today's Headlines newsletter, sent every weekday morning.
You may occasionally receive promotional content from the Los Angeles Times.