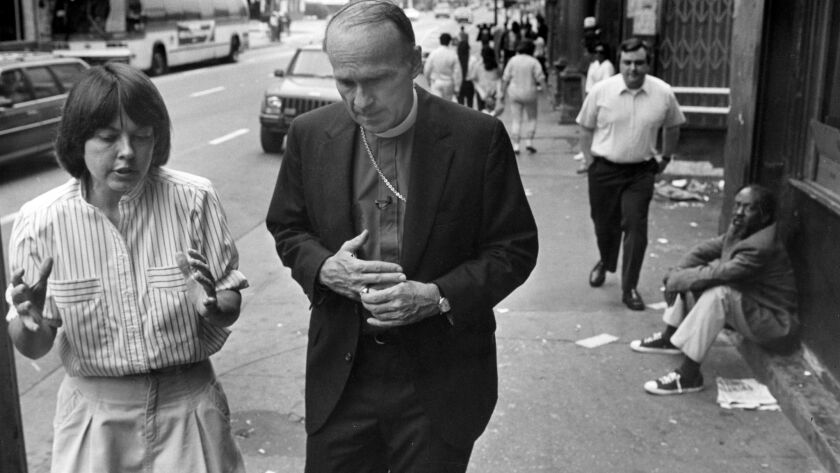 Frederick Borsch, the former Episcopal bishop who crusaded for LGBTQ rights when the church was torn on the issue and pushed for a living wage for Los Angeles' front-line workers when City Hall was resistant to such reform, has died at his home in Philadelphia.
Borsch, who served as the fifth bishop of the Episcopal Diocese of Los Angeles in the '80s and '90s, was suffering from myelodysplastic syndrome, a blood cancer, when he died Tuesday , according to Robert Williams, a spokesman for the diocese. He was 81.
At a time when L.A. was still sharply divided along racial and economic lines and a push for change was met with resistance at City Hall, Borsch was a beacon of tolerance and an advocate for social justice in the six Southern California counties the diocese served.
He marched outside a Beverly Hills hotel with workers demanding higher wages, stood outside the federal building in L.A. during a demonstration to lament the beating death of gay college student Matthew Shepard and demanded — successfully — that the Los Angeles Police Department apologize for detaining and handcuffing a black priest during a routine investigation.
The Episcopal Church itself was at a crossroads when Borsch became bishop, torn between those who clung to traditional interpretations of church canons and Scripture and others who wanted to throw open the church doors to gay and lesbian people, whether they were congregants or clergy.
In a 1998 vote in Canterbury, England, the world's Anglican bishops voted overwhelmingly that homosexuality was incompatible with church doctrine and refused to sanction same-sex marriage or the ordination of gay and lesbian people. The Episcopal Church is a member of the Anglican Communion.
It wasn't a complete surprise to Borsch. Years before he had invited the archbishop of Canterbury — the symbolic head of the worldwide Anglican Communion — to meet up with him in L.A.
When the Most Rev. George L. Carey's limousine pulled up to the curb in the MacArthur Park neighborhood where Borsch had proposed they meet, the archbishop was greeted by urban squalor.
Borsch led him into a storefront ministry where they ate rice and beans and listened to immigrants tell their life stories — an aching mix of heartache and hope. The archbishop was moved by the Rev. Philip Lance, the Episcopal priest who ministered these people.
Almost casually, Borsch turned to the archbishop.
"You know," he said, "Philip is a gay man."
Later, when the two rolled away in the limo, the archbishop conceded that he was "struggling" with the issue of gay priests.
Though controversial in a church where the pews seemed filled with the power elites of L.A., Borsch had a reputation as a thoughtful person who disliked confrontation and had a willingness to listen. He liked parishioners to call him Fred and had a fondness for walking and taking long hikes, often along the Southern California coastline.
Two months after then-L.A. Mayor Richard Riordan vetoed a living wage that Borsch had championed, the two bumped into each other at Princeton University — their shared alma mater — and spent the better part of an hour together, walking, talking and listening.
"I must say," Riordan said later, "I felt like God was listening to me."
The following year, the mayor withdrew his opposition to the living wage ordinance.
The two — the mayor and the bishop — became close friends. Borsch even joined a book club that Riordan hosted.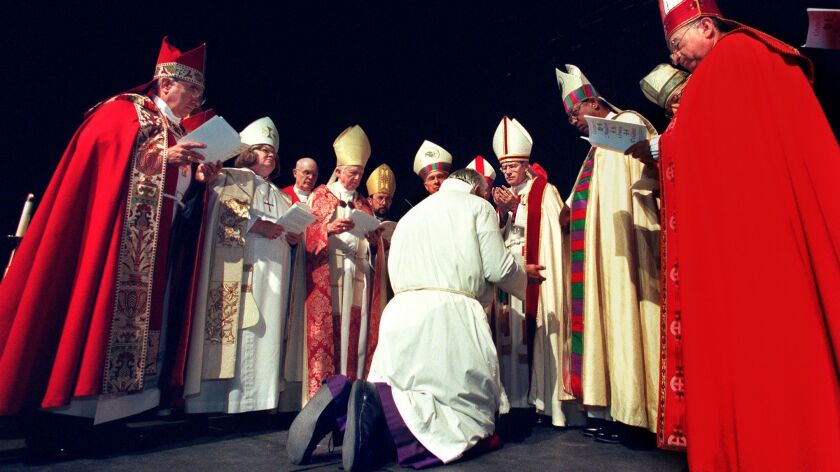 Born in Chicago on Sept. 13, 1935, Borsch grew up with a love for sports. His father had been a baseball player before becoming an attorney, and a young Borsch could not understand why he had put aside baseball for the classroom. But he too was drawn into the world of academics, earning degrees at Princeton and Oxford and a doctorate at University of Birmingham, England.
He was ordained in 1960, the same year he was married.
Borsch served as a dean and professor at Church Divinity School of the Pacific in Berkeley and at Princeton before being named bishop of the L.A. diocese in 1988. He served until his retirement in 2002.
During his tenure as bishop, Borsch served on a variety of boards, from Good Samaritan Hospital to the Neighborhood Youth Assn. He was chancellor of Harvard-Westlake School, a director of the Los Angeles World Affairs Council and worked with his successor, Bishop J. Jon Bruno, on the eventual construction of Cathedral Center of St. Paul in Echo Park, the ministerial hub of the diocese.
Borsch also wrote 20 books, two of them novels.
He later served as an interim dean at the Berkeley Divinity School at Yale, which was coming off a financial scandal and in dire need of a crisis manager. Borsch seemed unruffled by the weighty assignment during a 2002 interview with the Hartford Courant.
"Maybe it's a good thing," he said of the fallout from the scandal. "People expect not only that we won't make the mistakes again, but that we'll learn from them and become a better place."
Late in life, Borsch served as a professor and department chair at the Lutheran Theological Seminary at Philadelphia.
Borsch is survived by his wife of 56 years, Barbara; a sister, Jane Borsch Robbins; sons Benjamin, Matthew and Stuart; and four grandchildren.
---