Betty Freeman dies at 87; art philanthropist and photographer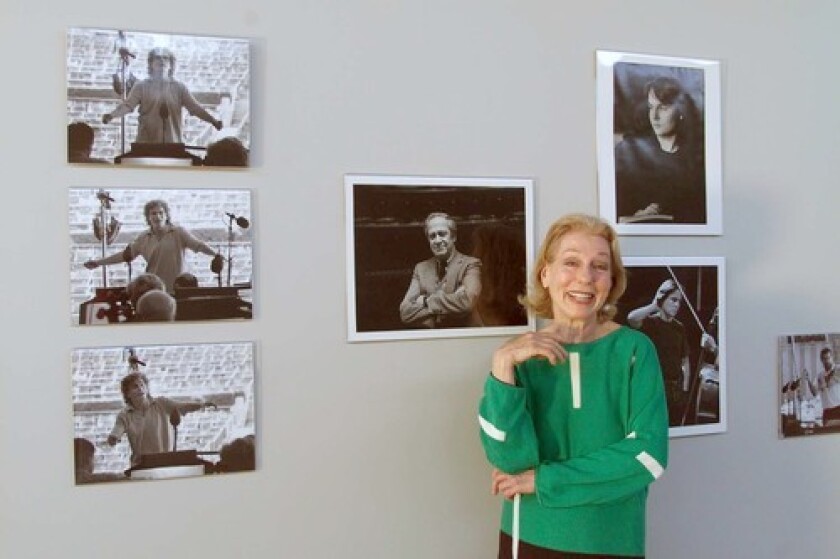 Betty Freeman, a fiercely independent philanthropist and photographer often described as a Medici for contemporary classical music, who supported a Who's Who of modern composers, including John Cage, Philip Glass, Pierre Boulez and John Adams, died Saturday of pancreatic cancer at her Beverly Hills home. She was 87.
Freeman made more than 400 grants and commissions over the last four decades to help composers develop new works, pay for daily living expenses and subsidize performances and recordings.
When asked, she said she did not know the total amount she had donated over the years, but the individual sums ranged from several hundred dollars to five figures.
She also hosted legendary salons, where her guests heard the best new work from established and emerging American composers.
"I cannot think of many individuals whose actions would have had a more profound effect on our art form or culture in general," Los Angeles Philharmonic music director Esa-Pekka Salonen, who conducted a musical homage to Freeman at the Dorothy Chandler Pavilion in 2001, said this week.
A number of composers she supported dedicated music to her. Among those works, the best known are Cage's "The Freeman Etudes" and Adams' opera "Nixon in China."
"Her gifts were not enormous. They were mid-sized gifts, enough to get a piece commissioned or parts copied. Her greatest effect," Adams said Tuesday, "was as a kind of focal point for artistic activity. If Betty had a dinner, everyone came. You didn't say no, partly out of respect and love for her and partly because you knew it was going to be a really exciting evening."
Born in Chicago on June 2, 1921, and raised in Brooklyn, N.Y., Freeman was the daughter of a math teacher and a chemical engineer who made a fortune in chemical and petroleum products. At Wellesley College she rediscovered a childhood passion for music and began studying piano with the intention of becoming a concert pianist. She continued her studies after moving to California in 1950 and raising four children with her first husband, Stanley Freeman.
During the 1950s she became a collector of Abstract Expressionist art. She was close to painters Sam Francis and Clyfford Still and wrote books about them.
She was the inspiration for the David Hockney painting "Beverly Hills Housewife" (1966), a 12-foot double canvas that shows the pink-sheathed collector on her patio, flanked by a zebra-print lounge chair and an abstract sculpture. It was featured in a 2006 exhibition of Hockney portraits at the Los Angeles County Museum of Art.
Her art world involvements led her in 1961 to La Monte Young, a groundbreaking minimalist composer whose works incorporated elements of conceptual and performance art. Freeman knew little about new music then but contributed $100 to help bail Young out of jail after he was arrested on marijuana charges in Connecticut. He thanked her with tapes of his music, known for its long tones and high volume. After listening to the recording, she was hooked.
In 1964, as a producer of a new music series at what is now the Norton Simon Museum of Art in Pasadena, she met many of the composers she later sponsored.
Among them was Harry Partch, the cantankerous visionary who invented a 43-tone scale and an array of odd instruments on which to play his unconventional pieces.
She was captivated by Partch, a virtual hobo who was living in his car. Freeman found him a studio and a house, underwrote his opera "Delusion of the Fury" at UCLA in 1969, and covered his living expenses for 10 years, until his death in 1974.
Because of Partch, Freeman discovered a latent talent. While producing a documentary about him in 1972, she was pressed into duty as the still photographer. The results pleased her so much that she took workshops with Ansel Adams and Cole Weston. Her portraits of composers have been exhibited around the country, as well as in Europe and Japan.
A year after meeting Partch, Freeman made another big change: She closed her piano and never touched it again, despite 20 years of piano studies that included training at Juilliard. For the next four decades, she was single-minded in her passion, which she said was simply "to keep things going in the contemporary music world."
In 1981, a few years after marrying her second husband, sculptor-painter Franco Assetto, Freeman began hosting musicales in their art-filled Beverly Hills home. According to critic Alan Rich, who helped Freeman plan the programs, the salons became "the Los Angeles Sunday afternoon hot ticket," featuring such big names as Elliott Carter, Glass, Cage and Boulez, as well as younger artists just beginning their careers. The programs always ended with a pasta feast cooked by Assetto. Freeman ended the programs after he died in 1991.
She is survived by two daughters, Shelley Butler of West Hills and Claudia Brotman of Las Vegas; two sons, Robert of Beverly Hills and Corey of Las Vegas; and three grandchildren.
Rich frequently disagreed with Freeman's choices of composers to support. "What she loved," he said, "was complexity and abstruseness. . . . She had an almost childlike fascination with the creative act."
During the last 15 years of her life, Freeman focused her support almost exclusively on European composers, a switch that upset many of her American beneficiaries.
"One of the things about Betty that was extraordinary, especially as she got older, was that her taste became extremely hard-edged," said Adams, who knew her for two decades. "Her favorite composers during the last 15 years of her life were some of the gnarliest, most dissonant and uncompromising composers anywhere in the world," such as Harrison Birtwistle of Britain, Gyorgy Ligeti of Austria and Helmut Lachenmann of Germany.
Freeman believed that among these artists were the Beethovens and Mozarts of the future.
"Composers," she said some years ago, "are the most important people, infinitely more important to me than any politician. What matters are the seeds you plant for the future."
---
Must-read stories from the L.A. Times
Get all the day's most vital news with our Today's Headlines newsletter, sent every weekday morning.
You may occasionally receive promotional content from the Los Angeles Times.