George Wentzlaff dies at age 69; former child star stole scenes from Grant, Monroe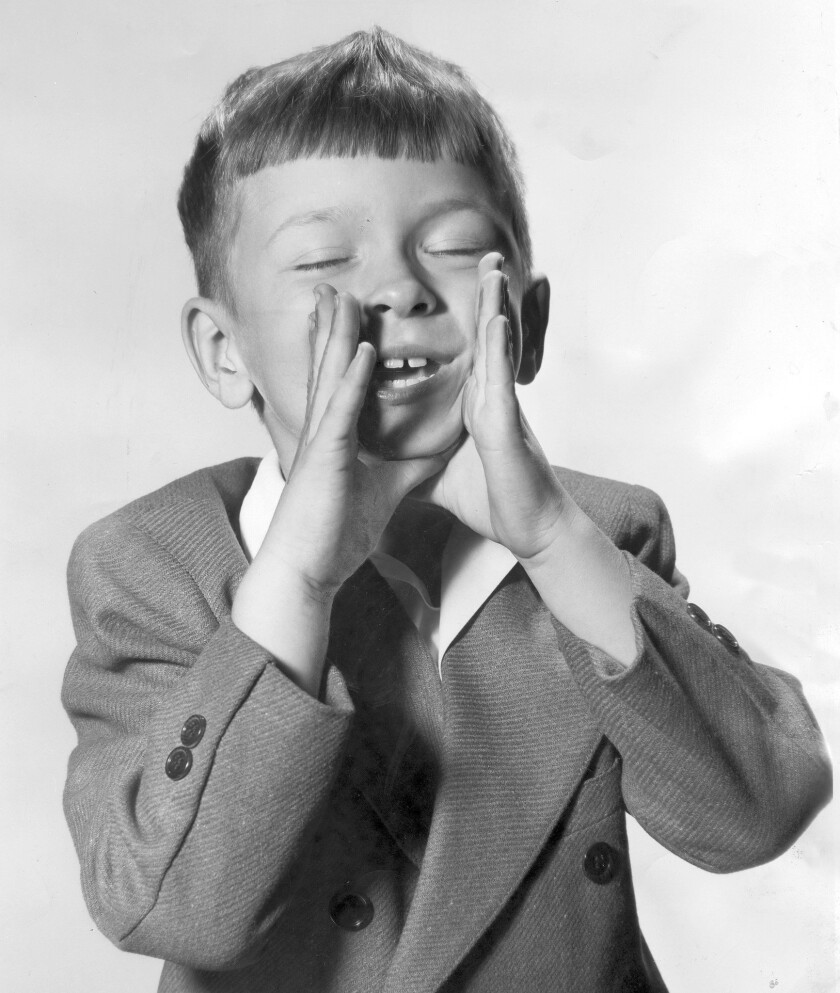 Child actor George Wentzlaff, whose stage name was George Winslow, could steal movie scenes from the best of them.
With his deadpan delivery and prematurely baritone voice, he got big laughs from audiences as he played opposite stars such as Cary Grant, Marilyn Monroe, Jane Russell and Clifton Webb.
Then suddenly his career was over and he all but disappeared from Hollywood — at age 12.
Wentzlaff, 69, was found dead on June 13 in his modest home in Camp Meeker, a small town near Santa Rosa. His friend Kevin Braafladt, who went to check on Wentzlaff when he didn't show up for his regular stint as a volunteer at a military museum, found him in his bed.
The death was ruled to be from a sudden cardiac arrhythmia, Braafladt said.
Wentzlaff, who lived alone, shared his house with approximately 25 cats.
His best known film appearance was in the classic 1953 musical comedy "Gentlemen Prefer Blondes," starring Monroe and Russell. At the time he was only about 7, which made it hilarious when he deadpanned to Monroe, "You've got a lot of animal magnetism."
Wentzlaff told Braafladt, who owned the combination museum and antique store where the former child star would hang out, that he enjoyed working with both actresses — there are behind-the-scenes photos of him perched on Monroe's lap. But he was especially fond of Russell, who kept him entertained on long shooting days. "When he would get bored, she would play with him," Braafladt said. "He was just a kid."
Wentzlaff was born May 3, 1946, in Los Angeles. His break into show business came when he appeared on Art Linkletter's national radio show. As the story goes, Wentzlaff arrived in a train engineer's outfit and when Linkletter asked his name, he ad-libbed — in the deep voice that became his trademark — "George Wentzlaff, but I'd rather be Casey Jones."
It was the first big laugh of his show business career.
He was invited back to the show several times and was cast in the heart-warming 1952 film "Room for One More," in which he traded wisecracks with Cary Grant.
Wentzlaff's next film to be released was "Monkey Business," also starring Grant and directed by Howard Hawks.
After "Gentlemen Prefer Blondes," directed by Hawks, Wentzlaff was often billed as George "Foghorn" Winslow to remind audiences this was the cute kid with the deep voice. But the films, for the most part, grew less memorable.
He did some television, including a couple of episodes of "The Adventures of Ozzie & Harriet."
Then his voice changed — getting higher in tone instead of lower as with most boys — and George Winslow was finished at the age of 12.
Wentzlaff slipped back into a more anonymous life, moving after high school to the Pacific Northwest, where he attended Lewis & Clark College.
He served in the Navy during the Vietnam war, then returned to California, settling in the Sonoma area where he worked for the postal service until retiring.
Wentzlaff would talk about his Hollywood years if asked, and he occasionally attended nostalgia events. As the guest of a Marilyn Monroe fan group in Hollywood, he reportedly became weepy when talking about the star's young death.
At some point he began taking feral cats into his home. "He had them all spayed and neutered, and he knew the name of every one of them," Braafladt said. "They were the love of his life."
A local animal rescue agency is working to find new homes for the cats.
Wentzlaff left no immediate family survivors.
Twitter: @davidcolker
---
Must-read stories from the L.A. Times
Get all the day's most vital news with our Today's Headlines newsletter, sent every weekday morning.
You may occasionally receive promotional content from the Los Angeles Times.