Gerald Buck dies at 73; kept huge art collection mostly under wraps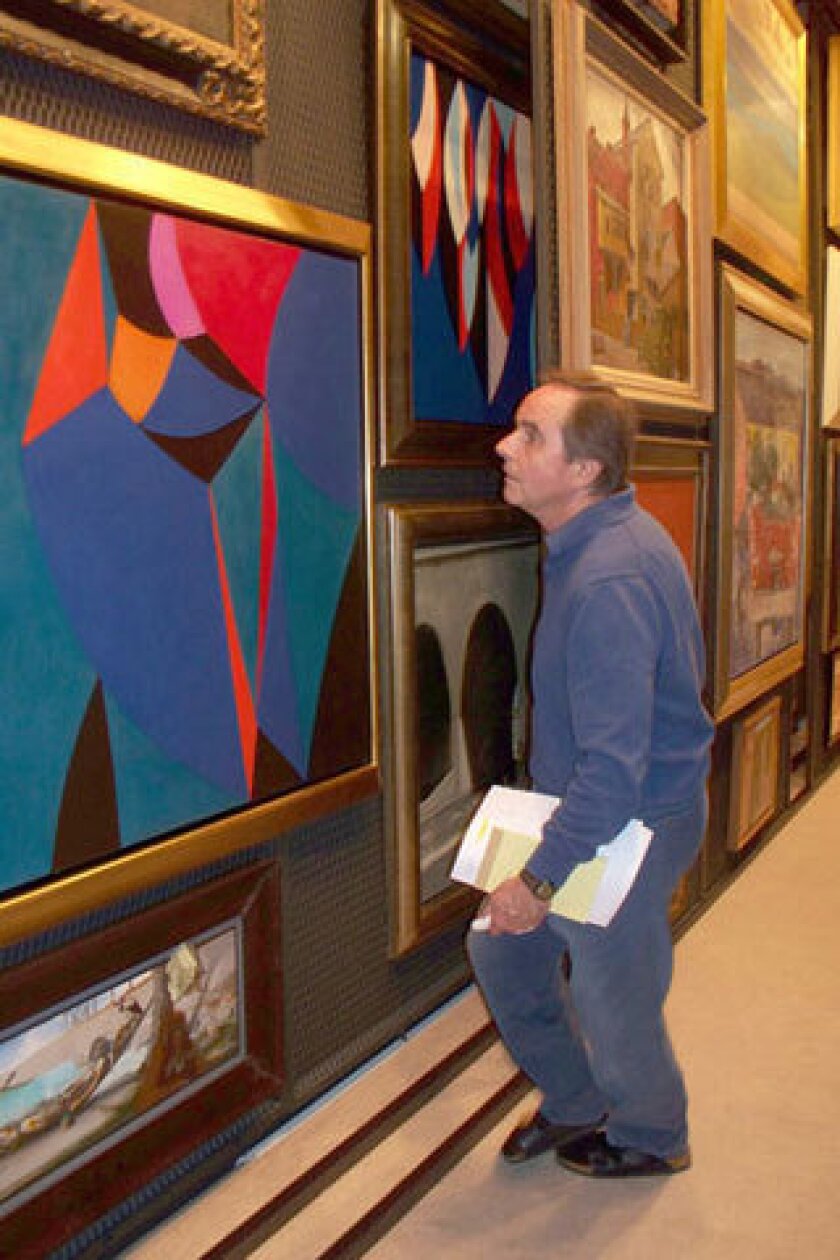 Somewhere in Newport Beach is a two-story warehouse with no sign on the door or any other clue as to what it holds.
But inside is the core of a vast art collection that has been seen by only a few select people in the art world. It includes original works by numerous contemporary artists who are world-famous — such as Richard Diebenkorn, Robert Irwin, Helen Lundeberg, Carlos Almaraz and Edward Kienholz — as well as lesser-known figures. But the artists all have one thing in common: They all worked in California.
Even art historians and curators who have never been inside the warehouse say that based on what the owner is known to have bought at galleries and auctions over the years, the collection probably runs to more than a thousand pieces. It's likely, they said, the largest private collection of works by California artists.
"You look up and see rows and rows of wrapped things," said Los Angeles artist Raoul De la Sota, one of the few ever invited inside. On closer inspection, he saw that the carefully wrapped, meticulously organized items were paintings and other artworks lined up on racks. "They were tightly packed," he said, "like library books."
The collection was the proud achievement of Newport Beach developer Gerald Buck, who died Aug. 24 at age 73 while a patient at a medical clinic near Tijuana, Mexico, said his daughter, Christina Buck. He was being treated for throat cancer.
Exactly what's in the collection he accumulated mostly over about 25 years is a bit of a mystery. Buck, widely described as a self-taught, quiet, friendly man often seen scribbling in the small notebooks he always carried, regularly lent pieces to museums for specific exhibitions. Currently, for example, the Pasadena Museum of California Art has on loan from the collection a water color by Sam Francis.
Buck also served as a trustee and in other capacities with several local museums, as well as with the Archives of American Art at the Smithsonian Institution.
But unlike other major collectors, he had not launched public exhibitions specifically from his collection, and no catalog has been issued detailing what he had acquired.
He did create a private display space in Laguna Beach in a former post office building that he extensively renovated on the inside, complete with climate controls, exhibition lighting and sliding storage racks for quick access to artworks, according to those who saw it. But like the warehouse, it has no exterior signage, and except when the door is opened for small groups of invited guests, there is little indication the building is occupied.
Dennis Szakacs, director of the Orange County Museum of Art said that Buck did not, like some major collectors, seek to open a museum with his name on the door. "Gerald sought out alliances with museums and curators and wanted to work quietly with them to advance the cause of artists he cared about," Szakacs said.
Buck was described by most everyone who knew him as an intensely private man, and even art experts who worked with him were not sure why he had chosen to focus on California artists for his collection, or even what sparked his avid interest in art. But almost all his life involved endeavors in the state. He was born June 4, 1940, according to public records. Christina Buck, who said she did not want to give many details about her father out of respect for his private nature, said his parents were Alfred and Ramona Buck of Culver City and that he attended UCLA for his undergraduate degree and USC for graduate work.
As a developer, Buck worked on several major projects in Orange County, according to news accounts, including Foothill Ranch that's now part of Lake Forest, and Niguel Summit in Laguna Niguel.
Art dealers said he began buying pieces in the mid- to late 1980s, and in the beginning had an intense interest in early 20th century works in California. "He was very devoted to history," said Los Angeles gallery owner Tobey Moss. That led, she said, to his interest in art as it evolved in the state, "after the 1930s when art in California turned the corner from landscapes, seascapes and pink sunsets to much more of a hard edge, abstraction."
In recent years he bought numerous works by Latino artists who worked in Southern California, including Almaraz and De la Sota.
At the time of Buck's death, he was seriously considering an exhibition based on his collection, according to Steven Nash, executive director of the Palm Springs Art Museum where Buck had served on the collections committee and donated funds for projects.
"He was getting everything properly photographed and carefully framed," Nash said. "It was painstaking, detail-oriented work. The grand plan was for a book on the collection, which would be a catalog for a touring show."
The target date for the exhibition was 2015, and Nash said Buck asked if the Palm Springs museum be interested in debuting it. "We said with great pleasure we would love to be the first," Nash said. Those plans were not solidified before Buck's death, however.
Nash said he does not know what arrangements Buck may have left behind for the catalog and exhibition project, and that it will likely be up to the Buck family to determine what will happen to the collection. Buck's wife, Bente, died in January. He is survived by two children — Christina, who resides in San Diego, and Alan, who lives in Orange County — and two grandchildren.
Christina Buck said that plans for the collection were under discussion and would take some time to work out. She said her father "didn't want to hoard the art," and that some public showings would probably continue. She said she has been given a list of pieces he was intending to lend to museums for exhibitions over the next two years.
A few days before her father died, she asked him directly what he wanted done with the art. "He said to make sure I shared this collection," she said, "that it was for people to see and enjoy, and be part of."
---
Must-read stories from the L.A. Times
Get all the day's most vital news with our Today's Headlines newsletter, sent every weekday morning.
You may occasionally receive promotional content from the Los Angeles Times.