NFL legend Gino Marchetti dies at 93; relentless pass rusher was a Baltimore hero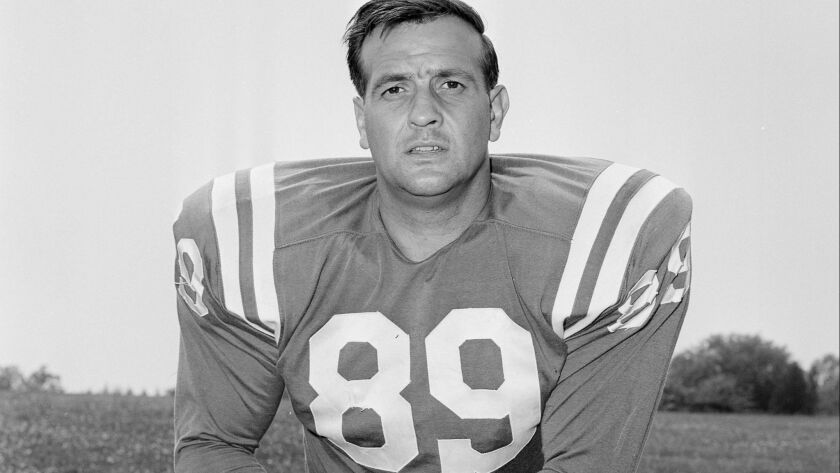 Reporting from Baltimore —
He was rugged, rangy and relentless in his pursuit of quarterbacks. For 13 years during their heyday, the Baltimore Colts were defined by a slab of a man known simply as Gino.
Few NFL players epitomized a club — or a city — better than Gino Marchetti, the Hall of Fame defensive end who died Monday of pneumonia at 93.
The son of an immigrant coal miner, Marchetti rose from lunch-pail environs to become captain of the two-time world champions and one of the most feared pass rushers in NFL history. He often played hurt, and he always played hard. Colliding with the 6-foot-4, 245-pound Marchetti, Detroit quarterback Bobby Layne once said, was "like running into a tree trunk in the dark."
Swift and smart, Marchetti was the prototype of the modern defensive end, said Don Shula, the former Miami Dolphins coach.
"He revolutionized the way you play that position in the NFL," said Shula, who also played and coached for the Colts. "Prior to Gino, the attitude [of pass rushers] was to try to physically overpower the offensive tackle. Gino showed that with good instincts and a lightning quickness, he could get around his man without really engaging him.
Those almost balletic moves — Marchetti could leapfrog over a man to make a tackle — and his ability to muscle linemen aside made No. 89 the bane of enemy backfields and a favorite of Baltimore fans.
"Gino romanticized defense," the Baltimore Evening Sun's Bill Tanton wrote.
Though he played in the era before sacks were an official NFL statistic, Marchetti's legacy has never depended on numbers. In 1969, he was named the best defensive end of the NFL's first half-century. Three years later, in his first season of eligibility, Marchetti entered the Pro Football Hall of Fame.
In 1994, he was one of three defensive ends selected to the NFL 75th Anniversary All-Time Team, alongside Deacon Jones and Reggie White.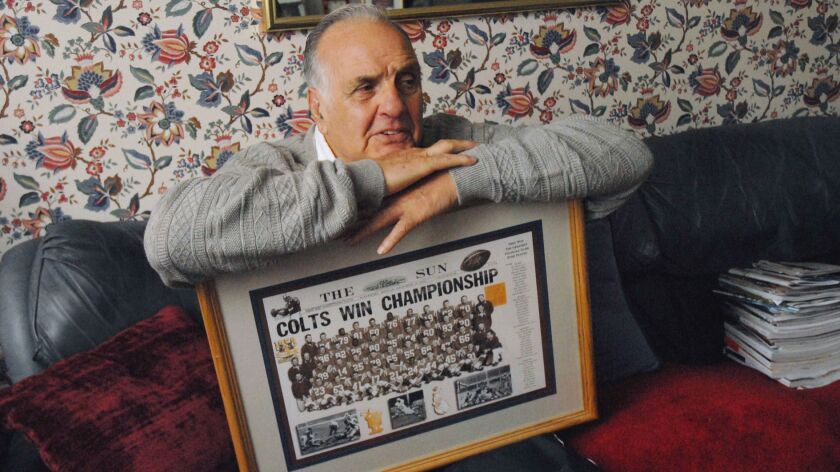 Born in Kayford, W.Va., Gino John Marchetti might have followed his father into the mines had the family not moved west during the Great Depression. They settled in the San Francisco Bay Area, where Marchetti grew up, the fourth of five children, chafing to follow his siblings into high school football.
"I remember sneaking into my oldest brother Lino's room and trying on his uniform," Marchetti told the Baltimore Sun in 2006. "I was 9 at the time. The uniform didn't fit, but I sure enjoyed wearing it when Lino wasn't at home."
In 1948, an assistant coach at the University of San Francisco heard of the precocious athlete's exploits and invited him for a tryout. Marchetti rode onto campus on his Harley-Davidson, a long-haired motorcyclist dressed in a leather jacket "that was so cool I think it had 17 zippers," he said.
A two-way tackle, Marchetti started all three years at USF, which went undefeated in 1951. The Dons might have played in the Orange Bowl had they not been an integrated squad. Bowl officials suggested the team leave its two black players at home.
"Forget it," said Marchetti, the team's captain.
He was the second-round draft choice of the NFL's New York Yanks in 1952, but the franchise moved to Dallas before Marchetti's rookie year. Despite his stellar play on defense, the Dallas team, then known as the Texans, folded after one awful (1-11) season and the franchise was awarded to new owners in Baltimore and renamed again, as the Colts.
The Colts moved Marchetti to the offensive line — for one season. In 1954, new coach Weeb Ewbank returned him to defensive end, his favorite position.
He went on to be selected to 11 Pro Bowls, lead the Colts to back-to-back championships and wreak havoc on the rest of the league.
Sundays always found Marchetti nervously pacing the dressing room, five hours before kickoff.
"I probably walked 30 miles before the game," he said.
Marchetti played his last game in 1966 at age 40. He retired on three separate occasions; the first two times, the Colts brought him back. He quit in 1963, but returned a year later to lead the team to the title game won by Cleveland 27-0. Less than a minute remained when Browns quarterback Frank Ryan, wanting more points, called a timeout. Riled, Marchetti stormed across the line of scrimmage.
"As Gino walked toward Ryan, Cleveland's whole offensive line parted like the Red Sea," Colts running back Tom Matte recalled. "Gino pointed his finger at Ryan and said, 'I'll get you for this.'"
Marchetti stayed active in later years. A heart attack in 1981 led him to shed 85 pounds he had gained since retirement. He enjoyed fishing in the Atlantic on his 40-foot boat in which he chased marlin off — where else? — the Baltimore Canyon.
Marchetti's biggest paydays came not from football, but from the restaurant business. He and two teammates opened a drive-in during his playing days that featured the double-decker Giant Gino, a massive burger. When the hamburger joint mushroomed into a chain, he sold it to the Marriott Corp. in 1982 for $48 million.
Marchetti is survived by his wife, Joan; daughters Gina and Michelle; sons John and Eric; 16 grandchildren and 14 great-grandchildren.
Klingaman writes for the Baltimore Sun
---
Must-read stories from the L.A. Times
Get the day's top news with our Today's Headlines newsletter, sent every weekday morning.
You may occasionally receive promotional content from the Los Angeles Times.