Hedda Bolgar dies at 103; renowned psychoanalyst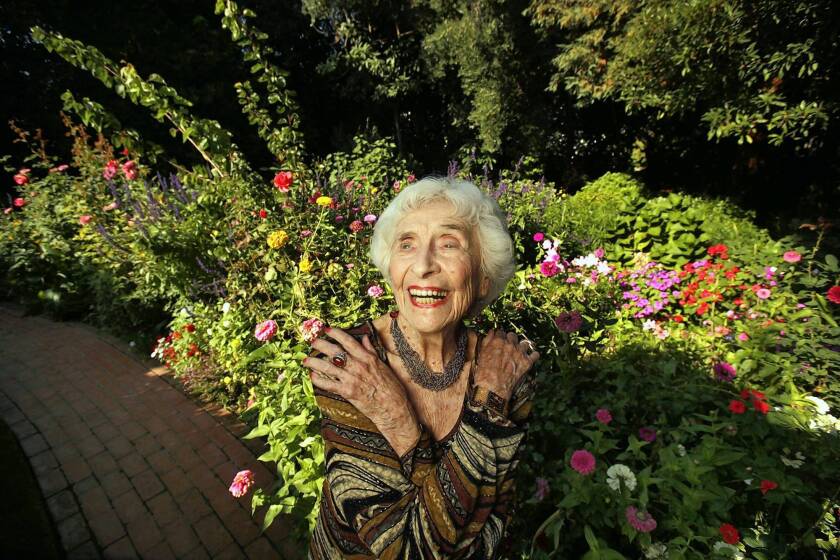 Hedda Bolgar, a psychologist old enough to have attended Sigmund Freud's lectures in Vienna but youthful enough to have treated patients until just a few weeks ago, has died. She was 103.
Her mind was sharp, her zest for work keen, and her social calendar full until shortly before her death on Monday, said Allen Yasser, her longtime friend and colleague.
"It took me a month to get a dinner date with her, and we were virtually family," said Yasser, a psychologist and psychoanalyst.
PHOTOS: Notable deaths of 2013
Bolgar died at her Los Angeles home, an elegant, flower-filled house in Brentwood where she saw patients and hosted monthly professional gatherings.
When Bolgar was 95, she helped organize a three-day conference called "The Uprooted Mind: Psychoanalytic Perspectives on Living in an Unsafe World."
At 102, she gave a lecture on "Dogma and Flexibility in Psychoanalytic Technique" before the New Center for Psychoanalysis, a Los Angeles group that offers advanced education to therapists.
At 103, she gave a seminar on trauma in her home.
A few weeks later, she had a friend call her patients to schedule additional appointments. Her only regret about old age, she said recently, was feeling obliged not to accept new clients — "except for very brief consultations."
"You live with that," she told psychologist Michael Diamond. "It isn't tragic — it just is!"
Born in Zurich, Switzerland, on Aug. 19, 1909, Bolgar was the only child of Elek Bolgar, a Hungarian historian and diplomat, and Elza Stern, a reporter who was one of the few women to cover World War I.
"I wasn't supposed to be scared of anything," Bolgar once told psychoanalyst Nancy Caro Hollander, who collaborated with her on the "Uprooted Mind" conference and later wrote a book partly based on it. "I was raised not to be frightened."
When Bolgar was 9, her Marxist parents upset her by canceling her birthday party so they could take part in a civil uprising in Hungary.
"I'm so sorry," she recalled her father saying. "I wish you'd have told me, and we would have postponed the revolution."
As a young woman, Bolgar studied at the University of Vienna. She wanted to be a journalist but wound up fascinated by psychology. Even at Freud's own institution, however, the only class in psychotherapy was an offering from the urology department.
"Why? Because it seemed there was somebody in the medical school who thought that male impotence might have something to do with the human mind," she later told Diamond in "A Centenarian's Retrospective on Psychoanalysis."
Bolgar earned her doctorate in 1934.
Always outspoken, she wrote magazine articles denouncing the Nazis. On the day in 1938 that Hitler strutted into Vienna, she fled, squeezing out of dangerous jams by emulating her father and "assuming a cool, disdainful demeanor with those in power."
Settling in the U.S., she trained at the Chicago Psychoanalytic Institute and taught at the University of Chicago. Her husband, economist Herbert Bekker, joined her in the U.S. in 1940 and the two moved to Los Angeles in 1956. He died in 1973.
Bolgar was chief of psychology at Mt. Sinai Hospital (now Cedars-Sinai Medical Center). She helped found the California School of Professional Psychology, the Los Angeles Institute and Society for Psychoanalytic Studies and the Wright Institute Los Angeles, a postgraduate training center and clinic.
Yasser, who was one of her Wright co-founders in 1974, is now its director.
"She could infuse people with optimism," he said. "That's a big part of how she was able to be instrumental in the founding of three institutions that are still going."
Bolgar's own optimism was profound.
In "The Beauty of Aging," a documentary about remarkable older women, she told filmmaker Laurie Schur about someone asking her what time of life she liked best.
"I said 'now,' " she replied.
Bolgar was deeply engaged in social causes. Like her mother, she was an ardent feminist. She was concerned about what she saw as the erosion of civil liberties after 9/11 and urged her fellow analysts to consider the psychological effects of government policies. When she spoke at a psychoanalytic meeting about nuclear proliferation, a colleague who was a former U.S. soldier responded that the bombing of Hiroshima may have saved his life.
"He found it hard to feel too worried and critical about the bomb," she later said. "So I talked to him about denial."
While Bolgar was avid about politics, she also could plunge herself into a world of wonder.
Her Christmas parties were legendary. She had no children but plenty of people thought of her as a mother and converged on her house in December, friends said.
"It was like being in Central Europe at the turn of the century," said Yasser, who celebrated 35 Christmases with her. "She'd set up candles and play beautiful music, and she'd just sit there and watch the tree, and go off somewhere."
"Especially as she got older," he said, "she used to measure her time in Christmases."
---
Must-read stories from the L.A. Times
Get all the day's most vital news with our Today's Headlines newsletter, sent every weekday morning.
You may occasionally receive promotional content from the Los Angeles Times.