Edmund Hillary, first to climb Mt. Everest, dies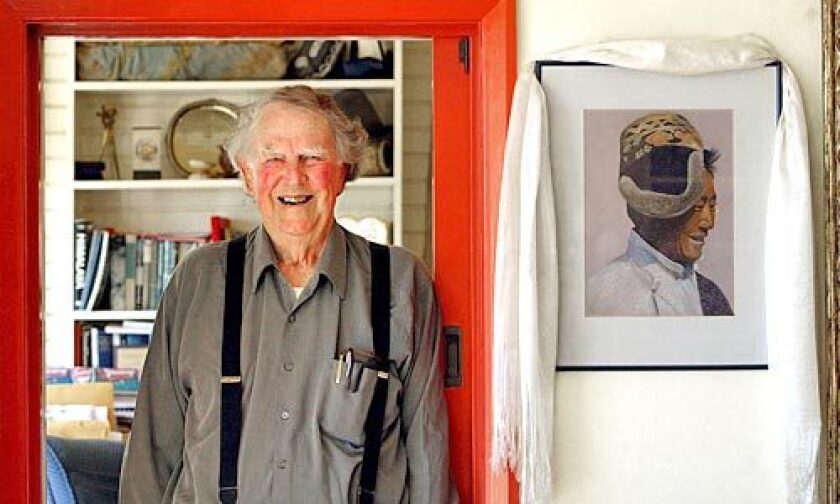 Sir Edmund Hillary, the mountain-climbing New Zealand beekeeper who became a mid-20th century hero as the first person to reach the summit of Mt. Everest, has died. He was 88.
Hillary, who made his historic climb to the top of the world's highest peak with Sherpa mountaineer Tenzing Norgay of Nepal, died today at a hospital in Auckland City, New Zealand, according to Prime Minister Helen Clark. A statement from the Auckland District Health Board said he died of a heart attack.
"Sir Ed described himself as an average New Zealander with modest abilities. In reality, he was a colossus," Clark said.
Ed Viesturs, who has climbed Everest six times and was the first American to climb all of the world's mountains over 8,000 meters -- or 26,200 feet -- without supplemental oxygen, said Hillary was "definitely a hero of mine."
"He's iconic," Viesturs told The Times. "I mean, he went to a place where no other man had gone before."
Eight previous British expeditions had failed to reach the top of the 29,035-foot mountain, and a number of expedition members had died in the process, most famously climbing partners George Mallory and Andrew Irvine, who went missing on Everest in 1924.
But at 11:30 a.m. on May 29, 1953, Hillary and Tenzing made it to the top of the world.
Hillary's first words, to fellow climber George Lowe, when he and Tenzing returned from the summit were, "Well, George, we knocked the bastard off!"
Word of the Everest expedition's success reached England the night before the coronation of Elizabeth II, resulting in a memorable newspaper headline the next morning: "All this and Everest too!"
Hillary and John Hunt, the British army colonel who led the Everest expedition, were knighted by Queen Elizabeth. Tenzing received the George Medal, the second-highest award for gallantry that can be given to a civilian.
Hailed as one of the 20th century's great adventurers, the 33-year-old Hillary became one of the most famous men alive, his long, rugged face appearing on magazine covers and postage stamps.
The tall and lean Hillary never expected to become a celebrity.
"I was a bit naive, really," he told the Detroit Free Press in 2000. "I was just a country boy. I thought the mountaineering world would be interested, but I never dreamed that it would have that effect on people who didn't climb."
And, he maintained, he never regarded himself as a hero.
"I was a mountaineer who worked to reach the summits of mountains," he told USA Today in 1998. "Even in my 79th year, I don't believe a word of the rubbish printed over the years."
Conquering Everest wasn't the last of Hillary's epic adventures.
He later climbed other peaks in the Himalayas, and in 1958 led a team of New Zealanders past a British team in a race to the South Pole in large snow tractors across 1,200 miles of glaciers and heavily crevassed snow fields.
In 1960, he was back in the Himalayas, attempting to track down the legendary Yeti -- the Abominable Snowman -- with animal expert Marlin Perkins, and to conduct high-altitude physiology experiments.
In 1977, he led a jet-boat expedition up the Ganges River from the Bay of Bengal to as close to the river's source in the Himalayas as they could go -- a 1,500-mile journey.
That was followed by 100 miles on foot to more than 18,000 feet, where Hillary was stricken with a cerebral edema and had to be rescued by helicopter after being carried to 15,500 feet.
In 1985, he became New Zealand high commissioner -- or ambassador -- to India and was based in New Delhi for several years.
But along with the triumphs came tragedy.
In 1975, Hillary's wife, Louise, and their 16-year-old daughter, Belinda, were killed when the single-engine plane they were flying in crashed on takeoff at the airport in Katmandu, Nepal.
In 1989, he married June Mulgrew, a longtime family friend and widow of fellow mountaineer Peter Mulgrew, who had taken Hillary's place as a commentator on a 1979 Antarctic sightseeing flight and died when the plane crashed.
Over the years, Hillary served as a camping equipment advisor for Sears, lectured widely and wrote a number of books, including "High Adventure," "The Crossing of Antarctica," "No Latitude for Error," "From the Ocean to the Sky," "Nothing Venture, Nothing Win" and "View From the Summit."
Hillary spent much of his time raising funds for his Himalayan Trust. He founded the nonprofit organization in 1961 as a way to give back to the Sherpas, one of the many ethnic groups native to Nepal, who served as guides for Western expeditions in the Himalayas.
By 2006, the trust had built 27 schools, two hospitals and 13 village health clinics, in addition to rebuilding bridges, constructing drinking-water systems and providing scholarships, among other projects.
"Nothing in life can be more satisfying than being the first," Hillary said in 2000, "but what I'm proudest of is my work in the Himalayas."
The middle of three children, Hillary was born July 20, 1919, in Auckland.
His father ran a small weekly newspaper in the country town of Tuakau, where the family lived on seven acres that included half a dozen cows, a large vegetable garden and orchards. His father's hobby was beekeeping, and he eventually abandoned journalism to run what had become a profitable commercial beekeeping enterprise.
Introverted and bookish, Hillary did so well in grammar school that he skipped two grades. But the gawky boy was shorter and weaker than his classmates.
Intending to become an engineer, he entered the University of Auckland. But he found it difficult to adapt and lacked interest, so he dropped out after two years and went to work in his father's beekeeping business.
Hillary, who first saw snow at 16 when he went on a school skiing trip to Mt. Ruapehu on New Zealand's North Island, began climbing four years later when he, a friend and a guide climbed a small peak near a resort on South Island.
In 1944, he was called up for service in the Royal New Zealand Air Force and flew on search-and-rescue operations in Fiji.
After the war, he returned to climbing and scaled New Zealand's snow-covered 12,349-foot Mt. Cook, which he later described as "the ambition of all local climbers."
"I knew right away that this is what I wanted to do -- spend my life among the mountains and the snow and the ice," he told the Detroit Free Press in 2000. "I had never been happier in my life, and I couldn't wait to do it again."
After a trip to the Alps in Europe, Hillary made his first climbing venture to the Himalayas in 1951. A year later, he joined a "training run" in Nepal for the team the Everest Committee intended to send to Everest in 1953.
In his 1975 autobiography "Nothing Venture, Nothing Win," Hillary said Everest "represented the ultimate in achievement; the supreme challenge for flesh and blood and spirit."
Launched with what Hillary described as "an atmosphere of excitement and optimism," the large team of Britons, New Zealanders, Sherpas and supply-carrying porters established base camp on April 12.
On May 26, Charles Evans and Tom Bourdillon, who had been chosen to make the first assault to the top of Everest, made it over the South Summit. But they had problems with their oxygen equipment, and because of that and their exhaustion, they decided to turn back at 28,700 feet. The next day, the two climbers were taken down to safer levels.
That left the second assault team, Hillary and Tenzing.
On their final ascent May 29, Hillary and Tenzing awoke at 4 a.m. in their small tent perched on a sloping ledge they had dug out with ice axes the day before. The temperature at 27,900 feet was minus 27 degrees. But, Hillary wrote in "Nothing Venture, Nothing Win," "the weather looked perfect and the view superb."
At 6:30 a.m., after eating, loading up on fluid and thawing out their frozen boots, the two men started climbing.
At 9 a.m., Hillary wrote, "we cramponed up onto the fine peak of the South Summit." After about an hour, they encountered a vertical rock step in the ridge.
"This appeared to be quite a problem," Hillary wrote. "However, the step was bounded on its right by a vertical snow cliff, and I was able to work my way up this 40-foot crack and finally get over the top."
After bringing Tenzing up, he wrote, "I really felt now that we were going to get to the top and that nothing would stop us."
At 11:30 a.m., the two men were standing on the summit of Mt. Everest.
"I stretched out my arm for a handshake, but this was not enough for Tenzing, who threw his arms around my shoulders in a mighty hug and I hugged him back in return," Hillary wrote in "View From the Summit."
Concerned about their oxygen supply, they began the climb down after 15 minutes.
From the beginning, Hillary was asked whether he or Tenzing was actually the first to set foot on the summit of Everest.
"This has always been a controversial thing, but not between Tenzing and myself," Hillary said in 1984. "I actually did lead the last few hundred feet up to the summit. But it was of complete unimportance as far as the mountaineer is concerned."
In 2000, Hillary said, "It was a very silly thing, really. We were a team, and what difference did it make that one of us reached the top a few seconds ahead of the other? But I finally got tired of all the questions, [so] when Tenzing wrote [that Hillary was about 6 feet ahead] in his book, I admitted it too."
Before Hillary and Tenzing reached the summit, no one really knew whether it was humanly possible to do so, Hillary told People magazine.
"The physiologists had warned us that they weren't sure we would survive. They felt that the human body might not be able to withstand the lack of oxygen. So once we climbed it, we removed the psychological barrier for everyone else."
In the years since Hillary and Tenzing made history, many others have followed in their footsteps.
By 2006, aided by advances in tents, sleeping bags and climbing gear, about 3,000 people reportedly had reached the top of Everest; 207 had died trying.
Hillary was bothered by the commercialization of Everest, in which guides would take anyone to the top who could afford it, with fees ranging upward of $65,000.
But he and Tenzing "were really the lucky ones," Hillary told the Boston Globe in 1998.
"We had to do everything ourselves: establish the route, battle our way up the ice cliffs and across the crevices, make our way up the mountain. It was up to us to do it all."
Hillary spent his later years living in a roomy but unpretentious home he built in Auckland in 1960.
Even as he entered his 80s, he continued to travel several months a year in Europe and the United States, raising funds to maintain the schools, hospitals and clinics in Nepal built by the Himalayan Trust he had founded.
"I've discovered you can't just build something and walk away from it," he said. "You have to keep involved to ensure it will be a success."
Tenzing died of a lung infection in 1986 at 72.
In addition to his wife, Hillary's survivors include his children Peter and Sarah.
---
Must-read stories from the L.A. Times
Get all the day's most vital news with our Today's Headlines newsletter, sent every weekday morning.
You may occasionally receive promotional content from the Los Angeles Times.