From the Archives: Imogene Coca; Emmy-Winning Comic Actress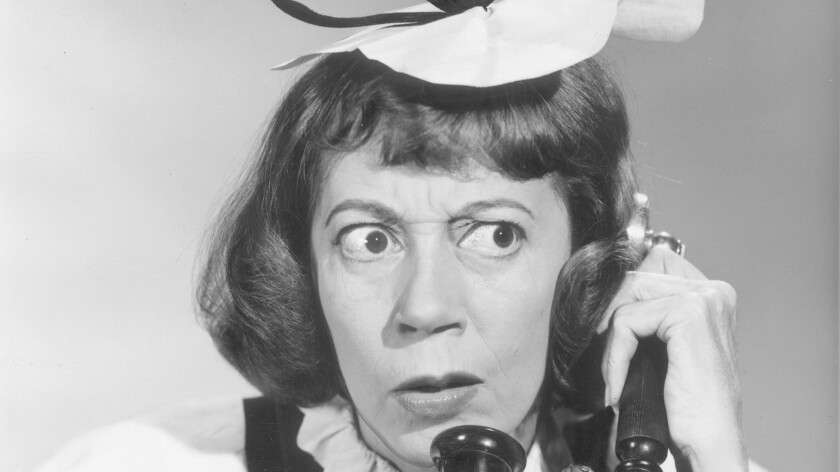 Los Angeles Times
Imogene Coca, the versatile comedian who starred with Sid Caesar in the legendary television hit "Your Show of Shows," died Saturday at her home in Westport, Conn. She was 92.
"All the wonderful times we shared together meant the world to me," Caesar said Saturday in a statement released in Beverly Hills. "It was a pleasure to work with her. I will miss her dearly."
Their live 90-minute show, which ran on NBC from February 1950 to June 1954, became a Saturday night ritual, drawing what was then a huge audience—14 million viewers.
With writing by such comedic masters as Mel Brooks, Larry Gelbart, Lucille Kallen and Neil Simon, the show's regular cast performed sketches, skits and pantomime numbers. A corps of dancers, singers and guest stars gave the program a broader, variety-show feel, but it was the show's comic genius that drew in the viewers.
Carl Reiner and Howard Morris joined the cast, and by the final season, they, Caesar and Coca were something of a repertory group of comic artists.
But for many the enduring magic of the show was centered on the relationship between Caesar and Coca. The groundbreaking series presented satires of movies—including a memorable spoof of "From Here to Eternity"—and sketches that made fun of the pomposity of opera and ballet performers. The show offered a series of unforgettable characters, including Caesar's double-talking foreigner and roving reporter, and perhaps the most hilarious: the hopelessly mismatched married couple Charlie and Doris Hickenlooper.
Years later, Coca would say that though she and Caesar never saw each other socially, they seemed to perform with exactly the same rhythm when the camera was on.
"Two people couldn't be less alike than Sid and myself," Coca told The Times. "But we kind of know what the other one's going to do. We pick up each other's vibes."
Despite her large eyes, expressive mouth and a manner well suited to produce laughs, the diminutive Coca did not start in show business as a comedian.
Born in Philadelphia, Imogene Fernandez de Coca was the daughter of the conductor at a local opera house. Her mother was a vaudeville performer. Coca began taking piano lessons as a 5-year-old. A year later the vocal training began and so did the dance lessons.
"I began [on the stage] as one of those horrible little children who sing with no voice," Coca recalled years later.
By high school, she was a full-time vaudeville trouper, doing tap, acrobatic and ballet dancing.
At 15 she left Philadelphia for work in New York, appearing as a dancer. Her New York debut as a chorus girl was in the show "When You Smile."
For the next three decades, Coca appeared in revue after revue doing musical numbers and then performing her own act in such noted Manhattan clubs as the Rainbow Room, the Silver Slipper and Cafe Society Uptown.
Her transition to comedy and pantomime came somewhat by accident, when she was dancing in a chorus line for "New Faces of 1934."
As she recounted to a reporter for the St. Petersburg Times years later, a cold theater had a lot to do with it.
"Leonard Stillman was the choreographer," Coca said, "and because it was so cold in the theater, he lent me his coat. It was huge on me, but he insisted I wear it.
"And along with three of the boys in the chorus, I was jumping up and down to keep warm. Then we found ourselves doing silly little steps when Stillman came in. He asked what we were doing, then said, 'It looks funny; I'll put it in the show.'
"We thought that was crazy," Coca said. "We weren't really doing anything. But twice in the first act, and again twice in the second act, we entered, faced the audience and with no expression, jumped around—with me in the huge coat."
"We were petrified," she added. "But by the third time we came on, the audience started to laugh, and it turned out to be a big hit."
Critics loved it too and began hailing Coca as an "up-and-coming comedic talent."
She continued her chorus line work but spent the next few summers working on comedy in the Poconos with Danny Kaye, Carol Channing and others.
The early 1940s were lean for Coca's career, but she rebounded to find steady club and cabaret jobs in New York toward the end of World War II.
In 1949, producer Max Leibman, who had worked with Caesar and Coca in the Catskills and Florida, paired them in a short-lived variety series, "Admiral Broadway Revue." The next year the duo returned in "Your Show of Shows." Coca won an Emmy in 1951 for her work.
In the fall of 1954, Caesar and Coco decided to go their separate ways, Caesar to his own show, "Caesar's Hour," a comedy-variety show that lasted three seasons, and Coca to "The Imogene Coca Show," a half-hour effort that ran for just one season.
The two were reunited in 1958 on "Sid Caesar Invites You," but the magic was gone. In 1967, however, "The Sid Caesar, Imogene Coca, Carl Reiner, Howard Morris Special" on CBS won an Emmy for outstanding variety special.
In 1973, Leibman, the original producer of "Your Show of Shows," packaged a number of outstanding segments from the original program into a theatrical release called "10 From Your Show of Shows," which brought the classic television show to a new generation. A series of 90-minute TV specials from the show was syndicated in 1976.
Coca starred in two more short-lived television programs--"Grindl" and "It's About Time." She would also turn up as a regular guest on the Dick Cavett talk show and on "The Carol Burnett Show."
On the big screen, she played Aunt Edna in "National Lampoon's Vacation."
She was also a popular influence on a new generation of comedians—both Burnett and Lily Tomlin would cite her as an influence in their work.
"Imogene Coca would do characters and different accents on 'Your Show of Shows,' " Tomlin recalled in an interview some years ago. "I was so attracted to her comic striptease routine that I copied it—stole it!—when I was in college."
In 1991, Coca and Caesar re-created some old sketches in a stage show "Together Again," which they took across the country.
Many found the material just as fresh as it was on "Your Show of Shows."
"Married people still have silly arguments," Coca noted. "Hollywood still turns out ridiculous movies; ballet dancers still do silly things on stage. So in some ways not much has changed."
Coca was married twice. Her first husband, Robert Burton, who arranged music for many of her performances, died in 1955. Her second husband, actor King Donovan, died in 1987.
From the Archives: Rita Hayworth, 'Love Goddess' of '40s, Dies
From the Archives: Perry Como, Soothing Pop Crooner, Dies at 88
From the Archives: Eartha Kitt dies at 81; TV's Catwoman, sultry singer of 'Santa Baby'
From the Archives: Frank Sinatra, Premier Vocalist of His Time, Dies at 82
From the Archives: Agnes Moorehead, Character Actress of Movies and TV, Dies
---
Must-read stories from the L.A. Times
Get all the day's most vital news with our Today's Headlines newsletter, sent every weekday morning.
You may occasionally receive promotional content from the Los Angeles Times.