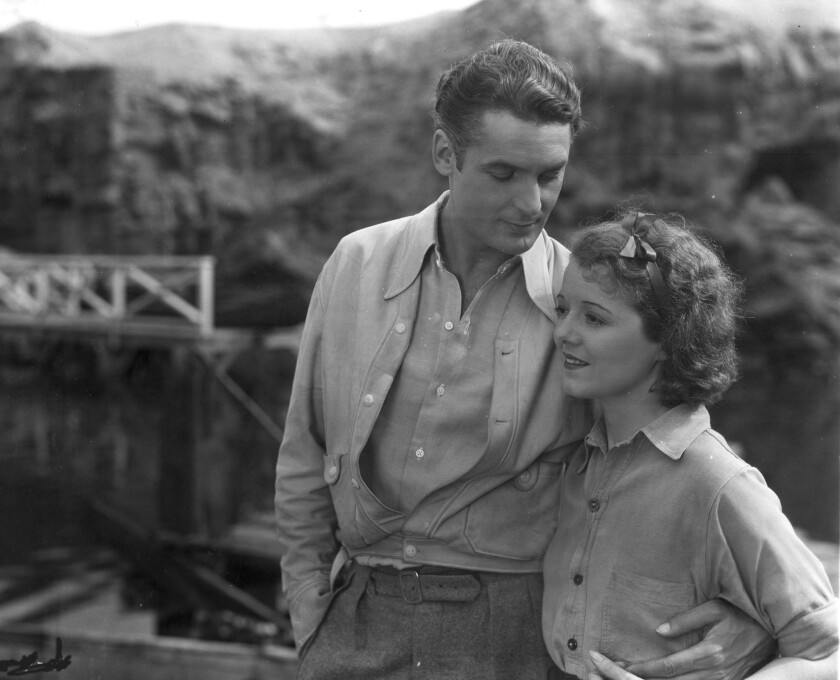 Janet Gaynor, whose elegantly demure movie portrayals of forlorn heroines carried her to fame in both the silent and talking film eras — and won her the first Academy Award for best actress — died early Friday in Palm Springs, where she had been in a hospital for 10 days.
The 77-year-old Miss Gaynor had been in failing health since a September, 1982, traffic accident in San Francisco that critically injured her and Broadway star Mary Martin and killed Martin's manager.
Miss Gaynor's husband, producer Paul Gregory, and her son from an earlier marriage, Robin Adrian, were at her side when she died at 1:45 a.m. at Desert Hospital, Dr. Bart Apfelbaum, her personal physician, said. Funeral services were pending.
"She never recovered from the multitude of illnesses caused by the automobile accident," Apfelbuam said in a telephone interview. "It was just a progressive loss of strength and ability to recover from all these different problems stemming from her accident."
The former screen star suffered 11 broken ribs, severe kidney and bladder wounds, multiple pelvic fractures and other injuries when a van struck her taxicab. She was hospitalized for nearly a month in August when she underwent a minor throat operation, her doctor said, and she never fully recovered.
Apfelbaum praised his patient as a "wonderful lady," a description that could have been seconded by audiences watching Miss Gaynor at the dawning of motion pictures.
From the silent screen to the talkies, Janet Gaynor's fame never wavered, growing role by role until, after her triumph in 1937 in the original "A Star Is Born," she simply walked away from the glamour.
It was time, she said later, to seek new worlds. And with the exception of one film and a few television and theater appearances, she never again lived in the land of make believe.
"I looked around me and I didn't see too many happy actresses," she said. "There were so many things I wanted to do and I knew I couldn't do them if I stayed in pictures. I guess I wanted to be more normal."
Normal she always seemed, from her celebrated silent screen role as a seemingly pure street urchin in "Seventh Heaven" — one of the films for which she won her Oscar — to her role as the upward climbing Vicki Lester parrying with Fredric March's Norman Maine in "A Star Is Born."
Barely five feet tall, freckled, slender and crowned with a mop of red hair, she exuded the right combination of naivete and primness, particularly in her roles opposite Charles Farrell, her co-star in a series of films. Critics called them "a sensational young romantic film team."
"She was the perfect romantic type," said Philip K. Scheuer, The Times' retired film critic.
Born Laura Gainer in Philadelphia, she was only a youngster when she moved to San Francisco and her mother married businessman Harry Jones. Entranced by his stepdaughter's performances at Poly High School there, Jones sold his business and moved to Hollywood.
Persistently knocking on doors, Jones won Miss Gaynor, then a fresh-faced recent high school graduate, a few jobs as an extra in the Hollywood studios.
In 1926, she was second lead in "The Johnstown Flood," a role that put her in line for the job as Diane, the Parisian waif of "Seventh Heaven."
Her performance, critics agreed decades later, was "timelessly expressive," ferreting out the emotions of a woman saved from the law by, of all things, a sewer worker about to be promoted to street cleaner.
The movie provided audiences with a new romantic team — Gaynor and Farrell. And it provided Miss Gaynor with her Academy Award — at the ripe age of 22. It did not, however, turn her head.
'Fell Into It'
"It was nice of them to honor an actress just starting out," she said later. "Especially since I really didn't know anything about acting.
"I was a girl who fell into it," she said. "I have no idea how I learned to act."
Technically she won the 1929 Oscar for work in three silent pictures — "Seventh Heaven," "Sunrise" and "Street Angel" — all done for Fox studios. She continued that breakneck pace — three movies a year — for a decade.
"The studios were very to good to me," she once recalled. "I made three pictures a year and they'd always schedule them so that I'd have two or three weeks in between and then another three months off at the end so that I could get away. . . . Of course, today nobody makes three pictures a year."
Just after receiving her Oscar, she debuted in the talkies, starring in "Sunny Side Up." Unlike most silent stars, she saw her popularity rise.
In 1935, six years after her Oscar victory, she was cast opposite another relative youngster in his first movie role. The film was "Farmer Takes a Wife" and the actor was Henry Fonda.
The next year she left Fox and went to work for David O. Selznick. A short time later, he sent over a director and a writer with an idea for a film about an ascending movie star.
'Story Was Perfect'
"Well, they told me the story of "A Star Is Born" and I called up Mr. Selznick right away and said, 'Yes!'
"The story was perfect for me," she said in a 1980 Times interview, "a little nobody without any great talent who suddenly finds herself a star. It was close to home, whereas the (1954) remake with Judy Garland was very difficult. After all, Judy had this great God-given voice; she was born to be a star! But with me it was closer to the truth."
Close or not, she did seem to be Vicki Lester, so much so that she was nominated for her second Oscar. But, along with Greta Garbo and Barbara Stanwyck, she lost to Luise Rainer and "The Good Earth."
Between the years as a studio contract actress, she married and divorced Oakland lawyer Lydell Peck. In 1939, she opted for a second chance at a private life and quit Hollywood altogether to marry designer Gilbert Adrain, whose clothes draped numerous movie stars, including Garbo and Joan Crawford.
She remained a housewife and mother to Robin, living occasionally in Los Angeles and New York but most often at the family's Brazilian ranch. She took up painting — as hard, she said, as acting.
Paradise in Brazil
"I never announced I was retiring or anything like that," she once told an interviewer. "I simply moved on to another phase of my life. . . . I was perfectly content to be a wife and mother."
Her absence was so complete that, critic Scheuer said, "There were years when I would have been surprised to hear that she was alive."
But the connection with show business was not entirely broken. Mary Martin and her husband, on holiday in South America, stopped by the ranch and found Brazil to be paradise. They offered to stay, if Miss Gaynor could find them a ranch for sale. She did, and it cemented a friendship that lasted to her death.
She left the jungle only a few times. In 1951, she and her former co-star Farrell recreated their "Seventh Heaven" roles for radio. She did a television special about a middle-aged wife, and in 1957 she made her one and only return to film as Pat Boone's mother in "Bernardine," a film that offended her largely because her scenes were cut.
"People have been trying to get me to do things for years," she said later. "Most of it was junk. The one picture I did do, 'Bernardine,' was just terrible. I guess I accepted it in a weak moment."
In 1959, Adrian died. A few years later, Paul Gregory, whom she married in 1964, convinced her to get back in front of an audience and promoted her in a stage production of "War and Peace."
But the theatrical bug bit only briefly and the two spent most of their time in Palm Springs, he raising squab on a 100-acre estate and she painting Grandma Moses-style primitives in an open-air gazebo above the desert floor.
Presented an Oscar
She exhibited paintings and lived a quiet life — not hearing the roar of an audience again until 1978, when she stepped to the podium at the 50th Academy Awards ceremony to present the Best Actress Award — the one she had won five decades before — to Diane Keaton.
She toured occasionally after that, once with her husband in a production of "On Golden Pond." And in 1980, at 74, she made her debut on Broadway in "Harold and Maude," playing an eccentric 80-year-old woman attracted to a 19-year-old man.
Still self-effacing, she said then that she had a plan. If no one liked her on Broadway, she would just pack up and go back to Palm Springs, paint and enjoy the sunset of life.
"If it (the play) doesn't work, at least it's been an adventure," she said. "It will be a new life, and we all need that every so often, don't we?"
But the traffic accident intruded on her new life. She and Gregory were in San Francisco on Sept. 5, 1982, to tape an episode of the Public Broadcasting Service's "Over Easy" program, co-hosted by Martin.
A speeding van ran a red light and struck the actress' taxicab, sending it skidding more than 80 feet before it smashed into a tree. The driver of the van was later convicted of drunk driving and vehicular homicide and sentenced to three years in prison.
Miss Gaynor battled for her life for weeks and finally was released to her desert home four months after the crash.
Last May, she traveled to San Diego, where she was honored, by the city Festival of the Arts for her contributions to the movies. A montage of faded clips from her films filled the Spreckels Theater. And Miss Gaynor was pleased.
"I must say I enjoyed seeing those films," she said. "I haven't seen them since they were released, and I surprised myself. It was such a long time ago, sometimes you're not sure that it's you. But I guess that's the way I looked."
She smiled.
"I really can't sing and had no training in dancing. But I just loved doing it."
From the Archives: Hollywood Legend Claudette Colbert Dies
From the Archives: Greta Garbo, Alluring but Aloof Film Star, Dies at 84
From the Archives: Gary Cooper Dies of Cancer at 60
From the Archives: James Cagney, Legend of Movies, Dies at 86
From the Archives: Marlene Dietrich, Classic Femme Fatale, Dies at 90
---