Jon Hendricks, the 'James Joyce of jazz,' dies at 96
Jon Hendricks, the pioneering jazz singer and lyricist with the vocal ensemble Lambert, Hendricks & Ross who helped create an inventive jazz vocal technique called "vocalese," has died.
Hendricks died Wednesday in New York City, his daughter, Aria Hendricks, said. He was 96.
When Hendricks arrived on the jazz scene in the '50s, his mastery of "vocalese" — an expansion of scat singing — had a powerful influence on the musical tenor of post-World War II bebop. The technique combined existing — usually recorded — instrumental jazz solos and newly written lyrics and often replaced instruments with vocalists. In Hendricks' hands, the result was seen by his fans as rhythmic poetry.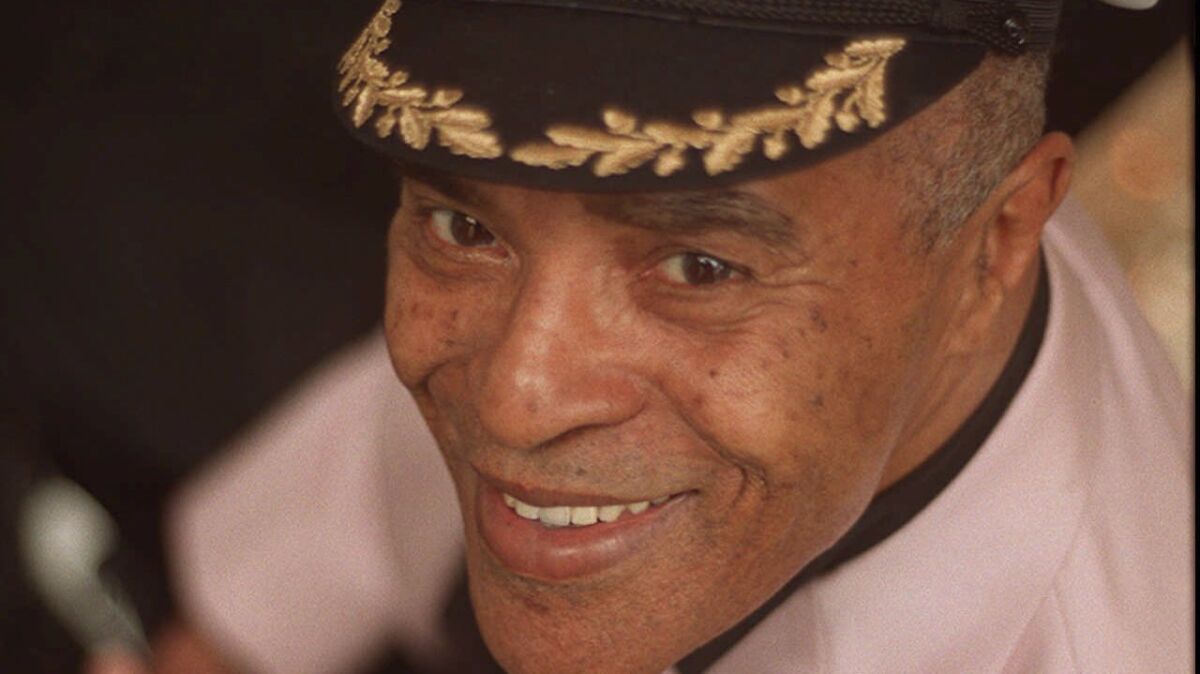 Although vocalese was a relatively new jazz art form, Hendricks quickly defined most of its significant elements in Lambert, Hendricks & Ross' first recording, "Sing A Song of Basie," based on such Count Basie classics like "It's Sand, Man," "Two For the Blues" and "Little Pony." Not only did Hendricks create full band passages for the three singers to overdub, he also turned the solos of instrumentalists into vocal passages.
The album earned Lambert, Hendricks & Ross a Grammy nomination. Decades later it was honored with a Grammy Hall of Fame award, given to musical recordings considered to have a lasting historical significance.
Singer and pianist Carmen McRae called Hendricks "the greatest lyricist in the world" and Al Jarreau said he was "pound for pound the best jazz singer on the planet." Joni Mitchell, who rarely recorded songs other than her own, featured Hendricks' songs on both "Court and Spark" and "The Hissing of Summer Lawns"
Mitchell said she fell in love with Lambert, Hendricks & Ross' "The Hottest New Sound in Jazz" as a teenager.
"In a way I've always considered that album to be my Beatles, because I learned every song off it," she said. "I don't think there's another album that I know every song on, including my own!"
Time magazine labeled Hendricks "the James Joyce of jazz" and Times jazz critic Leonard Feather called Hendricks "the poet laureate of jazz."
As Hendricks' visibility grew, Duke Ellington chose him as the featured soloist in the premiere performance of Ellington's first Sacred Music Concert, and his music guided groups like The Manhattan Transfer, New York Voices and Take 6.
Born Sept. 16, 1921, in Newark, Ohio, Hendricks and his 14 siblings bounced around before his parents finally settled in Toledo, Ohio.
His musical talents were apparent at an early age, and Hendricks was singing on local radio shows by the time he was 7. As a teenager, he expressed ambitions to become a drummer. But opportunities to sing in the company of such major jazz artists as Fats Waller, Art Tatum and Ted Lewis convinced him that his instrument of choice should be his voice.
After serving in the U.S. Army from 1942 to 1946, Hendricks returned to Ohio to study law and literature at the University of Toledo. His college funding fell through, however, and he fell back on his musical skills, playing drums and singing with local groups. When Charlie Parker heard him scat singing in a local club, the great bebop saxophonist praised Hendricks' singing, and advised him to devote himself to music.
Parker also urged Hendricks to move to New York, offering to help him make his first contacts in the New York City jazz community.
The introductions began to pay off in 1952 when Louis Jordan recorded Hendricks' "I Want You to Be My Baby." A year later, Hendricks recorded "Four Brothers" and "Cloudburst" with the Dave Lambert Singers, setting the stage for the foundation of Lambert, Hendricks & Ross.
Hendricks formed the group in 1957, and the trio performed together until 1962, when Annie Ross left for a solo career and was replaced by singer Yolande Bavan.
Hendricks and his family lived and performed in Europe between 1968 and 1973. When he returned to the U.S., Hendricks moved to San Francisco, where he wrote about jazz for the Chronicle newspaper and formed a group called the Hendricks Family with his wife, Judith, and children, Michelle and Eric.
In 1985, Hendricks worked with the Manhattan Transfer on the recording of their album "Vocalese," which won seven Grammy awards.
Hendricks began to teach at the University of Toledo in 2000 and was eventually appointed distinguished professor of jazz studies and granted an honorary doctorate in performing arts.
He is survived by a son, Jon; two daughters, Michele and Aria; and three grandchildren.
Heckman is a former Times staff writer.
---
Must-read stories from the L.A. Times
Get the day's top news with our Today's Headlines newsletter, sent every weekday morning.
You may occasionally receive promotional content from the Los Angeles Times.