Julie Adams, star in 'Creature From the Black Lagoon,' dies at 92
It was a role she wanted to turn down.
A scientific expedition through the Amazon gone wrong. A gilled creature that appears to be half-man, half-fish. A climactic scene in a murky grotto.
It seemed the stuff of comic books to Julie Adams. But she was under contract to Universal, and it was better to take the role than not get paid.
In a career that lasted decades and included dozens of films, Adams came to be best remembered for that role as Kay Lawrence, the vulnerable explorer in "Creature From the Black Lagoon" who becomes the monster's fixation.
While Adams saw the 3-D 1954 horror movie neither as a career highlight nor the ultimate display of her acting prowess, she reveled in the attention the cult classic brought her and continued to attend monster bashes and horror-flick conventions until late in life.
Adams died Sunday in Los Angeles, where she had lived much of her adult life, according to her fan website. She was 92.
Born Oct. 17, 1926, in Waterloo, Iowa, Betty May Adams grew up in Arkansas. In a 2012 interview with The Times, she described her parents as alcoholics who moved from town to town. In an unsettled life, the stage became an escape.
In third grade, she was in a school production of "Hansel and Gretel" when someone forgot their lines. "I ad-libbed and saved the day," she recalled. "I felt this rush of power. I had this wonderful feeling and thought I wanted to have more of that feeling."
After high school, she moved to Long Beach and lived with an aunt who found her a job as a secretary and introduced her to a talent agent who arranged an interview at Warner Bros. No job came of it, but she did get some career advice — lose the Southern twang.
In 1949, she landed a small, uncredited role in the musical comedy "Red, Hot and Blue" and then went on to make a series of westerns with emerging actors such as Tony Curtis, Rock Hudson and Piper Laurie. At the urging of the studios, she changed her name to Julia Adams and then to Julie Adams.
Her breakthrough moment came in 1952 when she was cast as a frontier woman on the Oregon Trail in "Bend of the River," one of the year's box-office hits. She played opposite Jimmy Stewart, who remained a favorite.
"Going to work with Jimmy Stewart every day was my idea of heaven," she said in a biography on her fan website.
Over the decades, she played opposite numerous Hollywood stars — including Tyrone Power, Charlton Heston, John Wayne, Glenn Ford and Elvis Presley. Critics praised her for roles in movies such as "The Wings of the Hawk" with Van Heflin and "The Mississippi Gambler" with Powers. She also appeared in Dennis Hopper's controversial 1971 film "The Last Movie."
She had scores of television roles as well, including on "Bonanza," "Perry Mason," "Mannix", "Murder, She Wrote" and "CSI NY."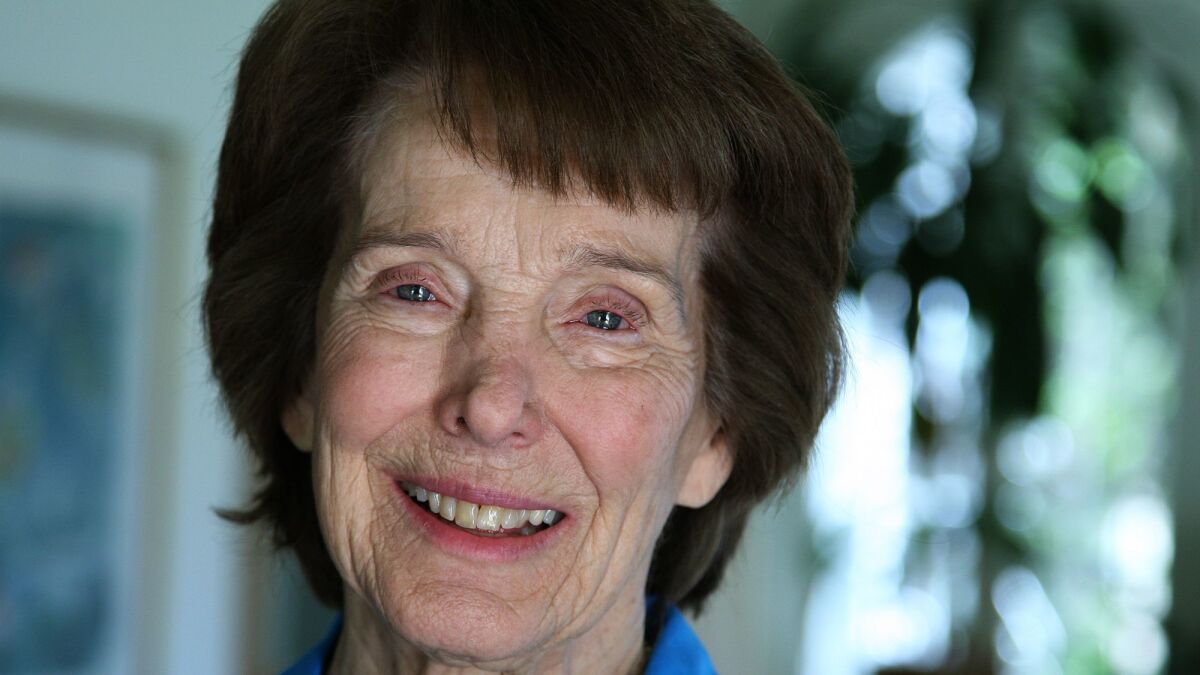 In her most recent role, she was cast as herself in "The Lucky Southern Star," a 2018 short film directed by her two sons, Mitchell and Steve Danton. The film was adapted from her 2011 autobiography "The Lucky Southern Star: Reflections From the Black Lagoon," which she wrote with Mitchell.
It was "The Creature From the Black Logoon," however, that made her the stuff of legends at film fests such as "Monsterpalooza" and "Monster Bash," both of which she recently attended.
For some, the film was more than just a '50s horror classic. Filmmaker Guillermo del Toro found higher inspiration in "Black Lagoon" when he made "The Shape of Water."
"The creature was the most beautiful design I'd ever seen," he told the Hollywood Reporter in 2017. "And I saw him swimming under Julie Adams, and I loved that the creature was in love with her, and I felt an almost existential desire for them to end up together.
"Of course," he added. "it didn't happen."
Adam's marriage to actor/director Ray Danton ended in divorce. She is survived by her sons, both now in the entertainment industry, and four grandchildren.
---
Must-read stories from the L.A. Times
Get the day's top news with our Today's Headlines newsletter, sent every weekday morning.
You may occasionally receive promotional content from the Los Angeles Times.