Kevin Corcoran, known to generations of Disney fans as 'Moochie,' dies at 66
In the 1957 tear-jerker "Old Yeller," Kevin Corcoran played the young boy Arliss, who champions a stray yellow dog.
Kevin Corcoran as Arliss Coates in Disney's "Old Yeller" in 1957.
(Walt Disney Archives)
Kevin Cocoran, far right, beside Walt Disney and other cast members, appeared on "The Mickey Mouse Club" series as "Moochie" starting when he was about 7 years old.
(Walt Disney Archives)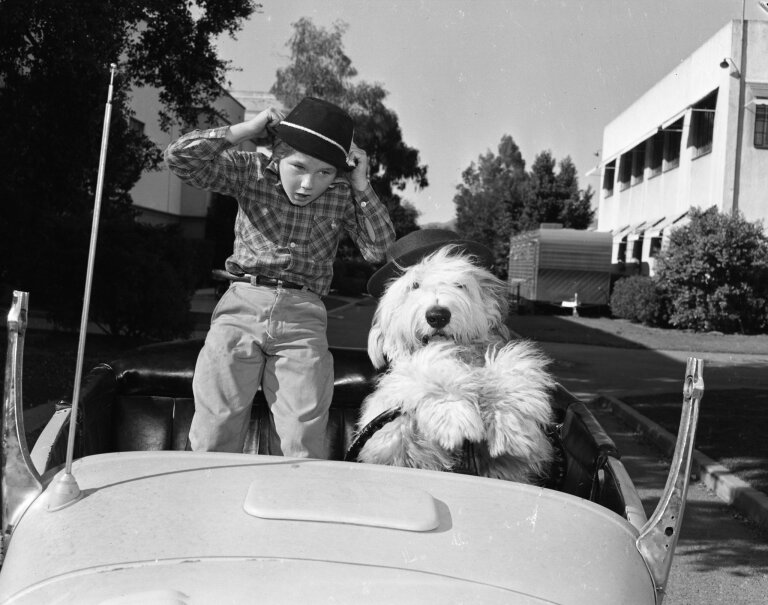 Kevin Corcoran as Moochie Daniels in the 1959 Disney production of "The Shaggy Dog."
(Walt Disney Archives)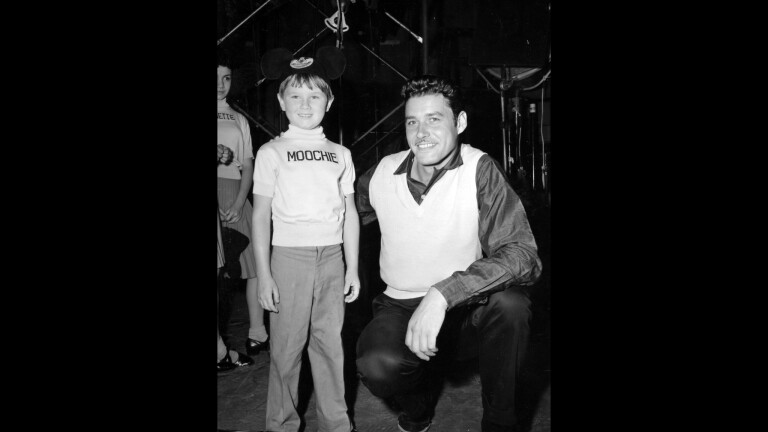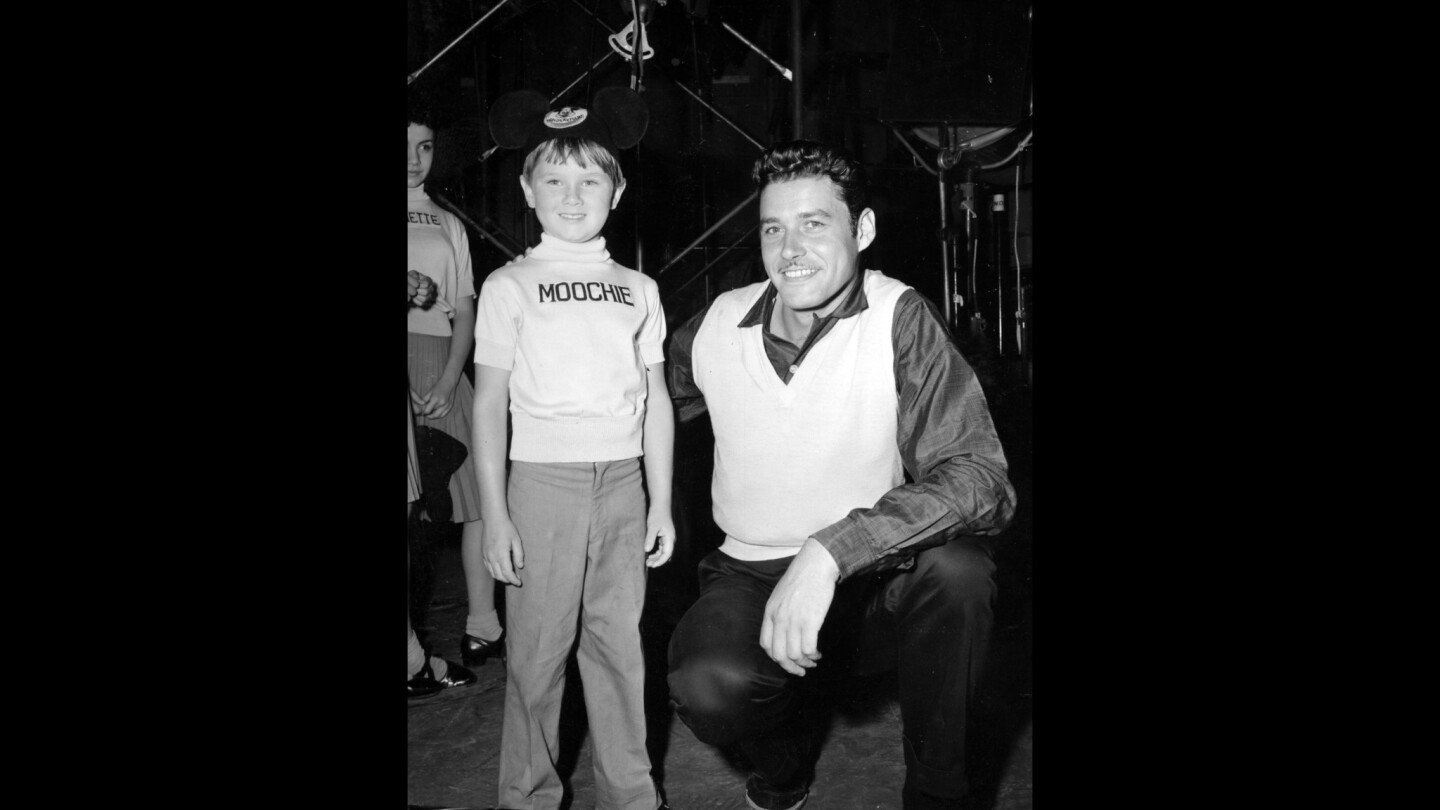 Kevin Corcoran and Guy Williams, around 1957, on the set of "The Mickey Mouse Club."
(Walt Disney Archives)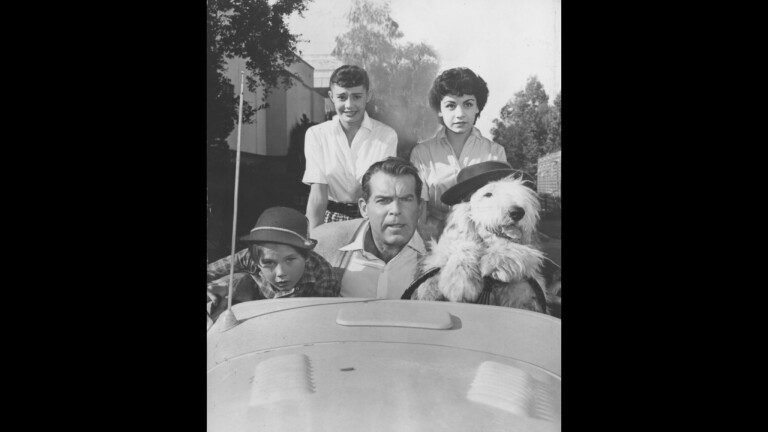 Kevin Corcoran, left, with Roberta Shore, Fred MacMurray and Annette Funicello in the 1959 movie "The Shaggy Dog."
(Walt Disney Productions)
Disney child actor Kevin Corcoran, who played the irrepressible Moochie in the "Spin and Marty" serials on "The Mickey Mouse Club" and went on to play roles in films such as "Old Yeller," died Tuesday at Providence Saint Joseph Medical Center in Burbank. He was 66.
The cause was colorectal cancer, said his wife, Laura.
Moochie — an adorable, talkative kid who was always getting into jams — was not far removed from the real-life Corcoran, said David Stollery, who played Marty. Corcoran was 7 when he started appearing in the series that took place on a dude ranch.
"He was just this little rambunctious bundle of energy," Stollery said in an interview Wednesday. "He was Moochie, a perfect fit for the character."
The character was so popular that Corcoran as Moochie was featured in other Disney productions, including the film "The Shaggy Dog."
Other Disney child stars of the era got more notice and bigger parts. But viewers took the pint-sized Corcoran to heart.
"To kids of my generation, Moochie was an irresistible figure, a kid we could all relate to," film critic Leonard Maltin said in taped comments released by Disney. "Because he was so genuine, not a goody-goody type of a model child.
"He had a touch of mischief and curiosity, and you couldn't help but like him."
Stollery said that even at a young age, Corcoran was a professional who knew his lines and took direction.
But Corcoran admitted that he didn't always have to fake being mischievous. "Tommy Kirk and I had a great relationship," Corcoran said in a 2000 Times interview. He played Kirk's younger brother in several productions, and the two often played practical jokes on each other.
"I remember one sequence," Corcoran said, "in which I was supposed to be throwing rocks at him. Tommy and I had been battling off-screen about something, so instead of the prop rubber rocks, I started throwing real ones."
Among the other Disney films in which he appeared were "Toby Tyler, or Ten Weeks with a Circus," "Pollyanna" (opposite Hayley Mills) and "Swiss Family Robinson."
He was also in several non-Disney productions, including guest spots on TV series such as "Wagon Train," "The Littlest Hobo" and "My Three Sons" with one of his favorite actors, Fred MacMurray.
In his late teens, he made a sudden decision to quit acting after auditioning for a role that was only vaguely defined.
"I said, 'Well, what is this character about?'" he said in a 2012 San Francisco Chronicle interview. "And they fumbled around because they didn't know. Then it hit me. You know what? I know more about making movies than the guy making this picture. I'm done acting."
Corcoran went on to a career behind the camera. And unlike many child actors, he had a quiet life with a long marriage and no public drama.
"I enjoy entertaining people and doing good work," he told the Chronicle. "I'm glad my life didn't have to be a spectacle."
He was born into a show business family on June 10, 1949, in Santa Monica. "While my father was working at MGM, he heard that children were needed to play some extra roles," he said in an interview with Walt Disney Productions for a company biography.
"By the time I arrived — No. 5 of eight children — the Corcoran kids had been established in the industry."
One of his earliest appearances was in the film "The Glenn Miller Story," released in 1954. His first Disney appearance was the short "Adventures in Dairyland," and it led to him being cast in "Spin and Marty."
After quitting acting, Corcoran got a theater arts degree at Cal State Northridge. His career was mostly in television, where he worked as a producer on several shows, including "Murder, She Wrote," "The Shield" and "Sons of Anarchy." He also directed two episodes of "Murder, She Wrote."
In 2006, he was named a Disney Legend by the studio where he saw his most success as an actor and where he did occasional work, including producing episodes of the "Herbie, the Love Bug" series in 1982.
"I'll always be 'Mooch' to the guys around here," he said in the studio interview. "Heck, they've practically raised me."
In addition to his wife, Corcoran is survived by his sisters Che Keene, Noreen Corcoran and Kerry del Villar, and a brother, Hugh Corcoran.
david.colker@latimes.com
Related:
Annette Funicello dies at 70; Mouseketeer and "beach movie" star
JoAnn Dean Killingsworth dies at 91; Disneyland's first Snow White
---
Must-read stories from the L.A. Times
Get all the day's most vital news with our Today's Headlines newsletter, sent every weekday morning.
You may occasionally receive promotional content from the Los Angeles Times.