Koko Taylor dies at 80; singer was Chicago blues icon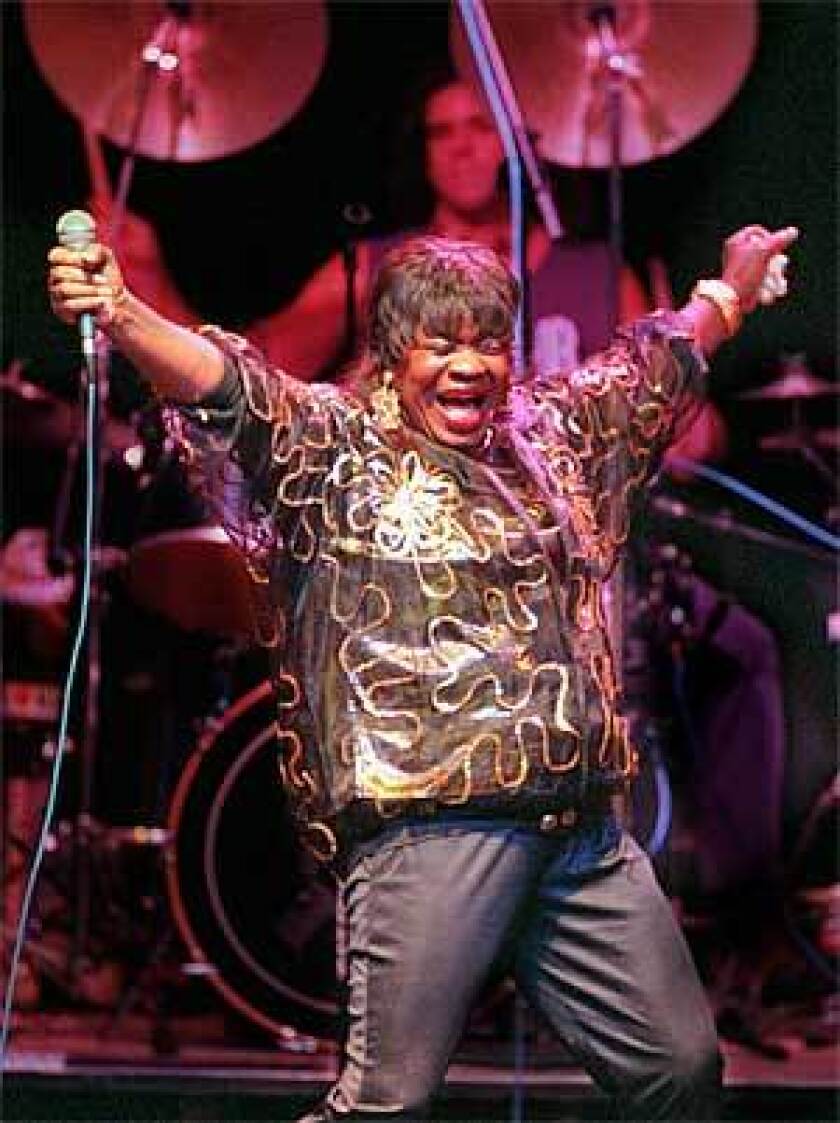 Koko Taylor, a Chicago musical icon who became one of the most revered female blues vocalists of her time with signature hits such as "Wang Dang Doodle," "I'm a Woman" and "Hey Bartender," died Wednesday at Northwestern Memorial Hospital in Chicago of complications from gastrointestinal surgery. She was 80.
Her death came less than four weeks after her last performance, at the Blues Music Awards in Memphis, where she collected her record 29th Blues Music Award. She had surgery May 19 and appeared to be recovering until taking a turn Wednesday morning, and was with friends and family when she died.
"Koko Taylor's life and music brought joy to millions of people all around the world and Chicago is especially honored that she called our city her home for more than 50 years," Chicago Mayor Richard M. Daley said.
Among those with her Wednesday was Bruce Iglauer, owner of Chicago-based Alligator Records and her producer, manager and friend since 1974.
Iglauer had never worked with a female vocalist before on his fledgling label, which was dominated by guitar-playing men. But he was impressed by Taylor's moxie and her sound.
"She was of the same generation as Muddy [Waters] and [Howlin'] Wolf, she had those [Mississippi] Delta roots," he said Wednesday. "Even though she had been living in Chicago since the '50s, her music was still deeply rooted in the South. She had that rhythmic sense, that sense of where you lay the words and how the band locks in around the singer, that intensity of people who have lived that life."
Born Cora Walton in Memphis in 1928, she grew up on a sharecropper's farm outside Memphis. Young Cora and her three brothers and two sisters slept on pallets in a shotgun shack with no running water or electricity. By the time she was 11, both her parents had died. She picked cotton to survive, and moved to Chicago in the early '50s to be with her future husband, Robert "Pops" Taylor. She found a job working as a domestic. Pops Taylor died in 1989.
She had sung gospel music in church while living in the South, and on weekends would attend the blues clubs in Chicago's burgeoning South Side scene, the heyday of Chess Records and such stalwarts as Waters, Howlin' Wolf and Willie Dixon. She would occasionally sit in and caught the ear of Dixon, who approached her in the early '60s about recording one of his songs, "Wang Dang Doodle."
"I didn't know Willie Dixon from Adam's house cat," Taylor recalled in an interview with the Chicago Tribune. "But he says to me, 'I love the way you sound' and, 'We got plenty of men out here singing the blues, but the world needs a woman like you with your voice to sing the blues.' "
Taylor's 1965 hit recording of "Wang Dang Doodle" launched her career, and established her sound: a gruff, no-nonsense roar that was the female equivalent of Howlin' Wolf's baritone growl.
By becoming a bandleader and a powerful voice in a male-dominated scene, she broke down barriers for many female entertainers who followed.
But when Chess folded in the early '70s, Taylor was back where she started, scrapping for a living.
"It was a devastating time for my mom," Taylor's daughter, Joyce "Cookie" Threatt, once told the Chicago Tribune. "Then she met Bruce [Iglauer]. It was like God put him there."
Taylor was already a distinctive artist when she came to Alligator, and with Iglauer's help began exploring a more vulnerable side of her persona on select ballads such as her epochal version of the Etta James hit "I'd Rather Go Blind."
Even when recording other people's material, the singer put her idiosyncratic touch on it, usually singing it a cappella in the studio, with the musicians following her.
Taylor, who won a Grammy Award in 1984, never adopted the blues lifestyle of hard drinking and philandering that consumed some of her peers. She was a devout woman, but at the same time deeply appreciative of how the blues communicated honestly and directly about everyday life.
As her daughter once told the Tribune: "She grew up singing in [the Baptist] church in Memphis, and people come into church to get washed. They don't come in there already clean."
At the same time, Taylor was not one to mince words. She could be devastatingly direct with anyone who crossed her.
"She was meticulous about her music, so if her band screwed up, they would hear about it," Iglauer said.
For Taylor, the blues was life. She bounced back from similar gastrointestinal surgery in 2004 to write and record another album, "Old School," released in 2007 on Alligator. It would prove to be her final recording, though Iglauer said that in recent months Taylor was calling him and singing new songs over the phone.
"She was scheduled to go to Spain next week," he said. "She was still performing. At the Blues Awards in Memphis a few weeks ago, she was absolutely glowing. She would be exhausted standing by the edge of the stage, but when the lights went up, she would hop up and dance as soon as the music started. She would always say, 'If I can brighten one person's day with my music, that's what I live for.' "
Besides her daughter, Taylor is survived by her husband, Hays Harris; two grandchildren and three great-grandchildren.
Kot is music critic for the Chicago Tribune.
The Tribune's Howard Reich contributed to this report.
---
Must-read stories from the L.A. Times
Get all the day's most vital news with our Today's Headlines newsletter, sent every weekday morning.
You may occasionally receive promotional content from the Los Angeles Times.