Harry Briggs Jr., once the center of a school desegregation lawsuit, dies at 75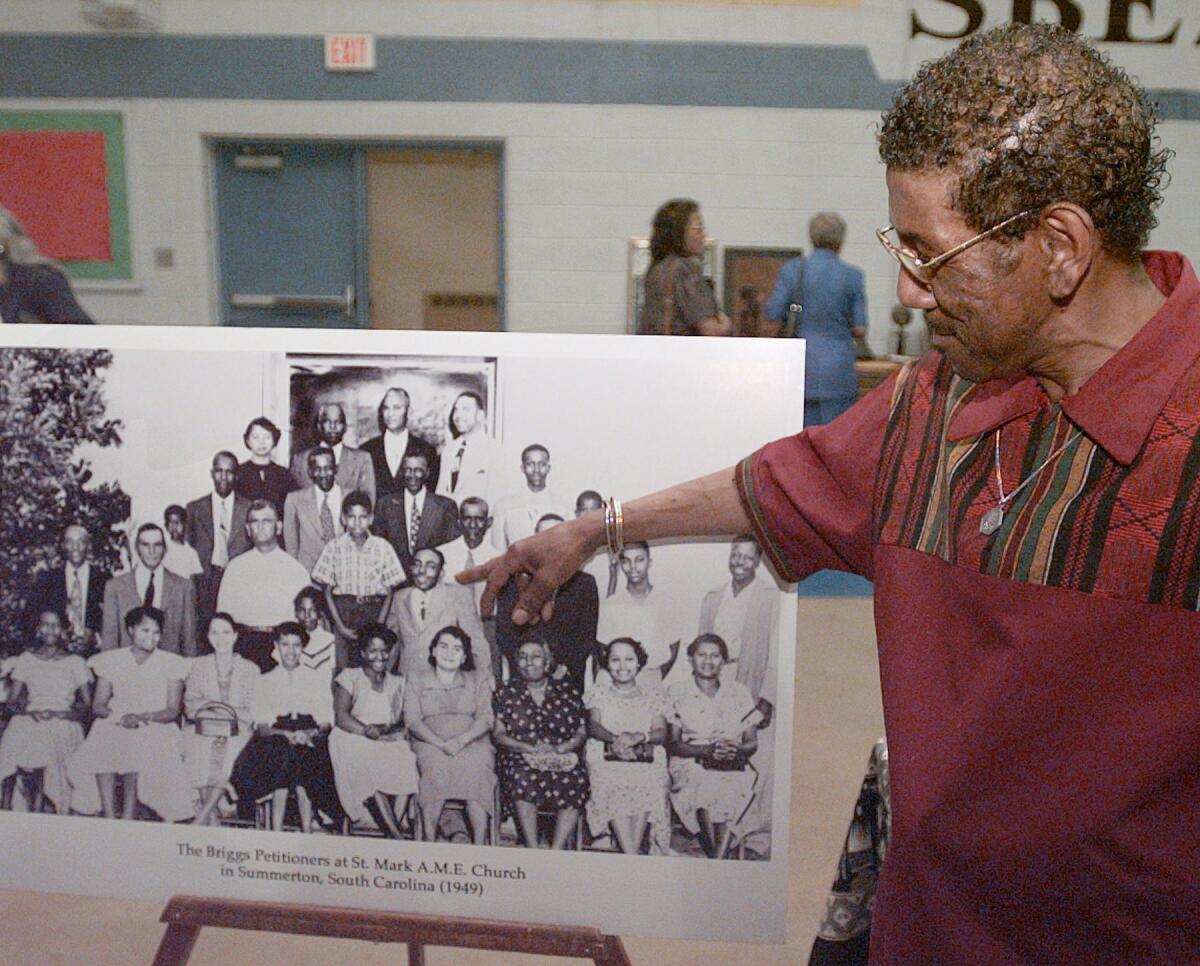 Reporting from Columbia, S.C. —
Harry Briggs Jr., who as a young boy was at the center of a lawsuit that culminated with the U.S. Supreme Court outlawing segregated public schools, has died. He was 75.
Briggs died Aug. 9 at his home in New York, according to Samuels Funeral Home in Manning, S.C. A funeral is scheduled Friday at a community center that formerly housed the school attended by Briggs, several of his younger siblings and many of the other students involved in the lawsuit.
Briggs' parents, Harry and Eliza Briggs, were the first two of more than 100 signers of a 1949 petition seeking equal treatment for black students in South Carolina's Clarendon County. Harry Jr. — then just 8 years old — was the third. The petition said black children were forced to attend schools that lacked adequate heat, lighting and running water.
Briggs' youngest sibling, Nathaniel Briggs, said Monday that their parents and many others in the community sacrificed greatly to stand up for what was right.
"They banded together to correct the injustice of unequal education," said the 68-year-old of Teaneck, N.J. "Lots of people paid the price in reprisals."
The case began in 1947 with black parents seeking a bus for their children, who were walking up to nine miles to school each way.
Harry Briggs Jr. was among those who walked as white students traveled the same road in buses.
"They had school buses and we had nothing," he told the Associated Press in 2002. Briggs is portrayed in the 1991 movie "Separate But Equal" as a young boy walking down a road with a passing bus throwing dust in his face.
When the initial case was thrown out on a technicality, parents pursued a bolder lawsuit challenging segregation.
Briggs vs. Elliott, filed in 1950, was the first of five cases that were eventually combined and led to the high court's landmark 1954 decision declaring segregation unconstitutional. The decision is named for the Kansas case: Brown vs. Board of Education.
Harry and Eliza Briggs were among four South Carolinians posthumously honored in 2004 with Congressional Gold Medals for their roles in ending segregation. The others were the Rev. Joseph A. DeLaine, a principal who helped organize petitioners, and Levi Pearson, a black farmer who put his name on the initial suit.
Both Harry and Eliza Briggs were fired after the court filing. In the 2002 interview, Harry Briggs Jr. recounted watching his father struggle to provide for the family after losing his job at a filling station. His mother had been a maid.
"He tried farming, but he couldn't make it," he said of his father.
"They wouldn't sell you any seed. They wouldn't sell you the basics for farming," Briggs said. "He gave up and he went to Florida" in 1957.
Nathaniel Briggs called the retaliation his family faced "economic terrorism."
In 1960, the family split up, with Harry Jr. moving with a brother to New York, and Nathaniel moving with his mother and two siblings to Miami with only what they could take aboard a Greyhound bus, he said.
Eventually the entire family ended up in New York.
Harry Briggs Jr. worked security at Madison Square Garden and the Jacob K. Javits Convention Center until his retirement, his brother said.
"While he was not physically present in South Carolina, subsequent generations of South Carolina children have stood on his shoulders," state Democratic Party Chairman Jaime Harrison said Monday.
He thanked the Briggs family for making "our state and our country a better place."
Harry Briggs Jr. is survived by his wife and four children.
ALSO
Ruby Wilson, 'the queen of Beale Street,' dies at 68
Edwin "Rip" Smith, first minority tenured professor at USC law, dies at 66
Kenny Baker, 'Star Wars' actor who brought R2-D2 to life, dies at 81
Sign up for Essential California for the L.A. Times biggest news, features and recommendations in your inbox six days a week.
You may occasionally receive promotional content from the Los Angeles Times.