Kenny Baker, 'Star Wars' actor who brought R2-D2 to life, dies at 81
Kenny Baker, who gave life to the "Star Wars" droid R2-D2 — one of the most beloved characters in the space-opera franchise and among the most iconic robots in pop-culture history — has died at the age of 81.
The British actor, who was 3-foot-8, first played the plucky droid in George Lucas' 1977 blockbuster, then went on to reprise the role in two sequels, "The Empire Strikes Back" and "Return of the Jedi," and three prequels.
Baker died after a long illness, his agent, Johnny Mans, confirmed.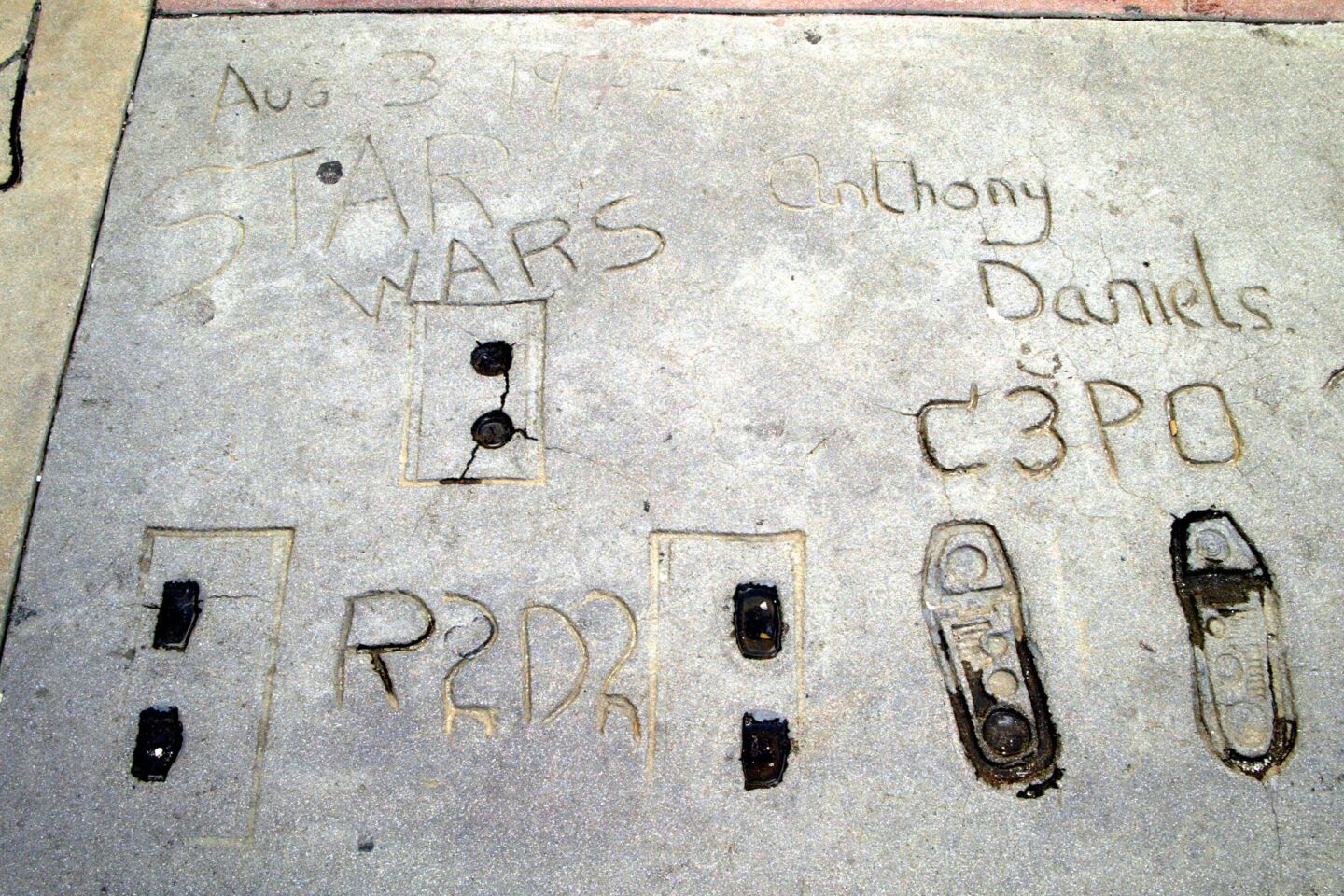 The prints of "Star Wars" droids R2-D2 (played by Kenny Baker) and C-3PO (played by Anthony Daniels) are seen outside Grauman's Chinese Theatre on March 16, 2003, in Hollywood.
(Frazer Harrison / Getty Images)
Kenny Baker, who portrayed the beloved "Star Wars" droid R2-D2, signs autographs at Star Wars Celebration IV, billed as the world's biggest "Star Wars" party, on May 26, 2007.
(Reed Saxon / Associated Press)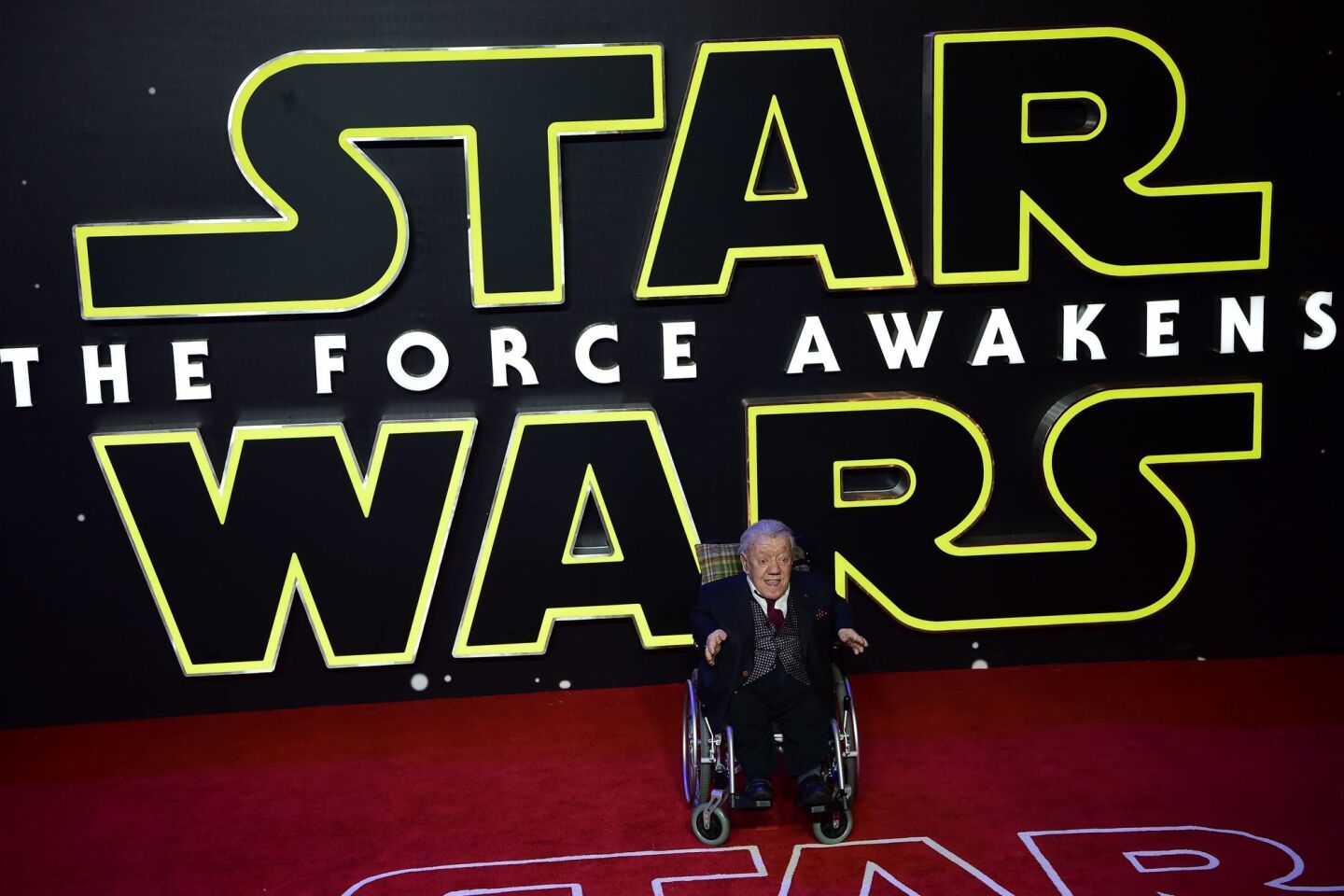 Kenny Baker attends the "Star Wars: The Force Awakens" premiere in London, on Dec. 16, 2015.
(Leon Neal / AFP/Getty Images)
Kenny Baker arrives for the European premiere of "Star Wars: The Force Awakens" at Leicester Square in London on Dec. 16, 2015.
(Facundo Arrizabalaga / EPA)
"Kenny was truly a great friend, one of the nicest guys you could ever wish to meet and a fabulous and talented performer," Mans told The Times in an email. "He was a one-off. There will never be another Kenny Baker."
Emitting a never-ending stream of beeps and boops, R2-D2 was both a comic foil to his uptight counterpart, C-3PO, played by Anthony Daniels, and a key player in the Rebel alliance's fight against the Empire, serving as a trusty courier of secret messages for his owner, Luke Skywalker.
On Twitter, Mark Hamill, who played Skywalker, paid tribute to Baker, writing, "I loved his optimism & determination. He WAS the droid I was looking for!"
Baker, who prior to "Star Wars" had worked as a circus performer and had been part of a comedy duo called the Mini-Tones, endured stifling temperatures to squeeze himself inside the droid character.
"The problem was we had to get someone inside it," "Star Wars" art director Leslie Dilley, who helped design R2-D2, told The Times in 2007. "I eventually ended up with Kenny Baker, who was small with upper-body strength. Kenny didn't want to do this job. He and his buddy were on a talent show on TV. ... I had to go around to his house and persuade him."
In addition to the "Star Wars" films, Baker appeared in the 1980 sci-fi movie "Flash Gordon" and director Terry Gilliam's 1981 fantasy film "Time Bandits" as well as more dramatic films like "Amadeus" and "The Elephant Man."
When asked to reminisce about his time working on the "Star Wars," films, Baker was not prone to nostalgia. "There weren't any highlights — I was just there, in the droid," he told an interviewer in 2006. "I'm not saying I didn't enjoy it. It was just a job at that time."
Indeed, when director Jon Spira reached out to Baker about participating in his recent documentary "Elstree 1976," which chronicled the lives of the largely unsung extras and supporting players in "Star Wars," the actor demurred with a profanity. "He told us, 'I'm too old,' " Spira told The Times earlier this year. "That was a washout."
Still, Baker clearly had affection for the "Star Wars" universe, attending fan conventions and maintaining his association with R2-D2 until the end of his life.
While he didn't perform the character in last year's "Star Wars: The Force Awakens," he did serve as a consultant on the film and, despite his ill health, attended its London premiere in what would be one of his last public appearances.
See the most-read stories in Entertainment this hour »
ALSO
Ruby Wilson, 'the queen of Beale Street,' dies at 68
Scott Folsom, an official and unofficial watchdog over L.A. schools, dies at 69'
David Huddleston, who played the title role in 'The Big Lebowski,' dies at 85
---
UPDATES:
1 p.m.: This article was updated with additional comments.
This article was originally published at 12:15 p.m.
Get our L.A. Goes Out newsletter, with the week's best events, to help you explore and experience our city.
You may occasionally receive promotional content from the Los Angeles Times.