Civic leader John Mack, a prominent voice on Los Angeles police reform, dies at 81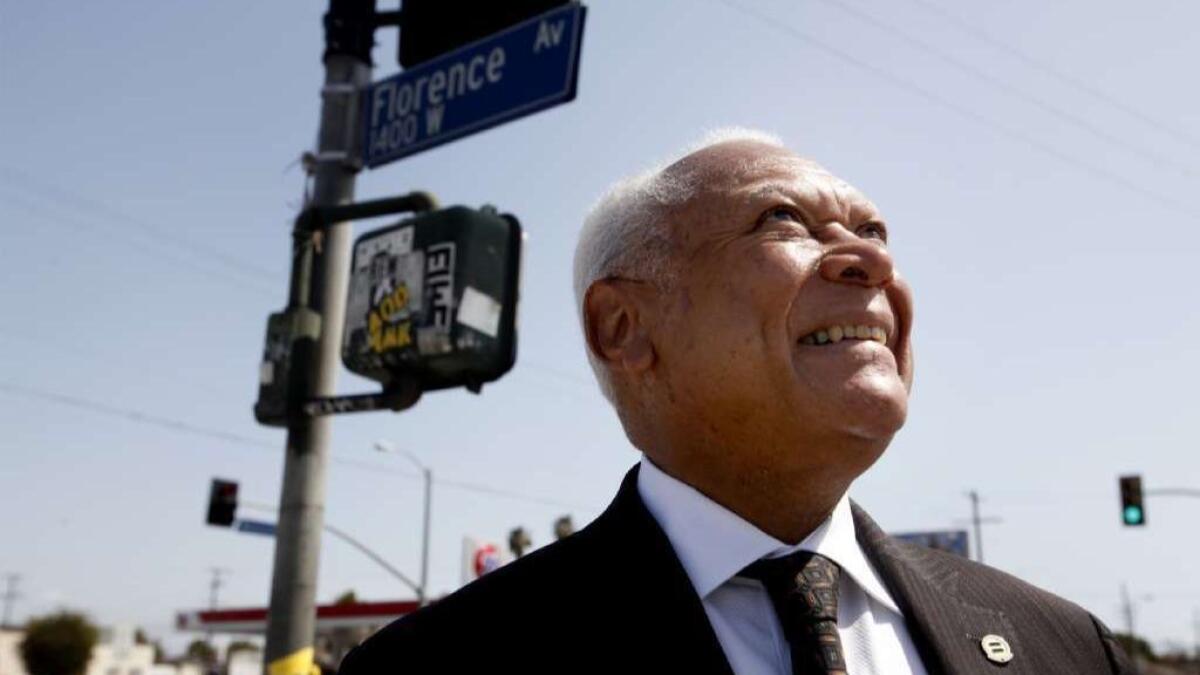 When John Mack arrived in Los Angeles in 1969 as a rising civil rights figure, he plunged into work on behalf of the city's minorities and working class.
It was a struggle in a city that had just experienced the devastating 1965 Watts riots and where many African American residents faced serious mistreatment at the hands of the police.
Over an extraordinary career that spanned decades, Mack helped lead the city past the infamous Rodney King beating and 1992 riots and later transformed himself into what one admirer called the "consummate inside agitator," helping to oversee reform of the Los Angeles Police Department. In his fight for civil rights, he described himself as a "sane militant."
Mack, who rose to become one of L.A.'s most influential black figures during his long tenure running the city chapter of the Urban League and later spent eight years on the Police Commission, died at Cedars-Sinai Medical Center on Thursday night, family members and friends said. He was 81. The cause was cancer.
"John Mack's wisdom, integrity, and kindness helped transform Los Angeles," Mayor Eric Garcetti said in a statement Friday. "As a civil rights warrior, police commission president, and ally to all who love freedom and fairness, John made history with a fierce determination to pursue justice, an unshakable commitment to equality, and an unbreakable bond with the community he worked tirelessly to uplift every day of his remarkable life."
During his nearly 36 years as head of the Los Angeles Urban League, the L.A. affiliate of one of the nation's oldest and most influential civil rights organizations, Mack played a role in guiding the city through dramatic, often tumultuous change: the rise of African Americans into key and influential positions, including mayor; development in South L.A.; the riots after the King beating; a burgeoning black-Latino political coalition; as well as escalating tensions between Latinos and African Americans over jobs and at schools — and even for gang turf.
Mack was skilled in his use of power and influence, said City Councilman Marqueece Harris-Dawson, who represents a portion of South Los Angeles. As the leader of the L.A. Urban League, Mack pressed the city's corporate executives to increase minority hiring, support job-training programs and purchase goods from black- and Latino-owned businesses, Harris-Dawson said.
"John Mack was in every one of those boardrooms, on the golf course, at the right social clubs to get to those guys," Harris-Dawson said. The work involved "not just arm-twisting, but getting them to understand and embrace the idea that diversity was in fact better for their bottom line and better for their companies."
He was, said attorney Connie Rice, "the CEO of civil rights."
The son of a United Methodist minister and a first-grade teacher, John Wesley Mack was born in the Jim Crow South. He grew up in a middle-class family in segregated Darlington, S.C.
In an interview with The Times in 2005, he recalled some of the more overt racism he experienced as a child: The hot dog stand by the railroad tracks — which served as the dividing line between the white and black parts of town — that allowed whites to sit inside but forced blacks to order out back. And at the only movie theater in town, "we could only go to the movies on Saturdays and we had to sit in the balcony. Upstairs. One day," Mack said.
Mack attended the town's schools for black children and as a teenager spent several summers picking cotton — a job that left his hands bloody but which his parents required in order to instill "the importance of work, the discipline of work," he said in the interview.
It was at North Carolina Agricultural & Technical State University that Mack got his introduction to the civil rights movement that would come to define him. After a visit from a field director for the National Assn. for the Advancement of Colored People, Mack helped start the group's chapter on campus. And when white construction workers building a dormitory set up temporary outhouses marked "White Only" and "Colored Only," Mack and several of his schoolmates torched them.
After earning a degree in applied sociology, Mack pursued graduate work in Atlanta, where he emerged as an early leader of the student civil rights movement. He worked with the Rev. Martin Luther King Jr., incurring the wrath of the Ku Klux Klan, which put a bounty on his head and once chased him as he drove down a rural Georgia road.
It was during this time that he met his wife, Harriett, a teacher. They married in 1959 and moved to California, where Mack spent four years as a psychiatric social worker at Camarillo State Hospital. When an old mentor persuaded him to take a job with the Urban League, Mack uprooted his family for Flint, Mich.
The work consumed him. In 1969, the organization sent him to Los Angeles.
Mack built the league's chapter from relative obscurity to a center of black power in Los Angeles, fighting school segregation and the poor treatment of black workers in the city.
The election in 1973 of Tom Bradley, the city's first African American mayor, was a boon for Mack's efforts. His office was the site of so many important meetings that a city councilman at the time named it "the black Pentagon."
The city especially felt his presence in 1992, both when the riots erupted after the King beating and in the rebuilding efforts afterward, said Rep. Karen Bass (D-Los Angeles), who considered Mack a friend and advisor.
"Right when the civil unrest was happening, when people were burning down places and getting shot … he was on the air, he was in the press, he was calling for peace, he was calling for calm," Bass said. At the same time, he was trying to "help people in the city who weren't directly involved understand how tensions could reach the point of civil unrest."
Indeed, Mack was a presence in many of the moments that define L.A.'s recent history, including a famous image of him leading then-President George H.W. Bush on a tour after the riots and, shortly after, calling for the resignation of then-Police Chief Daryl F. Gates. When Britain's Prince Charles visited the city, Mack gave him a tour of an automotive training center run by the Urban League on Crenshaw Boulevard.
"John Mack is a giant" in South L.A., having worked to improve the lives of countless black and brown people in the city, said Aurea Montes-Rodriguez, executive vice president of the South L.A. nonprofit advocacy group Community Coalition.
Through the Urban League, Mack offered services for some of L.A.'s most disenfranchised citizens, including Montes-Rodriguez's brother, who dropped out of high school but participated in an Urban League job training program.
"He helped so many young men like my brother find a way," Montes-Rodriguez said.
After stepping down from the Urban League, he entered a second phase of public life when then-Mayor Antonio Villaraigosa tapped him to lead the city commission that oversees the Police Department.
In the wake of the riots, Mack had been a leading voice calling for reforms in the LAPD and for Gates' resignation. Accepting the job as commission president meant suddenly becoming an insider.
"John understood that to truly change hearts and minds in the LAPD, he had to go to work on the inside," Connie Rice said. "And because he was not someone who just shouted in anger and tore things down for the sake of tearing them down, the LAPD saw they could trust him. That's rare leadership."
Bill Bratton, the police chief at the time, said he and Mack forged a strong, if perhaps unlikely, bond as they both pushed in their own ways to force the recalcitrant department to accept sweeping reforms required under a federal consent decree.
Mack remained influential in LAPD matters even after his departure from the commission. Last month, as Garcetti neared his decision for a new police chief, Mack called the mayor to urge him to hire Michel Moore as the replacement for Charlie Beck.
During a 30-minute conversation, Mack emphasized to the mayor that Moore had a strong background in community policing and was strong on reform — specifically the effort to eradicate brutality and racism within the LAPD.
"He did not disagree, which led me to believe we were all on the same page," Mack said.
Garcetti chose Moore for the job on June 4.
Times staff writers Angel Jennings and Emily Alpert Reyes contributed to this report.
---
UPDATES:
12 p.m.: This article was updated with comments from Harris-Dawson, Bass and Garcetti.
10:30 a.m.: This article was updated with the statement from Beck and Moore.
9:55 a.m.: This article was updated with information about Mack's work in Los Angeles, comments from Montes-Rodriguez and comments from Richard Katz.
9 a.m.: This article was updated with details of Mack's influence on the recent hiring of Michel Moore as Los Angeles police chief.
This article was originally posted at 8:40 a.m.
Sign up for Essential California for the L.A. Times biggest news, features and recommendations in your inbox six days a week.
You may occasionally receive promotional content from the Los Angeles Times.