Lonnie White dies at 49; Times sportswriter, USC football player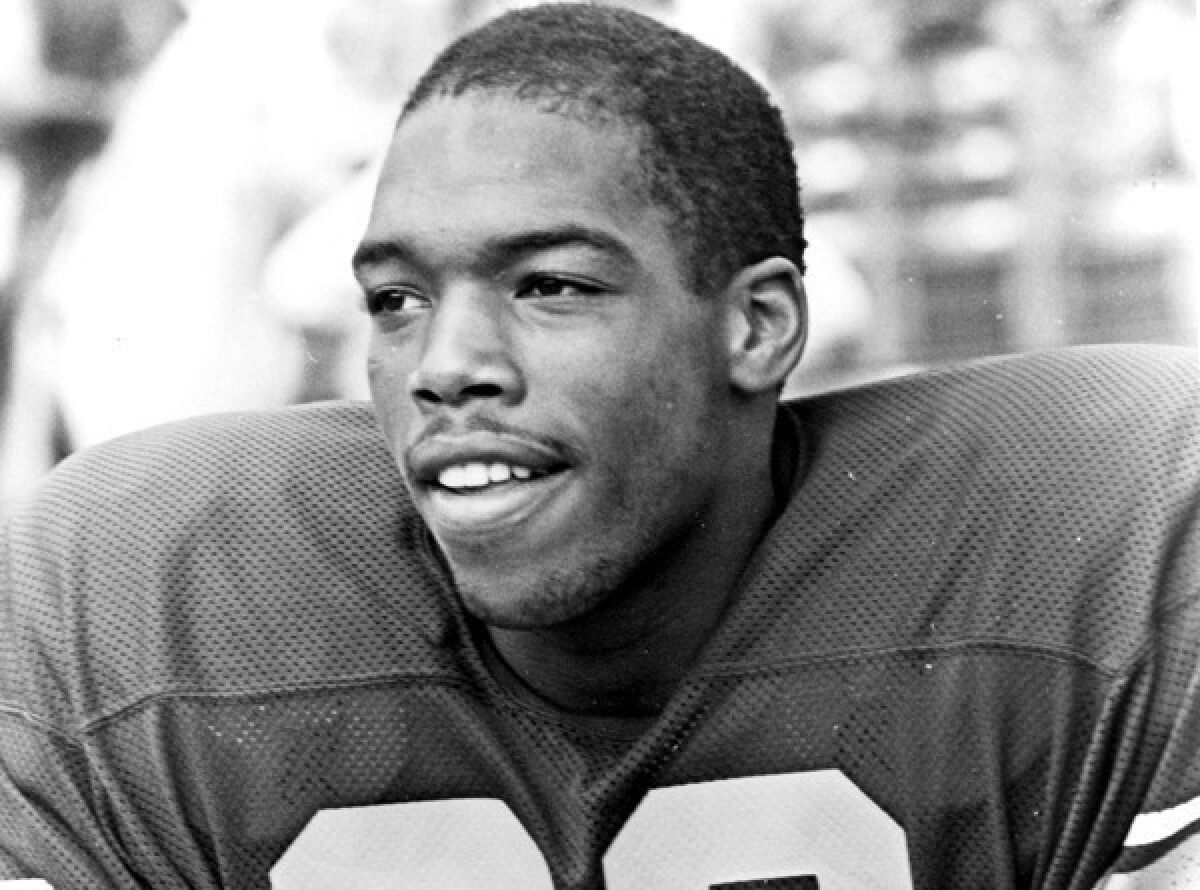 Lonnie White, a former USC football player who worked for two decades as a Los Angeles Times sportswriter, has died. He was 49.
White, who had a number of health problems over the last several years, died Saturday at Glendale Memorial Hospital, his sister Terri said.
White worked for The Times from 1987 to 2008. He covered the Los Angeles Clippers, Los Angeles Kings, the NFL, UCLA football, USC basketball, high school sports and was a general-assignment reporter.
His work was recognized several times in the Associated Press Sports Editors annual writing contest and he wrote the book "UCLA vs. USC: 75 years of the Greatest Rivalry in Sports."
"Lonnie was one of the truly good guys in our business, respected and liked by almost everyone who knew him professionally and personally," said Times sports editor Mike James, who worked with White throughout his career at the newspaper and edited his book. "This is a very sad day."
White was born in Washington, D.C., on Oct. 7, 1964, and grew up in New Jersey, where he starred in football and track and field at Asbury Park High School. His brother, Timothy, lettered at receiver at USC from 1980 to 1982, and White also became a Trojan.
White, a quarterback in high school, played receiver and also was a special-teams player at USC from 1982 to 1986. As a senior, he caught 11 passes for 217 yards and scored a touchdown. He also amassed 716 yards in kick-off return yardage, a school season record that stood until 2010. He made the New Orleans Saints roster in the NFL's strike-shortened 1987 season before beginning his journalism career.
"It's a tremendous loss for the entire Trojan family," USC athletic department spokesman Tim Tessalone said. "Lonnie was always one of the favorite sons of USC, and we've always been very proud of his post-USC accomplishments.
"He had a tough go the last few years, but he was a true Trojan and fought on and battled through a lot of things."
Said Marcus Allen, the 1981 Heisman Trophy winner from USC: "Obviously he was a loyal Trojan, that's for sure, even though he'd be as objective as he possibly could as a writer. I thought he did a good job of walking that line.
"He had a job to do. He wasn't writing for the Trojans, he was a Trojan who was writing. I thought he did a good job of balancing that. It's just sad. It's terrible."
In 2010, White was the subject of a Discovery Health Channel television show that documented his long struggle with hidradenitis suppurativa, a painful skin disease.
In 2011, in a first-person story for a sports news website, White wrote that he accepted $14,000 in cash and benefits while a player at USC. He wrote that most of the money came from selling the four season tickets provided to every scholarship player.
"To this day, it's something I'm ashamed about," White wrote. "Rent was overdue, and my household bills were delinquent. I needed the money to live. So accepting the $14,000 in different forms of 'benefits' over my college years three decades ago was an act of survival."
White later told friends he wrote the piece to clear his conscience and to shed light on the hardships endured by college athletes, even those on scholarship.
In addition to his brother and sister, White is survived by his wife, Kimberly, from whom he was separated; and sister Zeline White-Howard.
Twitter: @latimesklein
Times staff writer Sam Farmer contributed to this report.
Must-read stories from the L.A. Times
Get the day's top news with our Today's Headlines newsletter, sent every weekday morning.
You may occasionally receive promotional content from the Los Angeles Times.