Marian McPartland dies at 95; pioneering female jazz pianist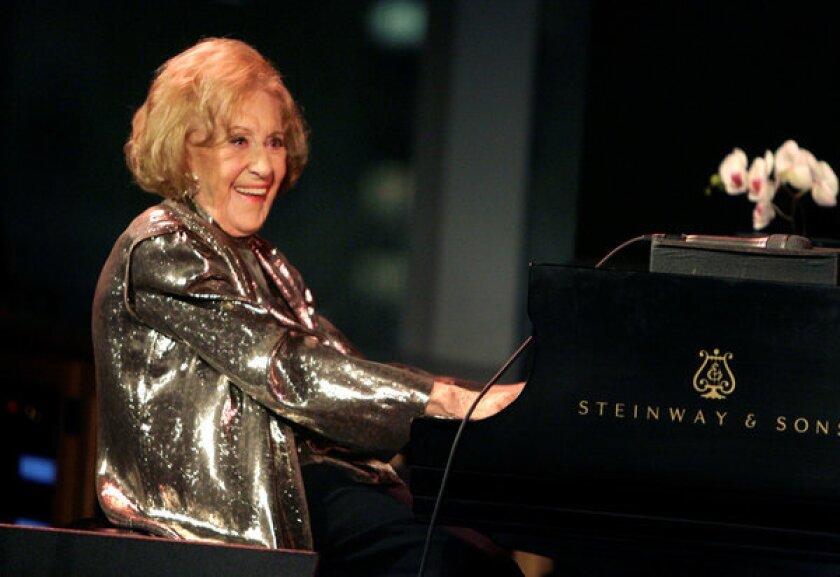 Marian McPartland, a jazz pianist and composer whose radio show "Marian McPartland's Piano Jazz" was National Public Radio's longest running and most widely carried jazz program, has died. She was 95.
McPartland died of natural causes Tuesday night at her home in Port Washington, N.Y., NPR reported.
One of the jazz world's most visible female instrumentalists, McPartland's highly personal style was rich with colorful harmonies and briskly swinging rhythms, enhanced by a love of bebop, while adapting smoothly to the many stylistic changes taking place in jazz over the course of a career spanning more than half a century.
"Marian McPartland is a harmonic genius," pianist Bill Charlap said. "Her singular musical voice encompasses the past, present and the future of jazz."
Critic John S. Wilson described McPartland's playing in a New York Times review as a "series of paces that were, in effect, a thumbnail history of jazz styles. She took it from basic ragtime to very modern harmonies, throwing in some bebop and some stride piano, shaping the whole concept into an exhilarating performance."
Her versatility proved a distinct asset after the English-born McPartland arrived in the United States in 1946 and moved to Chicago with her husband, cornetist Jimmy McPartland. They performed together for the next three years.
She also discovered a knack for radio in Chicago via a 15-minute daily show. After moving to New York City in 1949, she appeared at the Hickory House jazz club for a decade in the '50s and early '60s. Her trio, with Bill Crow on bass and Joe Morello on drums, made its first Capitol recording, "The Marian McPartland Trio," in 1954. "We were practically reading each other's minds while improvising," recalled Crow on the album liner notes.
Her trio's performances made the Hickory House a favorite gathering place for musicians, with Duke Ellington, Artie Shaw, Billy Strayhorn and Oscar Peterson among the many who came to listen and, at times, to sit in with McPartland.
A thoughtful, generous woman who was as articulate with a pen as she was imaginative and lyrical with her piano, McPartland was quick to acknowledge and honor the players who had the greatest effect on her music.
"One of my greatest influences was Duke Ellington," she wrote in a 1999 article for Piano & Keyboard Magazine. "I listened to Fats Waller (though not as much as Duke), [but] I never really got into stride piano. Benny Goodman and Lionel Hampton, with whom I later worked, influenced me, as did Mel Powell, Teddy Wilson and Jess Stacy. Then other people came into the picture, like Art Tatum and Bud Powell. What has stayed with me is Bill Evans."
She celebrated her love of Ellington in 2000, with the Concord CD tribute, "Marian McPartland: The Single Petal of a Rose, the Essence Of Duke Ellington."
Over the second half of her career McPartland was best known as the engaging hostess of NPR's "Marian McPartland's Piano Jazz."
"They wanted to do something on jazz that was varied instrumentally," McPartland told author Len Lyons in "The Great Jazz Pianists." "But I thought about it and came back to them with the idea that I wanted to concentrate on just the piano." Further discussions refined the concept to include piano solos by guests, as well as duets with McPartland.
Over the show's more than three-decade run beginning in spring 1979, nearly 500 artists — many of them legendary jazz performers — appeared on "Marian McPartland's Piano Jazz." Despite the enormous stylistic range of her guests, she seemed to adapt easily to their unique qualities, both musically and in conversation.
Among the many artists who appeared on "Piano Jazz": Teddy Wilson, George Shearing, Peterson, Dave Brubeck, Cecil Taylor, McCoy Tyner, Ahmad Jamal, Hank Jones and Brad Mehldau. Although the early bookings concentrated on pianists, the programming choices became much wider over the years, eventually including pop performers such as Steely Dan, Alicia Keys, Ray Charles and Boz Scaggs. She recorded her last "Piano Jazz" show in 2010.
She was born Margaret Marian Turner on March 20, 1918, in Slough, Buckinghamshire, England. Her father, a civil engineer, moved the family several times while she was growing up. Demonstrating an early fascination with the piano — including the ability to pick out tunes when she was 3 years old — McPartland's parents nonetheless insisted that she take violin lessons.
"I never really enjoyed the violin," she told International Musician in 1969. "I would practice in lackluster fashion, with one eye on the clock, and when the minute time was up, I rushed back to the piano again."
At 17, she was accepted as a scholarship student at the prestigious Guildhall School of Music and Drama. McPartland found herself drawn to jazz after a boyfriend introduced her to the playing of Ellington, Tatum, Waller and Wilson.
"My ears were more attuned to Art Tatum than Scarlatti," she recalled in the International Musician interview, "and I kept playing more and more jazz during my practice time to the annoyance of my piano teacher who would open the practice-room door and snap, 'Stop playing that drivel!' "
When she decided to leave Guildhall in 1938 to join a touring, four-piano ensemble, "Billy Mayerl and His Claviers," her father made a thousand-pound counteroffer in an effort to keep her in school. But McPartland, who had already been stamped as obstinate and headstrong by her teachers, turned him down.
She continued performing with Mayerl until the early years of World War II, when she joined the Entertainments National Service Assn., bringing entertainment shows to British troops. She eventually transferred to the American USO in Europe.
In 1944, she met cornetist McPartland, a musical disciple of Bix Beiderbecke. Their relationship blossomed into marriage in 1945.
After returning to the United States a year later, McPartland established her jazz authenticity, countering critic Leonard Feather's assertion that she had "three hopeless strikes against her … that she is English, white and a woman."
In 1958 she was among the 57 prominent jazz musicians assembled for Art Kane's iconic photo "A Great Day in Harlem" that appeared in Esquire magazine.
In addition to working with her husband's groups, McPartland followed her long run at the Hickory House with a decade-long engagement at the Cafe Carlyle. She recorded for Savoy, Capitol and several small labels before establishing her own record company, Halcyon, in 1969. Nearly a decade later — in 1978 — she signed with Concord Records, starting a relationship that would produce nearly 70 albums. Numerous recordings of the "Piano Jazz" show have also been released on the Jazz Alliance label, a Concord imprint.
McPartland's book of observations about music and musicians — "All in Good Time" — was published in 1987. She was the subject of a 2011 documentary film, "In Good Time: The Piano Jazz of Marian McPartland."
Although she was divorced from McPartland in 1970, they remained close and remarried a few weeks before he died in 1991. She never had children, but her husband had a child from his first marriage, and two of his grandchildren survive her, along with nieces and nephews.
McPartland's many awards include an NEA Jazz Masters Award and a Grammy Trustees Award, and she was named an officer of the Order of the British Empire in 2010. "Piano Jazz" received a Peabody Award and a Corporation for Public Broadcasting Award.
---
Must-read stories from the L.A. Times
Get all the day's most vital news with our Today's Headlines newsletter, sent every weekday morning.
You may occasionally receive promotional content from the Los Angeles Times.