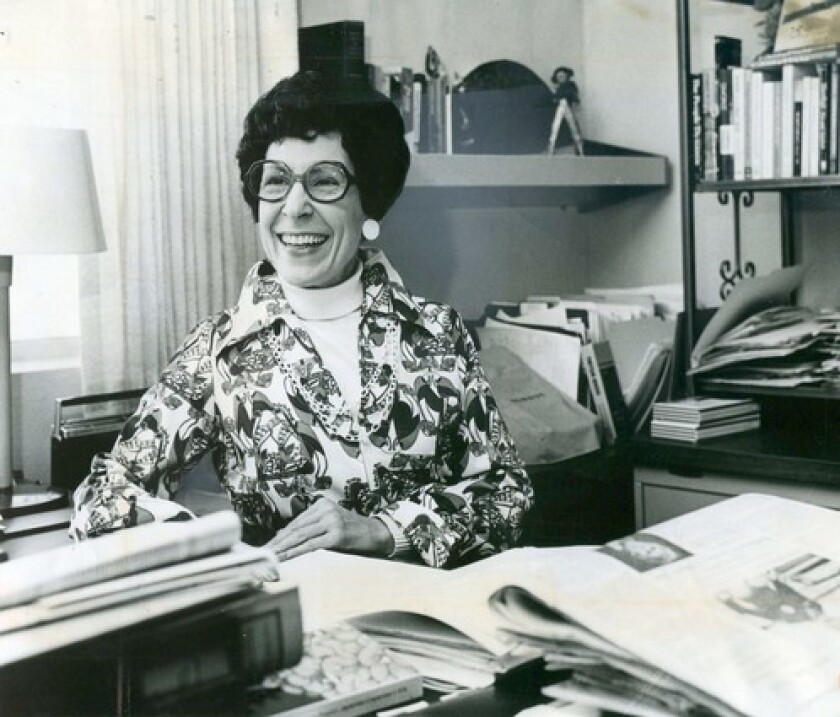 Marie Babare Edwards, a psychologist who helped pioneer a "singles pride" movement in the 1970s through her book, "The Challenge of Being Single," and workshops she taught at USC, died two days before her 90th birthday.
Edwards died Dec. 31 of complications related to old age at the Belmont Village assisted-living facility in Hollywood. Her family announced her death this week.
Not everyone is destined to march through life as half of a "Noah's Ark twosome," Edwards declared in a 1974 Times article about her work that ran under the headline "A Singles' Lib Manifesto." She wasn't either. Divorced after 11 years of marriage, Edwards found herself suddenly in sync with a third of the adult U.S. population that was single -- then 43 million people -- and wrestling with life in "a couple's world."
"I noted that many singles felt guilty because they were not married," Edwards later recalled, "that there were many myths and much misinformation about singles . . . that singles needed someone to speak for them to formulate a new way of looking at singlehood."
As she regularly addressed singles groups, Edwards became a zealous advocate for equal social status for the never or formerly married. She could not shake feeling "like a fifth wheel" as she began rearing her 9-year-old son alone. Like many singles, she tired of the brassy query: "How come you're not married?"
Two decades before the study of singles rights could even be considered an emerging field in academia, according to one expert, Edwards held her first seminar on the subject. In 1971, she began presenting "The Challenge of Being Single" through USC's College of Continuing Education.
By holding the workshops, she aimed to raise the consciousness of singles, to show them they were not alone in their struggle for selfhood, that "it's OK to be single," Edwards told The Times in 1974.
The book grew out of those sessions and interviews with 3,000 singles. Working with coauthor Eleanor Hoover, then a writer for Time and Human Behavior magazines, Edwards meted out solid self-help advice in the book, published in 1974.
E. Kay Trimberger, a sociologist and author of "The New Single Woman" (2005), called Edwards forward-thinking, "a pioneer, writing about the social issues of singles before it was popular. For that reason, her writing sort of got lost."
A 1975 review of "The Challenge of Being Single" in the New York Times recommended the book and praised its "innovative and intelligent techniques for handling the social and emotional problems that commonly beset singles."
Among the stereotypes tackled in one chapter was "Myth No. 1: All Single Women Want to Get Married." Another chapter, "Freedom -- The Greatest Advantage of Being Single," contained a "Singles Manifesto" with a vow to stop searching for the "one-and-only."
Three decades later, the manifesto still resonated with students in Trimberger's Sonoma State class on singles. Edwards considered the book and seminars, held at USC through most of the 1970s, "my most significant contribution as a psychologist," she later wrote, because she helped "individuals and institutions . . . appreciate singlehood as an alternate and viable lifestyle."
Marie Babare was born Jan. 2, 1919, in Tacoma, Wash., the second of two children of Nick Babare, a shipbuilder and independent oil operator, and his wife, the former Mary Mardesich.
Raised in eastern Texas, Edwards earned her bachelor's and master's degrees from Stanford University in 1948 and 1949. Since 1950, she had lived in Los Angeles and Culver City.
After inheriting her father's Texas-based oil business, Edwards stepped away from the field of psychology.
She was an extrovert who came close to remarrying several times. When inevitably asked "How come you're not married?" Edwards once said she could honestly respond: "I love my single life."
Edwards is survived by her son, Tilden Edwards of Bethesda, Md., and two grandchildren.
---