Martin Reiser dies at 87; LAPD's first staff psychologist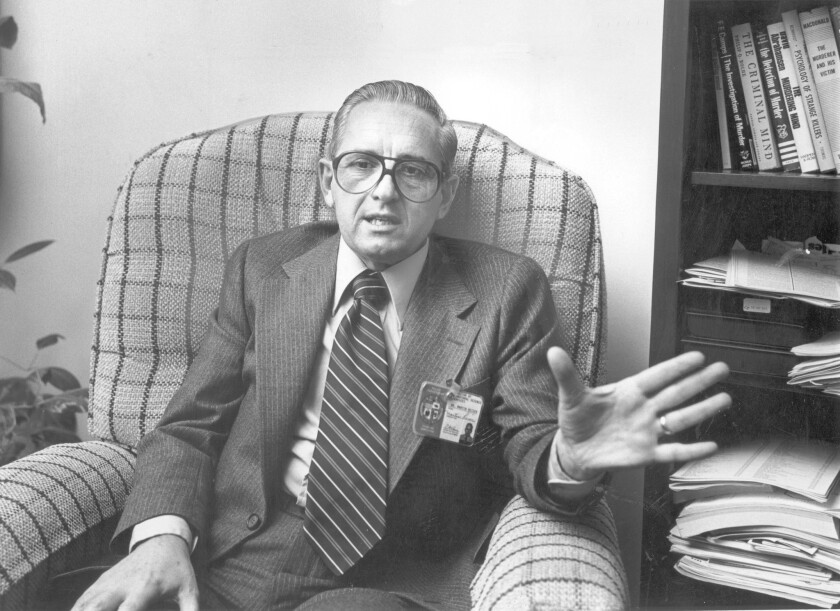 Martin Reiser, the first full-time staff psychologist for the Los Angeles Police Department and a pioneer in treating troubled officers, defusing hostage situations and using hypnosis to elicit information about crimes, has died. He was 87.
Reiser's death at his Los Angeles home Saturday was caused by leukemia, his daughter Mary Brusselsaid in an interview. He was diagnosed about a month earlier.
Reiser was working with autistic children at the San Fernando Valley Child Guidance Clinic in 1968 when the announcement of an opening at the LAPD caught his eye. By all accounts, it was the first such job offered at a major U.S. police department.
"I was given a small office, a salvage desk and two chairs, a new pad and pencil, a broom, and a battered Plymouth from the motor pool," he wrote in his foreword to a 1995 anthology of researchers' essays called "Police Psychology Into the 21st Century."
His assignment from Chief Ed Davis was daunting: See to the psychological needs of 9,000 department employees and their families — while developing mental health standards for recruits, responding to crises and helping on cases that could benefit from a psychologist's perspective
"In those early years, police and mental health professionals were skeptical and suspicious, if not openly hostile, toward each other," Reiser wrote. "Police tended to view psychologists as fuzzy-minded, cloud-nine types who had trouble finding the restroom. You had to be crazy to talk to a shrink.
"Psychologists, in turn, tended to perceive the police as ham-handed rednecks — brutal, insensitive and preferring muscle over mind."
A modest man with a wry sense of humor, Reiser eventually managed to win trust in a resistant culture.
He started "critical-incident debriefings" for officers who had been involved in shootings or other situations that were particularly gruesome or frightening. He trained 750 field sergeants to discern early warnings of damaging stress and reached out to undercover officers, whose isolation could make them especially vulnerable.
"He was the father of police psychology," said Susan Saxe-Clifford, a police psychologist who started working with Reiser as a graduate student in 1970 and left the LAPD 14 years later. "Before Marty, there were a few people doing consulting here and there, but no one put it together and created a focus on police psychology the way he did."
Reiser, who kept a flak jacket in his trunk for emergencies, rushed to hostage standoffs and advised negotiators. In high-profile cases such as the Hillside Strangler murders of the late 1970s, he developed psychological profiles that aided detectives.
Reiser was a prominent advocate for the use of hypnosis to help victims and witnesses remember elusive details. In 1976, he founded the Law Enforcement Hypnosis Institute, teaching more than 1,000 attorneys, judges and detectives about its applications. He said his research showed that 75% of people under hypnosis provided valuable information — most of which could be verified.
But the practice always had its critics, who suggested that investigators could use it to plant false memories. In 1982, the California Supreme Court called hypnosis "inherently unreliable." Many states have restricted testimony derived from it.
Born in Philadelphia on Sept. 25, 1927, Reiser, the son of an optician, received his undergraduate and doctoral degrees from Temple University. During the Korean War, he served in the Air Force.
He taught at Penn State and, moving to California, worked at Camarillo State Hospital. He later was president of the Los Angeles Institute and Society for Psychoanalytic Studies.
His survivors include his wife, Enid; daughter Mary Brussel; and three grandchildren. In addition, he is survived by two sisters, Selma Sommers and Shirley Zaid; and a brother Ron Reiser, a retired LAPD detective.
Health-conscious to the point of politely turning down his own birthday cake at parties, Reiser studied naturopathy after his retirement in the early 1990s. He didn't delve much further into the field he helped establish, but when police and public service psychology leaped a hurdle to become a board-certified specialty in 2010, his colleagues recognized him.
"We drank a champagne toast to Marty Reiser," Saxe-Clifford said. "There's not a lot out there today that he didn't suggest or implement in the 1970s and '80s."
steve.chawkins@latimes.com
Twitter: @schawkins
---
Must-read stories from the L.A. Times
Get the day's top news with our Today's Headlines newsletter, sent every weekday morning.
You may occasionally receive promotional content from the Los Angeles Times.