Maureen O' Hara, the 'only leading lady big enough and tough enough for John Wayne,' dies at 95
Legendary motion picture actress Maureen O'Hara, who appeared in such classic films as "The Quiet Man" and "How Green Was My Valley," has died. O'Hara reportedly died in her sleep Saturday, Oct. 24, 2015, at her home in Boise, Idaho.
(Harold Filan / AP)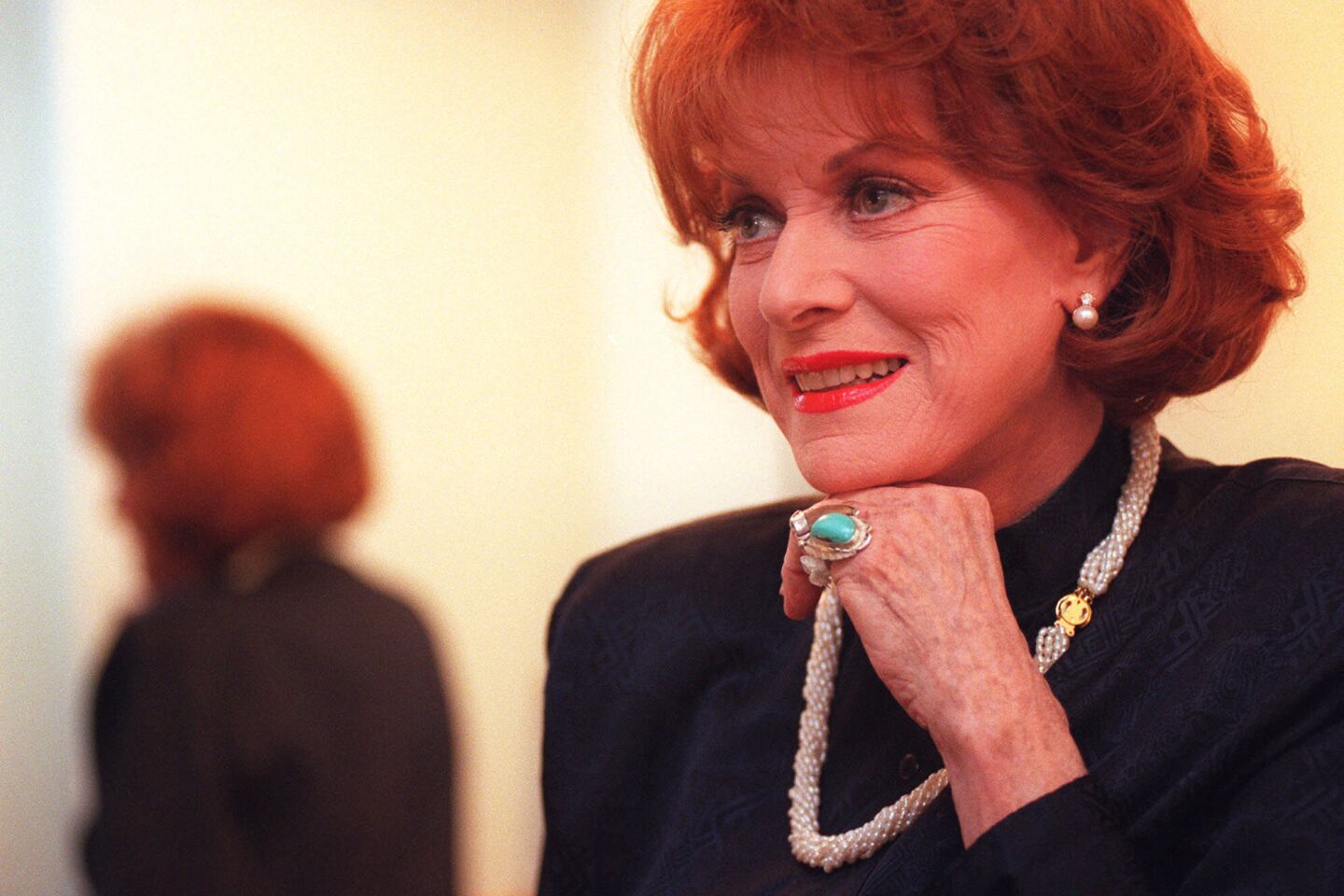 Maureen O'Hara is seen before her appearance on the "Tom Snyder Show" on Nov. 12, 1998.
(Chris Pizzello / AP)
On March 17, 1999, St. Patrick's Day Parade Grand Marshal Maureen O'Hara waves to the people lined up along Fifth Avenue at the annual St. Patrick's Day Parade in New York.
(Ed Bailey / AP)
Maureen O'Hara arrives at the sixth annual Governors Awards at the Hollywood and Highland Center in Los Angeles on Nov. 8, 2014.
(Chris Pizzello / Invision/AP)
Irish-born actress Maureen O'Hara was one of the biggest stars in films of the 1940s and '50s, an era when it was common for leading ladies to be domineered by male heroes.
But not the fiery O'Hara. She more than held her own in her most heralded roles, even against as forceful a presence as John Wayne, with whom she made five films including the classic "The Quiet Man."
"I was the only leading lady big enough and tough enough for John Wayne," she wrote in her 2004 memoir, "'Tis Herself."
"Duke's presence was so strong that when audiences saw him finally meet a woman of equal hell and fire, it was exciting and thrilling."
She also proudly included in her book Wayne's description of her: "She's big, lusty, absolutely marvelous — definitely my kind of woman. I've had many friends, and I prefer the company of men. Except for Maureen O'Hara."
O'Hara, 95, whose on-screen toughness extended to real life when she took on a powerful scandal magazine in the 1950s, died Saturday at her home in Boise, Idaho, near the home of her grandson, Conor FitzSimons.
She died in her sleep of natural causes, said her longtime manager and the co-author of her memoir, Johnny Nicoletti. Family members were with her, Nicoletti said, and they played the music from her favorite film, "The Quiet Man."
That film was directed by John Ford, a mighty force in his own right, who directed O'Hara in four other movies: "How Green Was My Valley," "Rio Grande," "Long Gray Line" and "Wings of Eagles." O'Hara respected Ford, whom she called "Pappy," and felt proud of her work with him, but conceded to The Times in 2004: "At times [we] wanted to punch him in the nose. But Ford was a genius. He was talented, and intolerable."
Generations who never saw O'Hara in a movie theater came to admire her in the perennially televised 1947 Christmas film "Miracle on 34th Street," about the true identity of Macy's Kris Kringle.
"We knew we were making a good movie — the script was so wonderful and there was such rapport among the cast," she reflected in 1990 about the film that also featured Edmund Gwenn, Natalie Wood and John Payne. "But no one had any idea that the film would be with us, well, forever."
Younger audiences also came to know O'Hara as John Candy's Irish mother Rose in the 1991 film "Only the Lonely."
"Rose is tough, mean, nasty, warm, kind, bossy, rude, obnoxious and very sentimental," she said when making the film in 1990. "So she isn't much different from the characters I used to play. I always played this kind of tough, strong woman."
O'Hara also has a place in Hollywood history as one of the first major stars to win a legal case against industry tabloids.
In the late 1950s, Confidential magazine roiled Hollywood by printing scurrilous stories about Liberace, Dorothy Dandridge and many others. The tabloid headlined "It was the Hottest Show in Town when Maureen O'Hara Cuddled in Row 35" and went on to print that the actress was having a steamy real-life scene with a Latin lover in Grauman's Chinese Theatre as "Ben-Hur" played on the screen.
Recruited by actor and future U.S. Sen. George Murphy to take on the tabloid, several entertainers filed suit. Others dropped out, but O'Hara pursued the litigation, proving through her passport stamp that she was in Spain on the night in question, shooting the film "Fire Over Africa." Confidential was found guilty of conspiring to publish obscenity and libel, and went out of business.
Always praised for her beauty — she was called "the queen of Technicolor" because of her photogenic green eyes, flaming red hair, and peaches and cream complexion — O'Hara constantly fought her "pretty girl" image to get stronger acting roles.
"When my chance comes ... I will surprise a lot of people. They don't know I can act. But I know it — and as long as I know it nobody is going to stop me," she said in 1945.
But her more than 50 films primarily provided her with what she considered decorative roles. In her first 10 years in Hollywood, she made 25 films and valued her roles only in three: "The Hunchback of Notre Dame," "How Green Was My Valley" and "Miracle on 34th Street."
"I have always believed that had I returned to Europe [World War II prevented it], I would have played far more serious, character-driven roles throughout my career," she wrote in the 2004 autobiography. "But the studios had different plans for me. Hollywood would never allow my talent to triumph over my face."
Born Maureen FitzSimons in Dublin on Aug. 17, 1920, she made her first stage appearance at age 5, reading a poem at a school play. She earned her first pay at 12 for performing on a radio program.
Her father owned a clothing business and her mother was an actress and operatic star who designed clothing. Her five siblings all were involved in show business for varying lengths of time.
O'Hara studied music, dancing and elocution, and at 14 was enrolled in Dublin's Abbey Theatre School where she moved from minor parts in Dublin Operatic Society productions to Shakespearean leading roles. Her portrayal of Portia in "Merchant of Venice" won her the All-Ireland Cup.
At 15, she took her examinations at Trinity College and became the youngest person to complete the Guildhall School of Music's drama course. She moved on to the London College of Music, where she won a medal as top honor student in the British Isles.
After finishing the Abbey Theatre training at 18, she earned a certificate to teach elocution, a leading role with the Abbey Players, and a screen test in London.
The screen test brought her to the attention of actor Charles Laughton and producer Erich Pommer, who cast her as the young female lead in their 1939 film "Jamaica Inn," directed by Alfred Hitchcock. It was Laughton who, over her protests, gave her the stage name O'Hara, saying FitzSimons was too long.
Next cast as the alluring gypsy Esmeralda opposite Laughton in "The Hunchback of Notre Dame," the 18-year-old O'Hara, chaperoned by her mother, came to Hollywood in the summer of 1939. Expecting to stay only three months to film "Hunchback," she remained in Hollywood when war broke out in Europe.
O'Hara won immediate recognition when Hollywood columnist Jimmie Fidler named her and actor Robert Stack the "outstanding dramatic discoveries of 1939."
She followed that with praised performances in "How Green Was My Valley," "Buffalo Bill," "Sinbad the Sailor" and several more before "Miracle on 34th Street."
The films continued, even as O'Hara passed age 40, which could spell doom for actresses cast for their beauty. She segued into movie roles as the still-beautiful, middle-aged ex-wife and mother with Disney's 1961 "The Parent Trap" opposite Brian Keith and Hayley Mills, and continued on with such films as "Spencer's Mountain" opposite Henry Fonda and more pairings with Wayne, including "McLintock!" and "Big Jake."
The actress married three times, and only the last was a happy union.
She became a stay-at-home wife after marrying Charles F. Blair on March 12, 1968. A retired Air Force brigadier general and World War II hero, Blair had been the first pilot to fly solo over the North Pole. They met when he was the pilot of the flight that took her to visit Ireland for the first time after World War II.
O'Hara soon walked away from Hollywood, and moved to St. Croix in the Virgin Islands, where Blair had started a Caribbean airline, Antilles Air Boats. Blair made her public relations officer, and later bought Virgin Islander magazine, naming her publisher.
But it was not to last. Blair, whom O'Hara speculated in her book was working with the CIA to monitor Cuba, died Sept. 2, 1978, when the seaplane he was piloting plunged into the sea.
O'Hara continued to run both the airline and the magazine for a time, but sold both.
One of her last public appearances in Hollywood was last year, when she was given an honorary Governors Award by the Academy of Motion Pictures Arts and Sciences.
In addition to her grandson, O'Hara is survived by her daughter, Bronwyn FitzSimons, who lives in Ireland, and two great-grandchildren.
Oliver is a former Times staff writer. Staff writer David Colker contributed to this report.
MORE:
Maureen O'Hara: In a career that spanned a half-century, 5 movies to remember
Maureen O'Hara's final appearance: She was uncompromising to the end
From the archives: An interview with Maureen O'Hara: 'The Christmas Box,' wrapped with care
Must-read stories from the L.A. Times
Get the day's top news with our Today's Headlines newsletter, sent every weekday morning.
You may occasionally receive promotional content from the Los Angeles Times.