Maureen O'Hara: In a career that spanned a half-century, 5 movies to remember
With her red hair, flashing eyes and lively screen presence, Irish-born actress Maureen O'Hara earned the nickname "the Queen of Technicolor."
Those bright, vivid images came flooding back with the news of her death Saturday at age 95.
O'Hara was known for her collaborations with filmmaker John Ford and actor John Wayne. Among her best-remembered roles were "The Quiet Man," "Miracle on 34th Street" and "How Green Was My Valley."
SIGN UP for the free Classic Hollywood newsletter >>
She also appeared in films such as "The Hunchback of Notre Dame," "Rio Grande," "Jamaica Inn," "Our Man In Havana," "Dance, Girl, Dance," "The Black Swan," "Sitting Pretty" and "The Parent Trap."
Legendary motion picture actress Maureen O'Hara, who appeared in such classic films as "The Quiet Man" and "How Green Was My Valley," has died. O'Hara reportedly died in her sleep Saturday, Oct. 24, 2015, at her home in Boise, Idaho.
(Harold Filan / AP)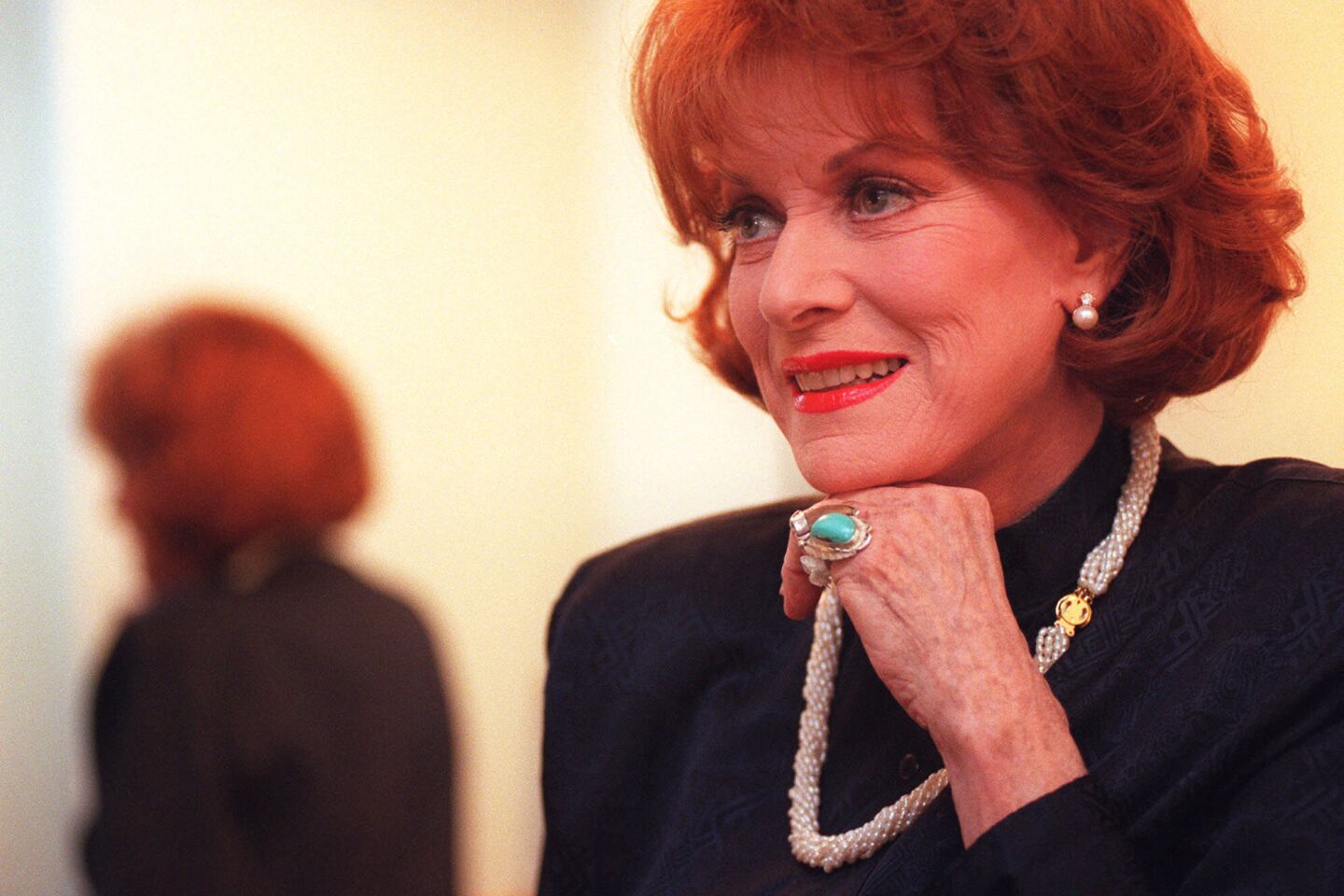 Maureen O'Hara is seen before her appearance on the "Tom Snyder Show" on Nov. 12, 1998.
(Chris Pizzello / AP)
On March 17, 1999, St. Patrick's Day Parade Grand Marshal Maureen O'Hara waves to the people lined up along Fifth Avenue at the annual St. Patrick's Day Parade in New York.
(Ed Bailey / AP)
Maureen O'Hara arrives at the sixth annual Governors Awards at the Hollywood and Highland Center in Los Angeles on Nov. 8, 2014.
(Chris Pizzello / Invision/AP)
After a few roles as Maureen FitzSimons, she first appeared onscreen as Maureen O'Hara in Alfred Hitchcock's 1939 film "Jamaica Inn," made in England before they each set off for Hollywood.
She would retire from acting for nearly 20 years, during which she became the first woman in the United States to head a scheduled commercial airline.
After she returned to acting, her best-known film was 1991's "Only The Lonely," written and directed by Chris Columbus, produced by John Hughes and also starring John Candy.
O'Hara received an honorary Oscar just last year, presented to her by Clint Eastwood, who appeared with O'Hara in the 1955 film "Lady Godiva of Coventry," and Irish-born actor Liam Neeson.
Here are a few of her best-known movies:
"The Quiet Man" (1952)
In the statement announcing O'Hara's death, it said that composer Victor Young's music for this film, her favorite, was playing at her bedside when she died. A scenic, sweeping romantic drama, the film follows an Irish-born American (Wayne) returning to his birthplace to reclaim his family's farm and falling in love with the feisty sister (O'Hara) of the difficult landowner.
In an interview with The Times' Susan King in 2000, O'Hara told how the film came to be.
"We made 'Rio Grande' [1951] to raise the money to make 'The Quiet Man.' We had a handshake agreement with John Ford in 1944 to make it, and it took from '44 to '51 to get the money. The studios thought it was such a silly little Irish story and it would never make a penny. And Duke said, 'Let's please send it to Old Man Yates [Herbert Yates] at Republic Pictures.' That [studio] was a step down for Ford.
"[Studio head] Yates said this is a silly little Irish story, and it will never make a penny, but if the same outfit — the same producer, actors and director — make a western for me to recoup the money I am going to lose on 'The Quiet Man,' then I'll finance it. That is how 'The Quiet Man' was made."
O'Hara's obituary in the Irish Times included her manager and biographer Johnny Nicoletti as saying O'Hara never would reveal what she whispered in the ear of star John Wayne to create his shocked reaction at the end of the film.
"She held it and took it to the grave," Nicoletti said. "All three of them took it to the grave. I tried to get it out of her, but she said, 'We all made a promise.' "
The film won two Oscars, for best director and best cinematography.
"How Green Was My Valley" (1941)
Directed by Ford and produced by Darryl F. Zanuck, adapted by Philip Dunne from a novel by Richard Llewellyn, this drama set in a coal mining community in Wales was shot in Malibu. In the film, O'Hara plays a woman torn between two men. The movie also stars Walter Pidgeon, Donald Crisp and Roddy McDowall.
The film won five Oscars, for best picture, best director, best supporting actor, best cinematography and best art direction.
The Times' 1941 review noted: "In a singularly intimate way the film tells of the toll taken by the passing of time and the effect on human beings of a changing social order. ... One cannot but become enthusiastic over such a sincere rendition of life as this picture essays and it is astonishing how replete it is with popular appeal."
In 1991, Times critic Kenneth Turan wrote, "This tale of a young boy's coming of age in a Welsh mining town was director John Ford's personal favorite and one of the most deservedly beloved of all American films."
"Miracle on 34th Street" (1947)
In this classic Christmas film, written and directed by George Seaton, a department store Santa Claus insists he is the real thing. O'Hara played the Macy's employee who comes to believe his fanciful tale is true.
O'Hara long delighted in telling the story of how she would frequently be stopped by children who would ask, "Are you the lady who knows Santa Claus?" — to which she would respond, "Yes I am. What would you like me to tell him?"
The film won three Oscars, for best supporting actor, best writing/original story and best writing/screenplay.
"The Parent Trap" (1961)
A delightful Disney family film written and directed by David Swift, "The Parent Trap" stars Hayley Mills, who plays two teenage girls who meet at summer camp and discover they are long-lost twin sisters. They set about on a plan to reunite their parents, played by O'Hara and Brian Keith.
In Charles Stinson's original 1961 Times review, he noted, "Miss O'Hara and Mr. Keith both show a nice flair for light comedy; and Miss O'Hara is still an almost unbelievably handsome woman — she's never looked better than she does in this Technicolor film."
The film was nominated for two Oscars, for best sound and best film editing.
"Only The Lonely" (1991)
In her final theatrical feature — she would go on to make a few more movies for television — O'Hara played Rose Muldoon, the opinionated mother of John Candy's single Chicago police officer. The film was written and directed by Chris Columbus and produced by John Hughes.
In his review for the Times, critic Michael Wilmington noted that Columbus cast her because of her role in "The Quiet Man" and that "O'Hara, in her first movie since 1971, makes a genuinely spectacular comeback, magically retaining more of her star presence and glamour and translating it fully into Rose: a tough unsentimental depiction of implacable mother-love."
Wilmington described O'Hara as "Hollywood's ultimate fiery colleen, she has a classic chiseled Irish beauty and a thinly strapped temper that erupted smashingly into scathing tantrums or round-house rights."
Follow me on Twitter: @IndieFocus
MORE:
Maureen O' Hara, the 'only leading lady big enough and tough enough for John Wayne,' dies at 95
Maureen O'Hara's final appearance: She was uncompromising to the end
From the archives: An interview with Maureen O'Hara: 'The Christmas Box,' wrapped with care
Get our L.A. Goes Out newsletter, with the week's best events, to help you explore and experience our city.
You may occasionally receive promotional content from the Los Angeles Times.