Maurice Jarre dies at 84; composer for 'Lawrence of Arabia'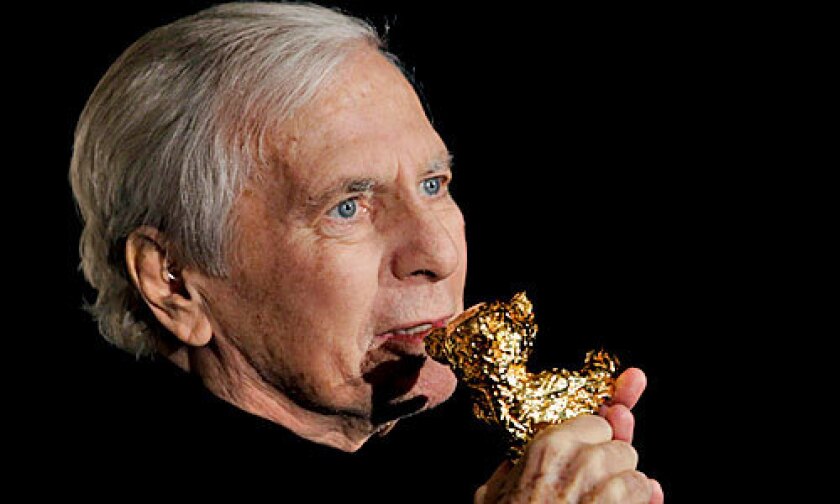 Maurice Jarre, the French-born composer who won Oscars for his powerfully evocative scores for the David Lean epics "Lawrence of Arabia, "Doctor Zhivago and "A Passage to India," has died. He was 84.
Jarre died in his sleep Saturday at his home in Malibu after a short illness, his wife, Fong, said, according to a family spokesman. Various news organizations have reported that Jarre had cancer.
According to composer John Williams, Jarre "is to be well remembered for his lasting contribution to film music. His collaboration with director David Lean produced truly enduring music that is beloved by millions, and we all have been enriched by his legacy," Williams said in a statement.
During a five-decade film career that began with composing music for short films in France in the early 1950s, Jarre wrote more than 170 film and television scores, including those for "The Longest Day," "The Year of Living Dangerously," "Ghost," "Witness," "Gorillas in the Mist," "Fatal Attraction" and "Dead Poets Society."
"He's one of the giants of 20th century film music," Jon Burlingame, a film music historian who teaches at USC, told The Times on Monday.
As a film composer during the last half of the 20th century, Burlingame said, Jarre "worked with more important directors than almost any other composer in Western cinema."
Among them are Rene Clement ("Is Paris Burning?"), John Frankenheimer ("Grand Prix"), Alfred Hitchcock ("Topaz"), John Huston ("The Man Who Would Be King"), Elia Kazan ("The Last Tycoon"), Volker Schlondorff ("The Tin Drum") and Franco Zeffirelli (the TV miniseries "Jesus of Nazareth").
But Jarre's best-known collaboration was with Lean, who chose him to score "Lawrence of Arabia," the 1962 desert epic starring Peter O'Toole.
"That catapulted him to prominence when he scored 'Lawrence of Arabia' with this grand-scale theme and the use of some ethnic instruments to evoke the mystique of the Middle East," Burlingame said.
The composer's work on "Lawrence of Arabia" also "solidified the relationship with David Lean, so that Lean didn't work with another composer again" in feature films, Burlingame said.
Jarre won his second Oscar for Lean's 1965 film "Doctor Zhivago"; Jarre's hauntingly memorable "Lara's Theme" became one of the decade's most popular tunes.
Jarre, who also scored Lean's 1970 film "Ryan's Daughter," won his third Oscar for the director's 1984 film "A Passage to India."
"I owe him everything," Jarre said of Lean in an interview with Burlingame for Variety published in February, the month he received a lifetime achievement award at the Berlin International Film Festival.
Lean, Jarre said, "gave me the best pictures, the opportunity to receive three Oscars for four films -- not bad! -- and he gave me his friendship. He was a gentleman. When I lost him, I lost not only a great director but a great friend."
Jarre described composing the music for "Lawrence of Arabia" as "a very big challenge."
"I didn't realize at that time how important the film would be not only for me, but to the film community. After 40 years, it's still among the best five or 10 films in the world. That is incredible, when you think about it -- there are no women, no car chases, no bang-bang-bang everywhere."
Film critic and historian Leonard Maltin said Jarre's score for "Lawrence of Arabia" is one of his all-time favorites.
"I don't think he'd mind terribly my saying I think he did his best work for David Lean," Maltin said. "It was such a fruitful collaboration. It's impossible to think of 'Lawrence of Arabia' or 'Doctor Zhivago' without thinking of his music. Which is the highest compliment one could pay him."
Maltin said he interviewed Jarre for "Entertainment Tonight" in 1989 when "Lawrence of Arabia" was reissued in 70 millimeter.
"The thing I remember him telling me is they only had three microphones recording that orchestra," Maltin said. "That magnificent sound that we all remember so indelibly was captured with three-well placed microphones. It's not the technology, is it? It's about the music and the performance."
Burlingame said Jarre's scores for the films for Lean and other directors "demonstrated his ability to work on a large canvas." But, he said, "he also was a pioneer in using electronic music in films, which is now commonplace. He was using electronic instruments as far back as the 1950s."
Jarre, Burlingame said, also was known for his astute use of ethnic instruments to evoke exotic locales -- "whether it was Indian lutes in 'The Man Who Would Be King' or balalaikas in 'Dr. Zhivago' or Middle Eastern instruments in 'Jesus of Nazareth.' "
The music, Jarre told The Times in 1966, "must give the film an added dimension. It must say things not seen on the screen or heard in the dialogue. This can be done without destroying the dramatic balance. It is not easy, of course, and we do not always succeed. But it is our goal."
Jarre was born on Sept. 13, 1924, in Lyon, France. He attended the University of Lyon and the Sorbonne as an engineering student before switching to music and enrolling in the Conservatoire de Paris.
Jarre, who served in the French Army during World War II, was later musical director for the Theatre National Populaire. His final project was the 2001 miniseries "Uprising."
Jarre was married four times. In addition to his wife, Jarre is survived by his sons, composer-performer Jean Michel Jarre and screenwriter Kevin Jarre; and his daughter, Stefanie Jarre.
The service will be private.
Appreciation Maurice Jarre seemed to find the right signature for every film. CALENDAR, D1
---
Must-read stories from the L.A. Times
Get the day's top news with our Today's Headlines newsletter, sent every weekday morning.
You may occasionally receive promotional content from the Los Angeles Times.