Mel Stuart dies at 83; 'Willy Wonka & the Chocolate Factory' director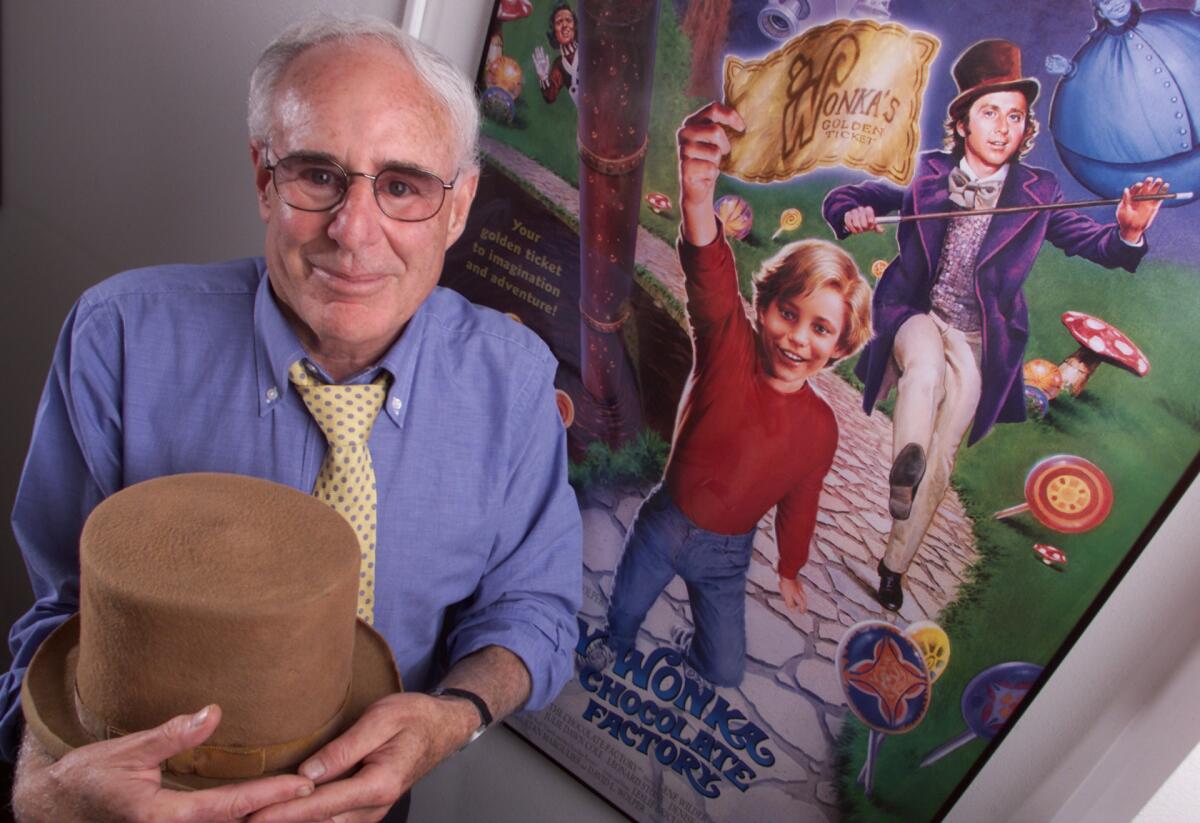 Mel Stuart had firmly established himself as an Emmy Award-winning documentary filmmaker in the 1960s when his daughter Madeline, a big fan of Roald Dahl's "Charlie and the Chocolate Factory," insisted he turn the popular children's book into a movie.
"It was my favorite book at the time, and I told him this would make a great movie," Madeline Stuart told The Times on Friday.
Her father proceeded to add the 1971 fantasy musical "Willy Wonka & the Chocolate Factory" to his extensive resume as a director. He died Thursday of cancer at his Westwood home, said his son, Andrew. He was 83.
During a more than 50-year career in which he won four Emmys, Stuart was known early on for the many documentaries he made in association withDavid L. Wolper.
That included directing and producing "The Making of the President 1960," for which he shared an Emmy Award with executive producer Wolper and writer Theodore H. White; and the Oscar-nominated "Four Days in November," which chronicled the assassination of President Kennedy.
Stuart directed or produced more than 180 films during his career, including "The Making of the President 1964," "The Making of the President 1968" and the 1973 documentary concert film "Wattstax."
He also produced the Peabody Award-winning 1981 TV movie "Bill" starring Mickey Rooney as a developmentally disabled man learning to cope with the outside world.
And then there was "Willy Wonka & the Chocolate Factory," with Gene Wilder in the title role of the eccentric candy maker who is searching for a young heir to run his factory and opens its doors to the five children who found golden tickets in their candy bars.
After Stuart pitched the idea to Wolper, the movie was shot in Munich, with Stuart's 12-year-old daughter playing one of the children in a classroom scene in which the teacher asks her how many Wonka bars she had eaten.
"I say, 'About a hundred,' a line that lives in film history," Madeline joked. Her younger brother, Peter, also had a small part in the film.
"I've very proud of that movie," she said. "I think it's absolutely brilliant and charming and a bit dark and very funny — and all those things describe my father."
She said he was "exceptionally proud" of "Willy Wonka."
"When the movie came out, it was not a huge success," she said. "I don't know for whatever reason why kids didn't respond to it. But the film has become such a classic over time and continues to gain in popularity.
"My father made this film for himself; he wasn't pandering to children, trying to make a sweet happy film."
Mel Stuart — who was known as an eccentric and occasionally irascible character who frequently quoted Shakespeare and Lewis Carroll — said of the movie in a 2001 Times interview: "I'm not talking down to children and giving them squirrels with funny faces and all that stuff."
Stuart's many TV documentaries as a director include "The Unfinished Journey of Robert Kennedy" (1970), "Life Goes to the Movies" (1976) and "Man Ray: Prophet of the Avant Garde," a 1997 segment of the "American Masters" series.
Among his other directing credits are the 1969 movie comedy "If It's Tuesday, This Must Be Belgium," the TV movies "Ruby and Oswald" (1978) and "The Triangle Factory Fire Scandal" (1979), and the 1980 TV mini-series "The Chisholms." He also was an executive producer of the 1980s TV series "Ripley's Believe It Or Not!"
Stuart twice served as president of the International Documentary Assn. and received its Pioneer Award in 2003.
He was born Sept. 2, 1928, in New York City. He majored in music at New York University but after graduation gave up the idea of becoming a composer and turned to filmmaking. Stan Lee, the Marvel Comics legend, is his cousin.
Stuart began his career in 1954 as an assistant editor for a company making commercials, where he became an assistant to avant-garde filmmaker Mary Ellen Bute. He later worked as a film researcher for the CBS documentary series "The 20th Century," narrated by Walter Cronkite, and joined Wolper's production company in 1959.
In the 1960s and 1970s, Stuart produced and directed dozens of documentaries for Wolper's company, including executive producing the "The Rise and Fall of the Third Reich" for TV in 1968.
Stuart was divorced from his first wife, Harriet, and his second wife, Roberta, died in 2011.
He is survived by his daughter, Madeline, an interior designer; his sons, Andrew, a literary agent, and Peter, a filmmaker; and two grandchildren.
Sign up for Essential California for the L.A. Times biggest news, features and recommendations in your inbox six days a week.
You may occasionally receive promotional content from the Los Angeles Times.