Mervyn Dymally dies at 86; former lieutenant governor, congressman and legislator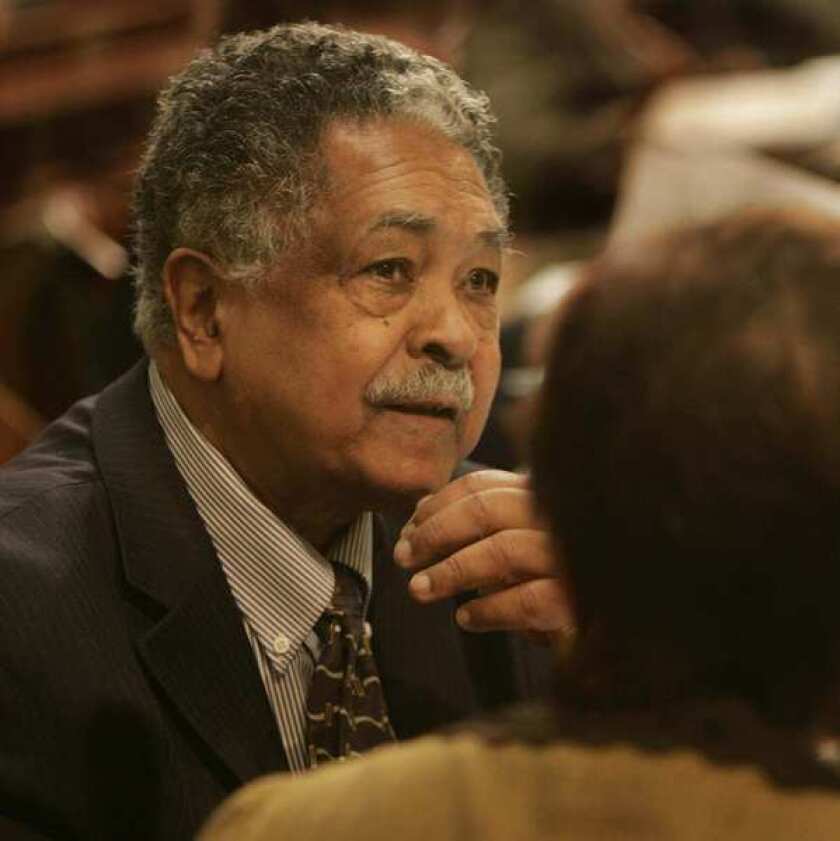 Assemblyman Mervyn Dymally (D-Los Angeles) in Sacramento in April, 2006. Dymally has died at age 86.
(Los Angeles Times)
Mervyn Dymally celebrated his 80th birthday with a gala party in 2006.
(Los Angeles Times)
Mervyn M. Dymally greets Lt. Governor Cruz Bustamante as he celebrates his 80th birthday on June 16, 2006.
(Los Angeles Times)
Assemblyman Mervyn Dymally (D-Compton) and Rep. Maxine Waters (D-Los Angeles) stand together in a news conference in 2004.
(Robert Gauthier / Los Angeles Times)
Jerry Brown shakes hands with Lt. Gov. Mervyn Dymally before being sworn in as governor in 1975.
(Los Angeles Times)
Mervyn M. Dymally, the Trinidad-born former teacher whose ground-breaking if sometimes-controversial political career spanned more than four decades and included a stint as California's only black lieutenant governor, has died. He was 86.
Dymally, who became a leader in the Los Angeles area's ascendant African American political establishment in the early 1960s and served in both houses of the Legislature and in Congress, died Sunday in Los Angeles, after a period of declining health, his family said.
---
FOR THE RECORD:
Mervyn Dymally obituary: The obituary of former Lt. Gov. Mervyn M. Dymally in the Oct. 8 LATExtra section omitted his brothers Bing and Malcolm from the list of surviving family members. —

---
"He's opened so many doors. A lot of people have walked through those doors," then-Assembly Speaker Herb Wesson told The Times in early 2003, shortly after Dymally, a decade into his retirement from Congress, returned to the Assembly as its elder statesman. Wesson, now a Los Angeles City Council president, was one of several generations of area Democratic politicians mentored by the man with salt-and-pepper hair and lilting West Indies accent.
PHOTOS: Mervyn Dymally | 1926-2012
Dymally's political longevity and ability to return time and again to public office had him winning elections well into what for many would have been their retirement years. His latest comeback, at age 76, was perhaps his most dramatic. In 2002, dissatisfied with the potential candidates for the Compton-area Assembly seat he had first won in 1962 and dismayed at the dropping numbers of blacks in the Legislature, Dymally jumped into the race himself and won.
"You can accomplish things here," Dymally told The Times when he returned to Sacramento shortly before budget crises and extreme partisanship hamstrung state government. "You can see the results of your work."
The controversies that surrounded him with some regularity over the years could never permanently derail his political career, as several corruption investigations all ended without charges ever being filed. Dymally always said the probes were baseless and politically motivated.
PHOTOS: Notable deaths of 2012
The end came instead at the hands of a rival nearly 30 years his junior when, termed out of the Assembly in 2008, Dymally, then 82, lost a grueling Democratic primary election for a state Senate seat to Rod Wright. Dymally never really left politics, though, and he continued to advise others from the sidelines and led a health institute at the Charles R. Drew University of Medicine and Science in South Los Angeles. The university's School of Nursing bears his name.
Cal State L.A. political scientist Raphael J. Sonenshein, who has written extensively about race and politics in the Los Angeles area, called Dymally "a very significant figure" who helped then-Speaker Jesse Unruh forge an effective state political organization with its base in the southern neighborhoods and suburbs of the state's largest city.
Throughout the 1960s and 1970s, Dymally worked with Unruh and used such tools as direct mail, organizing and fundraising to build a political network of working-class blacks that helped send generations of budding Democratic politicians to Sacramento. Sonenshein said Dymally's main rival was Tom Bradley, who won a breakthrough election as mayor of Los Angeles with the help of middle-class blacks and liberal white voters. One of Bradley's competitors in that 1973 election was Unruh.
"Dymally built one of the most important black political organizations in Los Angeles," Sonenshein said. "He was a very shrewd politician."
During his career, Dymally worked to improve education and access to health care for his largely working-class, minority constituents. In Congress, he chaired the Congressional Black Caucus and served on the Foreign Affairs Committee. He focused on issues involving U.S. relations with African nations, strongly supported sanctions against South Africa and worked on other international human rights issues.
In 1990, he came under scrutiny when it was learned a diamond merchant had given $34,000 to a scholarship fund Dymally had founded after the congressman softened his stance on sanctions against South African diamonds. That was not his first brush with controversy. In the late 1970s, investigators looked into allegations that leaders of a Long Beach church had conspired to pay the then-lieutenant governor $10,000 to shield them from a state probe. In the 1980s, questions arose over how he used part of a $100,000 university grant for a research institute he headed. None of those inquiries resulted in criminal charges.
Mervyn Malcolm Dymally was born May 12, 1926, in Cedros, Trinidad, West Indies, to a Muslim father and a Roman Catholic mother. Dymally later became an Episcopalian. He once told the Los Angeles Sentinel that he had been drifting toward a life as a ne'er-do-well when a book he found about Booker T. Washington inspired him to come to the United States, at age 19, for an education.
At what is now Cal State L.A. he earned the first of several degrees and he became a naturalized American citizen in 1957. A special education teacher for Los Angeles schools, he got involved in local Democratic Party politics. When he won election to the state Assembly in 1962, he became the first foreign-born black lawmaker elected to the state's lower house. Other firsts followed — first black elected to the state Senate, in 1966, and, when he won the lieutenant governor's race in 1974, first black to serve in a nonpartisan statewide elected office.
Then, in 1978, he drew a tough re-election challenge from Republican music industry mogul Mike Curb. As the campaign grew increasingly nasty, a Los Angeles television station broadcast a rumor — which later proved false — that Dymally was about to be indicted for an unspecified crime. Dymally blamed the rumor, which was repeated by Curb, for his loss.
But Dymally bounced back two years later by defeating scandal-plagued Rep. Charles H. Wilson of Hawthorne and former Rep. Mark Hannaford in a bruising Democratic primary and then handily winning election to Congress that fall. Dymally said he decided to get into the race when he learned there would be two white candidates — Wilson and Hannaford — to split that group's votes. He produced a letter from Curb lauding his former rival and expressing regret for the "ill-founded" allegations of wrongdoing that Curb had lodged against Dymally in the lieutenant governor's race. Dymally sewed up black, Asian and Latino votes in the heavily Democratic district. Dymally left it to others to remind voters that Wilson was facing a hearing by the House Ethics Committee on allegations that he used campaign funds for personal use. Two years earlier Wilson had been reprimanded by the House for accepting a $1,000 gift from Korean businessman Tongsun Park.
"Mark Hannaford can work the conduct," Dymally told The Times as he geared up for the 1980 primary. "I'll work the issues."
Dymally served six terms before retiring in 1992 at age 65. His daughter, Lynn Dymally, then a Compton school board member, lost a primary race to succeed him.
Besides his daughter, Dymally is survived by his wife of 44 years, Alice Gueno Dymally; his son, Mark; and three sisters.
---
Must-read stories from the L.A. Times
Get all the day's most vital news with our Today's Headlines newsletter, sent every weekday morning.
You may occasionally receive promotional content from the Los Angeles Times.